UPFA election manifesto: New Constitution, electoral reforms and huge handouts
View(s):

The United Peoples Freedom Alliance (UPFA) election manifesto titled "Anagathyata Sahathikayak" was released on Tuesday with UPFA Kurunegela District candidate and former President Mahinda Rajapaksa as the main speaker at the ceremony held at the Henry Pedris grounds in Colombo.

President Maithripala Sirisena who is both UPFA Chairman as well as SLFP Leader, did not attend the official launch. However, prior to the commencement of the ceremony, a copy of the manifesto was handed over to him at his official residence in Colombo, by UPFA General Secretary Susil Premajayantha and SL FP General Secretary Anura Priyadharshana Yapa.

In his address, Mr Rajapaksa said the UPFA would introduce a new Constitution to the country if elected to power, and also introduce electoral reforms, while devolving power through the Village Councils (Gam Sabah) system.He spoke at length on his achievements for the country during his 10-year tenure as President, saying the war victory was his greatest achievement," In six months, the present government has taken the country back 25 years," he said, and accused the United National Party (UNP) of weakening the economy, while paying scant attention to national security.

He also lamented that the present-day JVP leadership has forgotten that over 60,000 youth were killed during the UNP regime's crackdown on the Group, during the late '80s and early '90s, and was now overtly supporting the UNP.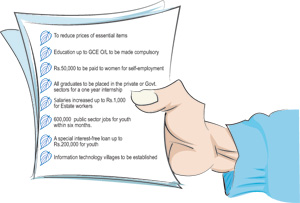 Highlights:
Minimum basic wage of government servants will be increased to Rs 25, 000. Cost-of-living allowance will be increased to Rs 10,000.
Prices of all essential items will be reduced to a reasonable level.
A Livelihood allowance of Rs 7,000 will be granted to families of those suffering from Chronic Kidney Disease (CKD).
Housing loans of up to Rs 4 million will be granted at subsidised interest rates to tenants, newlyweds and families without homes.
Mahapola scholarship allowance will be increased to Rs 6,000
Guaranteed prices of Rs 90 per kg of tea leaves, Rs 300 for rubber, and Rs. 70 per litre of milk.
Estate workers salary will be increased to Rs 1,000 with immediate effect.