School van accidents expose regulation vacuum
By Aanya Wipulasena
View(s):
The school van system is "completely unregulated", a leading child safety expert said as concerns were raised over passenger and pedestrian safety following a series of tragic accidents this week. Thirteen- year-old Chamod Hasintha Dias was run over and killed by a school van veering off the road in the Moronthuduwa area in Wadduwa on Monday. Three other students with him were injured and rushed to hospital. The four students had been returning home from school.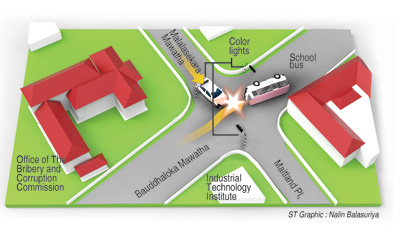 In a separate incident a driver without a driving licence who was transporting 40 students in a substandard school bus was arrested near a national school in Bandaragama on Tuesday. Police said the bus tyres were worn and the door safety systems were not functioning.
The arrest was made when Panadura area traffic police were checking vehicles without signal lights, side mirrors, door safety systems, handbrakes and horns. They were also on the lookout for drivers without licences.Lack of vigilance while driving was highlighted in an accident near Torrington Junction on Bauddaloka Mawatha, Colombo 7. At 6.20 am on Monday a bus which was claimed to have driven past a red light toppled after colliding with a jeep coming from the opposite direction.
Seventeen children and a teacher were admitted to the Colombo National Hospital where one is still receiving treatment.
"I was asleep when our bus collided with the jeep. A loud noise woke me up. I did not know what was happening. Then the bus swayed like a big ship at sea and toppled. My nephew was also in the bus. It was terrifying," said the teacher, Padma Siriyalatha.
Ms. Siriyalatha, who teaches in primary classes at Mahanama College, had her leg fractured and said she now had trouble sleeping."It was mentally disturbing for me and it would be worse for the students – all of them were frightened. The uncle who drove our bus is not a reckless driver. It was an unfortunate incident. The owner of the bus did all he could: he stayed with the injured children right throughout but the driver of the jeep did not even come to see them," Ms. Siriyalatha said, adding that the accident was his responsibility too.
Bus owner, 38-year-old Dinesh Chamil Prasanna's son was also injured at the collision. Mr. Prasanna said that if the jeep had not been travelling at high speed the collision would not have caused so much damage. According to eyewitnesses the bus driver was attacked by a group of people and was also rushed to the hospital for injuries.
"I own two other buses and a van in which we transport students. I have hired good drivers to work in them. This uncle had been driving that bus for over five years. He is a very careful driver," Mr. Prasanna said, adding that the transport of children started at 5.30am and reached the school an hour before school started so the driver had not been in a hurry and speeding.
He said his vehicles were registered with the National Child Protection Authority (NCPA) and the All-Island School Children's Transport Association. NCPA Chairperson Natasha Balendra said, however, that registration of student transport vehicles had been a pilot project from 2011 to 2012. During the project the driver and vehicle owner were registered, the police history of drivers checked and vans examined to check whether they were in suitable condition to transport children. The NCPA also had a set of guidelines, though registering of the vehicles were not compulsory. They also requested the presence of a lady chaperone to take care of the children.
The NCPA had to discontinue the project because the Ministry of Transport intervened and advised them that registration of vehicles did not come under its mandate which does not expect them to provide direct services. Ms. Balendra said the NCPA was primarily a policy-making, legal reform monitoring and awareness-raising body.
She said parents, children or concerned groups regularly complained to the NCPA about school vehicle problems that included the vehicle being in poor condition, overcrowding, verbally abusive drivers and occasionally drivers who sexually harassed the children. Last year, 26 complaints were reported to the NCPA; so far this year, 16 complaints had been made.
"The problem is that the school van system is completely unregulated and at the moment there is no proper system of registering the vehicles. We have requested the Transport Ministry and National Transportation Commission (NTC) to do something regarding this issue," Ms. Balendra said.
The NCPA had been advised that the NTC would change its statute in order to expand its mandate to cover school transport.
Acting NTC Chairman Amal Kumarage said the body was not in a position to do anything about this issue. "In our Act there is nothing that relates to school vans or setting standards for them. This should be handled by the Provincial Councils. The Central Province successfully initiated a project for registering school vans. This can be done by other councils too," Mr. Kumarage said.
Traffic Police DIG Amarasiri Senaratne said his officers carried out checks on the maintenance of the vans during school holidays. He said that the number of accidents is consistent with the average but the number of deaths had risen this year because drivers were not vigilant and "have no love for another life".
Parents should check out the vehicle
The National Child Protection Authority (NCPA) said parents must carry out checks on the school van or bus that transports their children to school. Details of the vehicle owner and driver should be obtained before parents entrust their children to the care of strangers. Parents should make sure that the driver is not verbally abusive.
They should also check that the vehicle is in good condition and is not over-crowded. Some of the vans are also used to transport goods, so parents should check that windows can be opened and that there is sufficient ventilation, and also that there is enough leg space for comfortable travel.
"It is important to always question the child regularly about the school van service. This way parents can learn if there is a problem," NCPA Chairperson Natasha Balendra said.
We need help, say drivers
The government has failed to look into the needs of school van owners and drivers, only reacting when an accident takes place, All Island School Children's Transport Association (AISCTA) President Mal Sri de Silva said.
"We need assistance to maintain a quality service. We have asked for a loan from the government to repair vehicles and a parking space. There are no basic facilities such as toilets for the drivers," Mr. Silva said.
He said the AISCTA, for its part, tried to provide some relief to drivers and van owners with a loan scheme to buy tyres and batteries in three instalments, and under the Vision 2020 programme had carried out 48 cataract operations and provided 1000 pairs of spectacles to member drivers.
"We only charge each driver Rs. 150 annually for membership and try to do what we can from that money but this is limited. The government must think about us too," Mr. de Silva said.