IT Labs for rural schools islandwide – Deputy Minister of Foreign Affairs
View(s):

The Foreign Affairs Ministry, together with its Information & Communication Unit, launched a programme to provide Computer Laboratories to rural schools islandwide, said External Affairs Deputy Minister, Ajith P. Perera.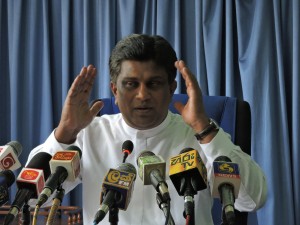 Each of these IT Labs will consist of 10 desktop computers, a printer, a scanner, a projector and screen, a network system, 20 Computer tables and 10 tables, Mr Perera told a press conference.
"To qualify for an IT Lab, a school should have at least 200 students and electricity," he said.
"Some schools don't have a separate section for its computers, and are hence stored in the principal's office," Mr Perera said.
"The main objective of the programme is to make rural schoolchildren computer literate," he said.
"Ministry officials are in the process of assessing the requirements, because some schools have IT Labs though the computers need repairs," he said.
Mr Perera said the ministry will provide funds to repair computers and IT Labs consequent to the ministry officials' inspection.
He said 20 Labs were identified in the Kalutara district and renovated.
"This programme will be launched islandwide with funds from domestic and foreign sources," he said.
"This year, over 472 IT Labs have been established in 17 districts, extending facilities to 150,000 students," he said.
"Rs 4.5 million has been allocated to give special training for 919 IT teachers in rural areas," he said.
"The proposed plan for 2016 is to complete the targeted 1,000 Labs and train 2,000 IT teachers," he said.
"Matara, Hambantota, Moneragala, Ratnapura, Badulla Jaffna, Kilinochchi, Vavuniya, Mullaitivu, Polonnaruwa and Trincomalee Districts are earmarked for the project," he said.
- Anushiya Sathisraja