Commuters go hungry as rail officials untangle cafeteria mess
By Kasun Warakapitiya
View(s):
Thousands of commuters face daily inconvenience due to the lack of restaurant cars on long-distance trains caused by delays in the approval of food provision tenders.
Sixteen long-distance trains, some of which travel for journeys lasting more than 12 hours with more than 2,000 passengers, do not have cafeteria compartments.
Mafaz Sanoon, 24, a Batticaloa university student and regular commuter, said his journey from Batticaloa to the Fort Station in Colombo took 12 hours.
"Previously, trains had a cafeteria compartment that provided food for commuters during the journey but now we have to starve because there is no cafeteria," he said.
"I have to buy expensive food from shops outside stations before getting on the train or have to buy food at a station and hope I won't be left behind the train when I get down from it to buy food," he said.
"People cannot wait hungry because the railway is unable to settle its problems," said Mrs. D.D Anoma of Pelawatte who was waiting to travel to Kalutara.
H. Siriwardena, 53, said that he had found the doors of the Fort Railway Station canteen locked when he had gone there to buy a meal. He said that while he had the ability to go outside the station and buy food, travellers who were old, pregnant, ill or who had small children in tow could not do so, nor be able to pay for another ticket after leaving and re-entering the station.
He said that some private and Divineguma outlets sold food but the quality and pricing of the goods were not up to standard. He said that Fort station received thousands of people but was unable to offer a simple facility.
Consumer Rights Protection National Organisation Chairman, Ranjith Vithanage, said the tender cost was too high for vendors and that was one of the reasons why cafeteria food was expensive.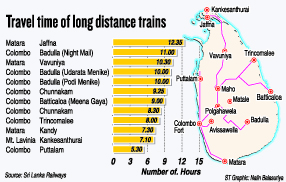 He said entrepreneurs could not make profits when they had to pay Rs. 13.50 per kilometre for the hire of a cafeteria compartment.
He claimed that the tender process became problematic when a party whose tender had been accepted subcontracted business to another vendor and the department should not tolerate middlemen.The All-Ceylon Railway Employees General Union President, S.P. Vithanage said canteen owners were unable to pay fees because of the high rate of tax charged.
Mr. Vithanage said the Railway Department has to bear a loss of more than Rs. 41 million when the cafeterias shut down. He said the person who had the contract to run railway canteens as well as mobile cafeteria in trains had got away with only paying for eight months, leaving an arrears of Rs. 21m. He said that the contract which is due to end on December 2 had been cancelled in April.
The tender problems have affected canteens at the Fort and Maradana stations as well as cafeterias on trains.
The Sunday Times learns that all the tenders were awarded to a Mohammad Fazly who had a political connection and that Colombo Municipal Council(CMC) Member Mahinda Kahandagamage had been responsible for the awarding of the contract.
Railway authorities were reportedly forced by politicians to take only three months' payment although tender regulations state payment for six months should be taken.
The bidder won the tender by bidding the highest price but later allegedly defaulted on the payments.
At that point the department decided to seal the cafeteria compartments and the canteens.
CMC Member Mahinda Kahandagamage told the Sunday Times the tender had been awarded to a friend and that the friend had to pay only Rs. 2.9m out of Rs. 41.1m because the balance of the money had been paid earlier.
He said the previous holder of the train cafeteria contract had paid only Rs. 6.50 per kilometre while the entrepreneur running the Jaffna intercity train cafeteria had been allowed to operate his business for Rs. 5 per kilometre.
The Commercial Superintendent of Sri Lanka Railways, G.W.S. Sisira Kumara, said the department was trying to solve the issue as soon as possible but when a tender was terminated before its due date there were complications.
He said the department's loss was around Rs. 3m and not Rs. 21m as claimed by the trade unions.
He said a pilot program had been carried out on Jaffna trains to have food supplied by departmental personnel.