Don't make the mistakes that Mahinda made
View(s):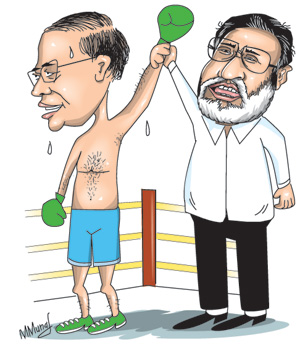 My dear Maithri,
I suppose it is only right to address you this week, even though I know you must be quite busy, swearing in new ministers and accepting the resignations of a host of other people. After all, you set yourself a hundred day target to achieve your most important goals — and it is already Day Three!
But first, my congratulations; you deserved the office you won because you had the courage to take on Mahinda maama when everyone else was shaking their heads in despair trying to find a candidate. Do you realise, Maithri, that you are the only Executive President who hasn't been a Prime Minister?
Maithri, I was impressed with the ceremony at Independence Square even if it was hastily arranged — and you looked much better without the 'Modi' jacket too! It is also fitting that you took oaths in DS's shadow: Let us hope it signifies an era where the Blue and Greens can work together for our country!
This is also the first time that a true 'goviya' has become a leader of the country. Some people even tried to make fun of your genuine, rural style because you say 'kiyala hitan' quite often when you speak but I guess you now have the last laugh – and now you can tell them 'bambuwa thamai'!
I was encouraged to hear you say that you will not seek re-election. I only hope that, after spending a few years in office, you don't change your mind. Of course, there will be people who will doubt your ability to last that long because you now lead a group of people who think very differently.
Different they may be, but they all helped, didn't they? Uncle Ranil got the green votes. The rathu sahodarayas, Champika's Hela Urumaya chaps, Sampanthan's votes in the North and Rauff's and SF's votes all added up which helped to keep the margin to over four hundred thousand, didn't it?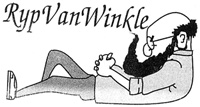 Satellite also did her bit to ensure that you got some Blue votes. I think all she wanted was to send Mahinda maama home. She has done that. For your sake, I hope she returns to her retirement now instead of meddling in the affairs of the new government — as she did with Uncle Ranil some years ago.
As for Uncle Ranil, this is the third time he is becoming Prime Minister. Many believe that although he can't win elections, he will make a good leader, if only someone else can win an election for him. That has now happened, so let us hope he will be third time lucky — and last a few years in the job.
Just as much as you thanked all those who helped you, Maithri, others also contributed to your win, though you didn't mention them. Mervyn, Duminda, Muthuhetti and Sajin did their best and others like Wimal, Pavithra, SB, Johnston, Keheliya and Mahindananda helped! You should thank them too.
You shouldn't also forget the services rendered by those who pelted stones at Pelmadulla, those who set fire to your stage at Wanduramba, Salman and Jacqueline, the Bodu Bala Sena and Sumanadasa and Chandrasiri, the astrologers who asked Mahinda maama to call elections two years early!
As you take stock of your win, Maithri, spare a thought for people like Tissa and Udaya who missed the bus at the eleventh hour. Now we know why Tissa crossed over: he can now return to his familiar role of explaining to the people why the election was lost, like he did with Greens for ten years!
In this battle Maithri, there were many unsung heroes and we should all thank them. Apart from the thousands of people including the person who gave his life for you at Nivithigala, there are also others who did the right thing, such as that brave judge in Kaduwela and the OIC in Wanduramba.
You must also thank Sobhitha and Rathana haamuduruwo. It was the former who began this battle by alerting us to the dangers of absolute power and rallying all the forces against it when many thought it was a lost cause. The latter was a powerful voice in convincing people that you were sincere.
The true 'Man of the Match' for me however was the 'other' Mahinda, better known as 'Maco'. He talked tough but no one was certain whether he could act tough as well. Unlike his predecessors, he did so and after a long time, we had a largely free and fair election. You owe a lot to him.
Last but not the least, we should all thank Mahinda maama too. He did what no other President before him could — and won the war for us. We are truly 'free' today because of him. Then, when the people spoke, he left for Medamulana without a fuss, just like he promised in his television advertisement.
I believe the most people in the country, including those who did not vote for you, will wish you well. We hope you will not make the same mistakes that Mahinda maama did and that a truly 'Maithri' era will dawn. And, Uncle Ranil will have to work with Maithree at home and Maithri at work!
Yours truly,
Punchi Putha
PS: I hope you won't act on the dictates of astrologers like Mahinda maama did because that led to his downfall. But if you do, I can recommend one person, who is now out of a job, as your astrologer: good old Di Moo. Remember, he did predict that when the Pope visits, we will have a new President!