Taking aim at paintballing
By Shaveen Jeewandara
View(s):
The thickets of the jungle bring about an eerie sense of realisation that someone is watching you. A few cracks of the foliage beneath your boots makes you nervous, as you breathe heavy under the mask. Suddenly, there's ghostly movement. It's too late. Just as you prepare to take aim there's heavy splatter all around as shades of orange spray your camouflage. Paintball, as most first timers experience, is not a game for the sluggish.
Back at the resting area after the game, we hastily rub off the paint as we find out more about an old sport that is making new waves in the country. "Paintball has been around in existence for a good few decades now," says Shane Wijesinghe, owner of the Hustlers Paintball range in Hanwella. He explains that initially paintballing was a sport that was used to train the military personnel in America, and later spilled out into the public with promoters utilizing its entertainment potential.
However, Paintballing only landed on Lankan shores around 8 years ago when a single owner brought down most of the guns that are used in play, later Shane took over with an indoor facility at a renowned theme park at Union Place, and subsequently moved out into the woods. Today it is thriving with great interest shown by youngsters. Currently there are three play areas in operation with Hustlers in Hanwella, Splatter Paintball in Gampaha and the Forest Hill Hideout in Kegalle. While Hustlers caters to much larger crowds with fully fledged services to meet the entire family, the Splatter Paintball troupe from Gampaha aims for a much more rugged and localised experience, better suited to smaller groups, and the Forest Hill Hideout is essentially for seasoned gamers too.
The game is relatively simple. One is armed with a paintball gun, topped up with one hundred paint balls and sent off to take down each other within a game time of usually 20 minutes. Groups are split into two teams (with crafty names of course), and players must eliminate the opposing team in three modes of gaming.
A minimum of 8 players are encouraged. Victory is gauged by either the number of players remaining in each team, if an opposing base camp is successfully infiltrated or by capturing a flag placed in the middle of the playing area which has to be brought back to one's base camp. "This was something I had a passion for," says Shane, an ex-marine himself. "It wasn't really to make money, but we made sure that we didn't necessarily lose any money either," he laughs. But on a serious note, Shane believes that the most important things is for people to know that there is a risk involved, and not to shoot people from within close range and never to remove your mask!
For Sanka Arambawaththa, setting up Splatter Paintball in Gampaha was all about giving people the chance to experience an unparalleled adrenaline rush. Being an adrenaline junkie himself, Sanka has conditioned his body to live on the whim of adventure. However, he too stresses that safety must take priority when it comes to paintball, as is the case with all adventure sports. "It's really not dangerous as long as you abide by the rules," says Sanka. The Tippman 98 custom guns used for paintballing are customised to maintain a pressure of less than 1500 Pascals, effectively suppressing its firepower but this doesn't mean that players can afford to remove their helmets.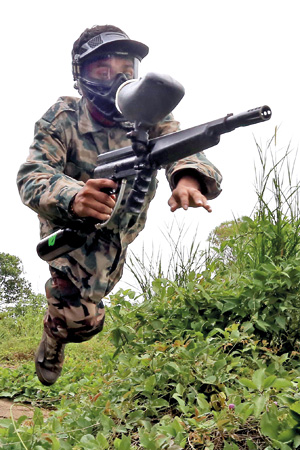 "It's very simple you see. If you remove your helmet at any point during the game, we pull you out immediately and that's the end of the road. We take safety very seriously," stresses Sanka.  The guns run on the simple mechanics of a liquidized carbon dioxide filled gas tank that powers the paint bullets. "The American Safety Standards are adhered to and guns are programmed to fire at less than 300 feet per second," adds Shane. The bullets are soft, round pellets filled with coloured ink and topped off with a Gelatin cover. Upon impact it breaks open spraying paint. Players are pronounced 'injured' if hit once and 'out' if hit twice in the body.
The game can range for different periods of time and is highly customizable according to player's needs.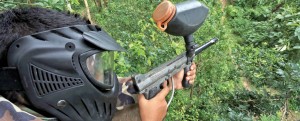 Hustlers Paintball, Salawa-Akarawita
Road, Hanwella
0773856555
Price: 1500 per head
Splatter Paintball, Medagama,
Gampaha.
0767999300 Price: 1500 per head
Forest Hill Hideout,
Aththanagoda Rd,
Karandupona, Kegalle
0717572622 Price: 1500 per head