From London Fashion Week to CFW
By Smriti Daniel
Billed as one of the local designers to look out for at the just concluded Colombo Fashion Week Resort Wear Show, Charini Suriyage talks of her handcrafted eco- lingerie brand that is going international
View(s):
Charini Suriyage turns up for our interview wearing one of her own designs. A shift dress made of light fabric, with a geometric pattern and an asymmetrical hemline. It's not what you might expect to find in the wardrobe of a microbiologist or the corporate look the Head of Design at
MAS Intimates would opt for on a working day (the former being the career Charini turned her back on to go into fashion, the latter her current designation at the company she's worked with since her graduation.)The important thing though is that it looks great on her and probably will even five years from now. She has a weakness, she says, for the classic, the timeless design.
Her schedule is packed and she's missing a rehearsal to be here, but Charini is a journalist's prize catch. In advance of the HSBC Colombo Fashion Week Resort Wear Show, her brand 'Charini' had been pegged as one of the collections to watch out for and had a prime spot on last night's catwalk. Ever since her glamorous, handcrafted eco-lingerie brand made its Colombo Fashion Week debut in 2009, the designer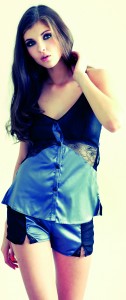 has accumulated honours. In 2010, she was the first winner of the Ethical Fashion Award for Lingerie at the Sri Lanka Design Festival, which she followed by becoming the first Sri Lankan to take part in London Fashion Week – a feat which she's accomplished four times since, while also appearing at Berlin Fashion Week.
Her high end designs, now sold online through sites like ASOS and Yoox.com as well as on her own website, retail from anywhere between $100 – $350. They're limited editions for the most part and in some cases she will only sell a single piece. They're unabashedly decadent, featuring insets of lace, sheer fabrics and panels held together by elaborate criss-cross lacing. Others, featuring even more elaborate lacing but this time with leather insets in dark tones are intended to be provocative and "kinky," as Charini describes them. Their cut gives them distinction as well – intricate layering and high-waists recall a timeless Hollywood glamour.Yet, their raw materials also make them very Sri Lankan.
Charini works with hand-woven Sri Lankan silk, hand crochet buttons and reclaimed fabrics, sourced exclusively from local factories with carbon accreditation. Connections with local craftsmen, forged during her student years, allow her to showcase Sri Lankan traditions like the exquisite beeralu lace of Galle and even batik designs. (She works with master craftspeople to redesign these elements so that they are a part of the garment rather than simply "imposed" on it.)
She eschews harmful chemical dyes and clings fiercely to a "waste nothing" policy. For her, sustainable design is about having what she describes as "a minimum negative impact on people and the environment. It is smart, timeless design which consumes less in the manufacturing process and leaves less when disposed." She brings to her work a first-hand experience of the waste produced at the manufacturing end of the apparel industry, something that seems inevitable thanks to things like minimum material orders, order cancellations and sampling process for selections – but for her, it's been about finding ways in which to extend the life of these materials that would otherwise be written off.
Though she turned her back on a career in science, Charini follows her own variation on the scientific method, observing, experimenting and constantly improving the processes through which she produces her lingerie. Constructing a single bra or panty is a surprisingly complicated process. Charini explains that where a bra might be made of elements delivered by dozens of different merchants, she sees how she can make one element work harder; where traditional factory produced bras need perhaps five machines to make a bra, she uses only two. She uses the metaphor of kitchenware to explain: "You can have a different utensil for everything, or make do with the one item or two."
If you think it seems like a lot of thought and work to put into something that only the wearer might see, think again – Charini doesn't particularly want to hide the proverbial light under the bushel. "I try to design lingerie thatcan be a part of your outerwear. If it's beautiful enough, if it's elegant and sophisticated at the same time, you won't mind showing it off."
Her collection for the Resort Wear Show that concluded last night featured swim wear, lingerie and resort wear – basically "whatever you need from the bedroom to the beach and from there onwards to the evening." Working with a colour palette heavy on solid colours like ivory, nude and blue, she says she's incorporated prints as well, the latter based on the endangered butterflies of Sri Lanka.
Though she's quick to credit good fortune for the opportunities that have come her way, Charini also speaks of the value of hard work and the savvy that her years in academia provided. Though her parents wanted her to go into medicine, a well-timed aptitude test gave her courage to pursue her own interests. Growing up in Bandarawela where her father was a hotelier, Charini confesses she was a tomboy but a picky one. She knew even then what she liked to wear, and her mother who had a gift for sewing, indulged her.
As a young woman, she enrolled in the University of Moratuwa where she studied design and architecture, specialising in fashion, and followed that with a Masters in Design Management at the London College of Fashion. Keen to come out ahead of the curve, she began as an intern with MAS while still a student, and found she liked the work so much that she stayed. Her final thesis was on how brands adopted ethical consumerism and how emerging brands had to use management skills and marketing to support it.
Since then her travels have allowed to her to learn from some of the icons of the sustainable fashion world, people like the Italian designer Orsola de Castro whose well-known brand 'Somewhere' specialises in 100% upcycled collections, Elizabeth Laskar, a Founder Partner at Ethical Fashion Forum and Sustainable Fashion Manager Claire Hamer. For Charini, CFW has been a critical component in building these connections, creating a local market and networking with international designers who have shared their knowledge of the market generously
With a five-month-old baby girl at home, it's been a lot to juggle, but Charini says she's not short on ambition for her fledgling brand. For starters, she has her eyes set on the famed Parisian fashion scene. She's methodical about setting and then meeting her personal and professional goals, and knows clearly that it takes dogged determination, faith in herself and a lot of planning to help her attain them. It's this balance of genuine creativity and entrepreneurial savvyw that makes her such a force in Sri Lankan design.