Dhilan sings in aid of the Lanka Alzheimer's Foundation
View(s):

The last time Sri Lankan Baritone Dhilan Gnanadurai sang for a local audience was in March 2009, as a soloist for the Symphony Orchestra's memorable performance of the Verdi Requiem.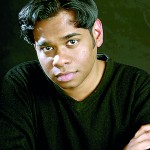 Since then Gnanadurai has spent most of his time in England, first as Director of Music at St Matthew's Church Croydon, and afterwards moving to Norwich in 2011 where he is currently a Bass Lay-Clerk at Norwich Cathedral. As a Lay-Clerk Dhilan is one of six professional male singers of the Cathedral choir employed to sing for daily services.
Dhilan is now back to perform a recital of Sacred Music in aid of the Lanka Alzheimer's Foundation. His rich baritone will be matched by the formidable church organ at St. Andrew's Scots Kirk, played by Denham Pereira.
The highlight of the programme will be the beautifully evocative 'Five Mystical Songs' by British composer Ralph Vaughan Williams. It is a setting of poems by George Herbert for Baritone soloist and choir with accompaniment. Dhilan and Denham will be joined by a choir of eighteen voices, conducted by Asitha Tennekoon. The manner in which the sounds of the soloist and choir complement each other creates an astounding effect, all building up to a burst of joy in the fifth and final movement 'Let All The World In Every Corner Sing'.
The rest of the programme will include sacred solos, sung by Dhilan. These will include works by Handel, Mendelssohn, J.S.Bach and other leading composers of the genre.
A former member of the Chapel Choir at S. Thomas' College Mt. Lavinia, Dhilan has performed as a soloist in several major oratorio works in Europe, Canada, India and Sri Lanka with a repertoire ranging from Bach to Barber. The concert 'Love Bade Me Welcome' will be held on August 2nd, from 7:30-8:30pm at St. Andrew's Scots Kirk, Colombo 03. Entrance is by programme, priced at Rs.700, which will be available at the door. For further information or to obtain programmes beforehand please call 0777 378 552