Appreciations
View(s):

Chula Ratnatunga

Fun-filled times in Nairobi to discussions on meditation back home

My good friend Chula was born on October 4, 1927 and passed away on May 9 this year at the age of 87 years, in Newcastle, England.
He had his education at Royal College, Colombo, then passed out from the University of Ceylon as a B.Sc graduate in Physical Science, went to England for further studies and qualified as a Mechanical Engineer. After working for sometime in England he came back to Sri Lanka to serve the motherland.

In the 1970s he got a chance to go to Zambia as an engineer attached to the copper mines. From there he got a good break to join the East African Breweries in Nairobi, Kenya as the senior project engineer.

My first meeting with Chula was about 35 years ago in Nairobi, Kenya, the first day I arrived in Nairobi.

Ivan Fernando who was working at the Sri Lankan High Commission in Nairobi introduced Chula's family to me and from that day on we were good friends.

When I was in Nairobi working as a Maths teacher, Chula and his wife sought my assistance to coach their children in Maths. In Nairobi the school hours were from 8.30 a.m to 3.30 p.m with a lunch break. I still remember how I would sit in the school garden till Chula came to pick me up and take me to his beautiful official residence . During the weekend we used to go there to play badminton. My life in Nairobi was enjoyable because of them.

The trips we went on together out of Nairobi and the parties we attended almost every weekend in Nairobi comes to mind like a beautiful Hindi movie.

After we finished our contracts we came back to Sri Lanka and at least once a year we used to meet each other at a Christmas dinner hosted at a mutual friend's house at Battaramulla.

After the untimely death of his wife Mani, I used to visit Chula more often. He had cultivated his mind through meditation and he guided me too to meditate. He was well read in the Dhamma and he used to write many newspaper articles.

As his son Charitha and two daughters Ranmi and Sanji live overseas he could not manage to run the big house he was living in in Baddegana, Kotte. So he decided to buy an apartment at Havelock Town close to my house at Kirulapona.

Then our meetings became more frequent and we used to have long discussions about the Dhamma. I learnt a lot from him.

Although he loved Sri Lanka and wanted to live in Sri Lanka as long as he could, his deteriotating health and age compelled him to leave Sri Lanka and go to England to live with his youngest daughter Sanji. He used to talk about her with high regard and used to say she was his anchor.

The day before he left Sri Lanka I went to see him. He took me to his room and said, "Bandula you take whatever you want from here". I selected some books. On the day he was leaving Sri Lanka, he visited me and presented me with some video cassettes on the sermons of Ven .Ajano Brahamavanso Thera. We hugged each other and he said we will meet again somewhere in the long journey. That was the last time I saw Chula and as I recall that moment tears come to my eyes.

I am fortunate to have associated with a person like Chula who guided me to towards meditation through Ven.Olande Ananda Thera. My wife Anoma, daughter Duruthu and son-in-law Janaka all loved him dearly.

Chula was a man of principles. He lived a long and fulfilled life with children and grandchildren.

He will always be remembered for his compassion and love towards his fellowmen.

Last year on my b'day on May 9 he visited me and had dinner with us and we had a long chat late into the night. By this year's birthday he had passed away peacefully in England.

I would like to quote a part of the poem that was recited at his funeral.

"Farewell" shouts Chula as he summons up a golden, priceless smile,
Knowing that those loved ones have made his life worthwhile,
As he turns and dives into the water,
There is one thing you should know,
He will come back into your life as the waters ebb and flow.

Bandula Welaratna

Manil Silva

A pioneer committed librarian

Manil Silva who passed away on June 8 this year was a committed librarian who made an indelible impression on library services in the country. She was a founder member of the Ceylon Library Association, later the Sri Lanka Library Association (SLLA). She taught library science and contributed much towards library training. She authored a book on special libraries, compiled innumerable bibliographies for researchers and made valuable contributions towards the improvement of several libraries.

Manil had her primary and secondary education at Ladies' College Colombo, where she excelled in studies. Her leadership qualities were recognised by the Principal, Miss Simon, who appointed her Head Girl. She entered the University of Ceylon and read for the bachelor's degree in economics, history and geography. On completing her studies she taught briefly at her alma mater and then ventured on a career in librarianship.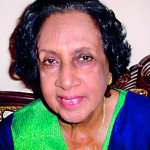 Most of her career was at the Central Bank of Sri Lanka where she served as Research Librarian for several decades and retired as Director Information of the Central Bank,
She developed one of the finest research libraries at the Central Bank. She was most helpful to researchers and would take pains to retrieve materials for them. She created a culture of friendly, courteous and efficient service at the Central Bank's Research Library.Manil was devoted to her staff that was always ready to assist researchers cheerfully. One of the saddest events of her life was when she lost several of her colleagues in the library in the January 31, 1996 bombing of the Central Bank. She never recovered from this tragedy and kept in touch with their spouses.
She was the Librarian at the Planning Secretariat during the time the Ten Year Plan was prepared under the leadership of Dr. Gamani Corea. She also worked at the UNCTAD library in Geneva assisting them in the development of their library.
She was trained in library science in two of the best universities for library science in the USA. She read towards her Masters in Library Science at the Case Western Reserve University in Ohio and the Columbia University in New York, from which university she obtained the Masters in Library Science.
In 1969 she was invited by Grafton Books of London to write the book on Special Libraries in a series of books in library science. Her book on Special Libraries that was published by Grafton Books in 1970 remains an important text in the field. She compiled many biographies to assist researchers at the Central Bank and in the Ministry of Planning. She also authored a bibliography on the Ceylon Child for an international organisation.
She was a prime mover of the Sri Lanka Library Association with pioneers in library work such as S. C. Blok, Librarian of the University of Ceylon, who was the Founder President of the Association. She worked with a number of librarians to develop the Library Association during its early years. They included Margaret Gooneratna, Ishvari Corea, V. Mahalingam, Wilfred Gunasekara, K. D. Somadasa, H. A. I. Goonetileke, Cloudah Nethsinghe and W. B. Dorakumbura, among others who contributed enormously at the initial stage.
When she was working at the National Planning Secretariat, Sam Wijesinha, the Clerk of the House of Representatives ( now designated Secretary General of Parliament) visited her to request her to admit a young man to the Diploma Course of the Library Association for which applications had already closed. After some persuasion, Manil admitted him to the course. He completed the course and became a Library Assistant at the Vidyodaya University Library. He was none other than President Mahinda Rajapaksa.
Manil is known by librarians who studied under her as an excellent teacher. Gita Gunatilleka, an international librarian, paid this tribute about her teaching.
"She was the teacher who very early on taught me that Librarianship was not boring! and that it was in fact a very interesting profession. Ms Manil Silva was a teacher par excellence who will be remembered always… Ms Silva who imparted to us her enthusiasm for Reference work gave us a sound foundation. The excitement of learning how to hunt bits of information for the reader was absolutely fascinating to me and through the years the skills I learnt in these first years never failed me, in whatever area of a library I worked."
After her retirement she helped the library and documentation centres of the Nadesan Centre and the Civil Rights Movement, the library of the Post Graduate Institute of Archaeology(PGIAR) of the University of Kelaniya and the library of the Centre for Poverty Analysis (CEPA).
Manil Silva made a very valuable contribution towards library services in the country and especially in developing one of the finest special libraries at the Central Bank.
Nimal Sanderatne
Prof Nagalingam Balakrishnan
Humble, brilliant man of economics at Pera
Bala passed away on June 14 last year as quietly and modestly but deeply scholarly as he lived the life of a teacher of Economics at Peradeniya and Jaffna Universities. In my experience I have had a number of occasions to make funeral orations standing in the corner of the crematorium at Kanatte, Borella, for my friends and colleagues who had expired. This oration that I addressed in the presence of Maheshi, (Bala's widow Maheshwari who says that I am the only one who calls her Maheshi), and her three sons who I have described as golden gifts of Bala to the nation, is something that I will never forget. I summoned all my genuine and sincere feelings on that occasion to pay my humble tribute to the man whom I loved so much.
Bala was two years junior to me at Peradeniya, studying Monetary Economics under professors H. A. de S. Gunasekara and F.R. Jayasuriya in 1956-'57. Bala was recruited to the staff on the performance of his final exam, two or three years after me. Although the gap between us was only a small one and I had not taught him even as a tutor, he always kept up a deferential attitude towards me as his senior. This was Bala who was my junior colleague for a number of years at Peradeniya.
He would come every morning to the small room which he had for himself under the jam tree at the entrance to the Economics Department in the takaran shed (the former SEAC head office converted to the famous "Peradeniya School of Economics" with a leaking roof and rotting woodwork). He would meet his students regularly at lectures or tutorial classes in this room and work till late in the afternoon or evening until the birds begin to chirp on the branches before walking up to his quarters at Marrs Hill – all very modest and free of extremities of anger or joy. When students were admitted to the Tamil medium in Economics there were not many qualified teachers to teach the various subjects. But Bala took on as many subjects as possible that were heaped on him by H.A. de S. who knew that he could count on Bala to save the reputation of Peradeniya. If my memory serves me correct, not a single day's leave was taken by him from his work. So much was the deep involvement of Bala in teaching Economics in Tamil that the Economics degree conferred on Tamil medium graduates came to be known as B.A. (Bachelor of Arts) Bala (Peradeniya).
In time to come Bala had to leave to lend his services elsewhere to develop teaching Economics in the Tamil medium such as the Rectorship of the Vavuniya Campus and the Headship of the Department of Economics and Professorship of Economics of Jaffna University. As stated before, he was a mild-mannered gentle person with broad shoulders, the ample use of which he made available to anyone freely for airing their grievances. He went to Leeds to do his M.Sc where he worked on a new approach in State Financial Management, namely, Programme Budgeting. After he returned to the island, his expertise in this innovative programme budgeting was made use of at the Ministry of Finance. During that period I happened to be the Economic Advisor to the Ministry of Finance and I know how much his work in introducing programme budgeting at the Treasury was appreciated.
I cannot leave Bala's contribution in the development of the country without mentioning the work he did as a member of the group appointed to draw up a development programme for the palm industry. This work of which only a few copies are in existence will remain a valuable contribution for the study of this industry.
-Prof. Buddhadasa Hewavitharana
J.R. Gunasekara 
A gentle woman with a strong heart
This is a tribute not only to my beloved grandmother but to many women who have rocked the cradles that rule the world. They are the silent heroes.
My grandmother lived for 94 years, of which 69 years of her life she lived with my mother. She lost her mother at the age of seven and her husband at the age of 25 during the time my mother was born. She chose a life devoted to her daughter and late husband but never grumbled or complained. She gave all she had but never expected anything back. She played the role of mother and father both, to my mother and my mother says she never missed the love or care of a father in her life.
Those who knew her know how loving and kind she was. I never remember a single moment she was rude to anyone. She was an English teacher, soft spoken and delicate, but her heart was strong and her mind was firm. She was tasked with the responsibility to run the school her husband began-Gauthama Shastralaya at Wellampitiya – the first Buddhist school of that area. She couldn't fight those who played her out in managing the finances of the school and she had to close down the school.
Women of my grandmother's nature are hard to find and are priceless jewels in this corrupt world.
Thank you God for the life of my beloved grandmother.
Grand-daughter Onisha