Hypocrisy, extremism are just not cricket
View(s):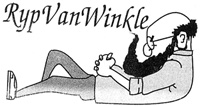 My Dear Angelo and the cricket team,
I thought I must write to you and the cricket team to congratulate you on your fantastic performance against England, our former colonial masters, winning our first ever overseas test series against them and in doing so, teaching them a thing or two about how the game of cricket should be played.I know all of you played extremely well and that is why we won in all formats of the game, but it makes me wonder whether we play better against countries that don't seem to like us, not only on the cricket field but off it as well.
Why, it was only a few months ago that the Indians were trying to bully us by supporting resolutions brought against us by Uncle Sam at the United Nations — and then we beat them quite convincingly at the T20 World Cup finals. And it was also only a few months ago that the British bully Cameron was here for the Commonwealth Summit and was behaving as if we were still a colony and he was our Prime Minister, thinking that we should do what he says. And now, we have beaten them quite convincingly too!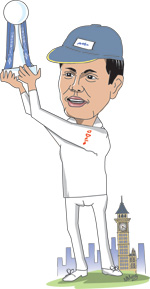 To start with, the English gave us only two tests and not the three tests we asked for, giving India a five-test series instead. Now we know why, don't we? Had they given us another test, I am sure they would have lost again!
Of course, the English spoke so often about the 'spirit' of cricket, but they didn't think twice about spiriting away our coach just a few months before we toured England, so he could spill the beans about our strengths and weaknesses. That was just not cricket, was it?
As for poor Paul, what can we say except that had he stayed on, he would have been on the winning side now. However, we must thank him, too, because I think his defection to the 'enemy' camp would have been a motivating factor for you to perform well and silence your critics.
Then there were all those controversies about that young man Sachithra. First, he was reported for a 'suspect' action and then he was accused of playing against the 'spirit' of the game because he ran out a batsman who was stepping out of his crease-after warning him twice!
I think the English team must be taking lessons from Cameron about this. They think it is against the 'spirit' of the game to run out a batsman when it is the batsman who is playing against the 'spirit' by repeatedly taking a few strides forward, despite being warned about it.
It is quite similar to David Cameron asking us to investigate our so-called 'war crimes' when the report about his country's war crimes in Iraq is not being released, don't you think? I wonder whether they will ever realise that they can no longer rule the waves and waive the rules!
As for Sachithra himself, I am sure he will come out of this controversy as a better cricketer. Why, the last time someone questioned the action of one of our bowlers — which is what that Australian umpire Darrel Hair did to Murali — he went on to become the greatest bowler the game has seen!
And speaking of Murali, it was amusing to hear that the Aussies were hiring him as their 'spin' coach. During the controversy over his action, their Prime Minister John Howard called his action 'illegal' so I guess they have an 'illegal' coach now! And I wonder whether Darrel Hair will object to that?
While we are all very happy with what you have achieved, we know that your success is not because of the game's administrators in our country but in spite of them. We hope that at least now, the 'Dasa's and the 'Pala's will get their act together and work as one for the betterment of the game.
Angelo and the team, I hope you also realise that your victory comes at a time when our country is again at a flashpoint, with tensions rising between different communities because of a few misguided individuals who are keen on making mischief and ruining this country once again.
Yet, as our country watched the thrilling final moment of the test series last Tuesday and cheered you on, I am sure they were not thinking as Sinhalese, Muslims, Tamils or Burghers but as Sri Lankans. Cricket has the power to do that in our country — and that is why your win is so precious at this time.
Yours truly,
Punchi Putha
PS: Angelo, after your breathtaking performances with both bat and ball in the last test match, I hope you can keep the fact that you are neither a Sinhalese nor a Buddhist, a top secret. Why, if Gnanasaara 'haamudurwo' finds out, he will storm into Sri Lanka Cricket demanding your resignation — and, what is worse, no one will dare to stop him!