Weerawansa's open revolt rattles Govt. as it prepares for elections
Special presidential unit investigates dealings by rebel minister's NHDA NFF to present 12-point demand, including firm 'no to casinos'; tie-up with JHU and MEP UNHRC gets funding for probe of alleged war crimes; Pillay to name commission and terms soon
View(s):
Like a roulette wheel, partners in the UPFA Government have gone into a spin over the controversial casino issue. The latest is the National Freedom Front (NFF) led by Minister Wimal Weerawansa, often dubbed as the mouthpiece of President Mahinda Rajapaksa on controversial issues. His colleagues even identify him as the point man to raise planted questions at weekly ministerial meetings to pave the way for Rajapaksa's critical intervention. On other occasions he is a one-man 'fact finder' on the allegiances of his colleagues or how embarrassing facts leak to the media for investigative reports.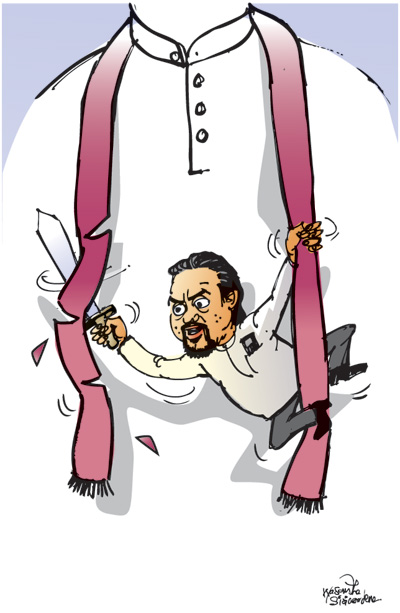 That bonhomie appears to have evaporated, at least temporarily. Last week, he defied Rajapaksa who tried to reach him by telephone hours ahead of the UPFA May Day rally in Colombo. That was not all. He frustrated efforts by others who acted on behalf of the President the next day. That included Presidential Secretary Lalith Weeratunga, Defence Secretary Gotabaya Rajapaksa and the President's Office Chief of Staff Gamini Senarath. He kept away from the UPFA May Day rally ostensibly on the grounds that he was busy organising his party's own event three days later.
Last Thursday, Weerawansa absented himself from the weekly ministerial meeting too. Other than discussions on the regular Cabinet memoranda, ministers seemed highly irked that they were unable to travel to western countries as and when they wished. They complained that western diplomatic missions were delaying their applications for visas. One of them wanted reciprocal action — the Government of Sri Lanka to turn down visa applications of those wanting to come to the country from the West. Saner counsel prevailed. Acting External Affairs Minister Neomal Perera pointed out that some western missions took time to process visa applications. Some were sending such applications to their offices in India and hence there were delays but discouraged any counter action. Such action would no doubt have had a devastating effect on the tourist industry.
Weerawansa's NFF event was held at the Sugathadasa Indoor Stadium last Monday. About 7,000 people, mostly from the Western Province, took part. By NFF standards, it was a respectable turnout, much the same as the crowds drawn by the main opposition United National Party (UNP) May Day rally in Ampara. There, industrialist Daya Gamage, National Organiser, who is one of those bankrolling the UNP, had to foot the bill amounting to millions of rupees. Though the NFF vote base cannot be compared countrywide with that of the UNP, the fact that a smaller party in the UPFA has been able to muster a large crowd was perhaps grist for the mill to Minister Weerawansa. For two long hours, he not only spoke but took a few broadsides at President Rajapaksa too. That was to see one of the guests, Minister Susil Premajayantha, General Secretary of the UPFA, slowly moving out. The meeting adopted what was called a 12-point proposal for reform and it included a call to stop "spreading of large scale gambling" and not to offer tax concessions to casinos or "any form of immoral activities."
"After the war victory (in May 2009) the Government, instead of taking the country on a strategic path to develop the national economy, has chosen a hybrid path by amalgamating Mahinda Chinthana (Thoughts of Mahinda) with Ranil Wickremesinghe's Regaining Sri Lanka," said Weerawansa. He was alluding to the policy book put out by then UNP Government in 2001 titled "Regaining Sri Lanka." Among the highlights in that book were measures to "position Colombo as a preferred entertainment and stopover destination in South Asia." These included steps to:
Permit two five star hotels in Colombo to operate gaming facilities by auctioning licences.

 Transform Colombo into an interesting tourism venue by restoration and conversion of historically important buildings into entertainment venues, such as restoration of the Dutch Hospital Art and Cultural Centre Project.

Consider granting short term tax relief to such projects.
Among the "supportive factors" listed in the book was one to "revamp laws prohibiting the sale of liquor on certain days (Excise Regulations)."
At present the consumption of alcohol is banned on Poya Days and liquor sales outlets remain closed. Of course, the UNP move came in for some banckhanded praise from Anura Kumara Dissanayake, the increasingly popular leader of the Janatha Vimukthi Peramuna (JVP). He told Parliament last month that the UNP at least made its intentions public. To the contrary, he charged, that the UPFA was trying to surreptitiously allow concessions to casinos whilst keeping the people of Sri Lanka in the dark.
Weerawansa told his party's rally "what is expected in the Government's hybrid agenda from time to time are the ones that do not belong to Mahinda Chinthana. Casinos are just one of those. There are some in the Government whose main job is to create a hybrid agenda. That was how tax concessions came to be granted to casinos. It is Treasury Secretary P.B. Jayasundera who is mainly responsible for this hybrid form of Mahinda Chinthana and Regaining Sri Lanka. He has hijacked the country's economy." He charged that it took a "long time to implement the Chinthana" but pledges in "Regaining Sri Lanka" were implemented overnight.
Weerawansa asked whose idea it was to raise loans from local banks to construct roads. A string of multi-million rupee projects are being undertaken by different local companies through the Road Development Authority (which comes under the Ministry of Ports and Highways held by Rajapaksa) to re-build different roads. He added: "If we are to take loans from the local banks, it should be to develop the industrial and agricultural sector. That way, the loans could be repaid. Little by little the economy is being dragged into disaster. There is no meaningful effort to revive it. There are no tax concessions to local industrialists but casinos are given such concessions very generously. The economic hit men are so powerful they allow this to happen. The Government cannot go ahead in this manner. Their journey is only strengthening the enemy."
In the days that followed his strong attack, Weerawansa was lampooned by cartoonists in the local media and websites that made fun of his remarks and the reform proposals. At Siri Kotha, the UNP's headquarters in Kotte, speakers at a review of the day's events were to remark that the NFF leader's outbursts were being orchestrated by President Rajapaksa. They noted that it was a political diversion. Neither the cartoonists nor the UNPers, who have stamped their presence in the political firmament somewhat forcefully in the recent weeks, could be faulted. Weerawansa's own colleague, Wild Life Resources Conservation Minister, Vijith Vijithamuni de Soysa likened his speech to the clank noise that comes when cooks turn out Kottu Rotty at wayside eating houses.
Weerawansa became the laughing stock on his own seeking. In July 2010 he staged a fast unto death for three days urging UN Secretary General Ban Ki-moon to call off the appointment of a panel of inquiry on Sri Lanka. Ban did not heed the call and was not moved by the fear of a Sri Lankan minister fasting to death. Weerawansa gave up after President Rajapaksa fed him thambili water. In the wake of continued UN pressure, he called for the formation of a separate United Nations. Many laughed at the move. The flipside to all this and more is Weerawansa's unwavering and blind loyalty to President Rajapaksa and his family. This had prompted him to play the role of a toughie, a comedian, an actor of different roles, a gifted writer, a political spy and an unquestionably good Sinhala orator. This appears to have boomeranged on him now. In return for all this, this week he risked the prospect of being arrested and even charged in courts later. However, the sequence of events was to play out in such a way that he could have some relief. Yet that could be temporary.
Last Tuesday, men from the Special Investigation Unit at the Presidential Secretariat had walked into the National Housing Development Authority (NHDA) — a body that comes under the Ministry of Construction, Engineering Services, Housing and Common Amenities — Weerawansa's portfolio. This special unit under retired Deputy Inspector General (DIG) Tilak Iddamalgoda investigates complaints received by the President. An official at the Presidential Secretariat said that authority for this investigative mechanism flows from powers vested in the President in terms of the Constitution. What they were going to investigate was not clear though it is obvious it did relate to Weerawansa's ministry and was directed from the highest levels.
NHDA Chairman Jayantha Samaraweera kept ringing his minister's telephone but it was not being answered. He then rang the Deputy Minister and Gampaha District parliamentarian Lasantha Alagiyawanna. It turned out that the deputy was in Hambantota. At that very moment, he had been in the company of President Rajapaksa and a few others who were in the southern city for the opening of the World Youth Conference. No sooner he finished his call, Alagiyawanna told Rajapaksa of what he had heard. The President turned to his Secretary Weeratunga and asked that the investigators be told to withdraw. Weeratunga promptly made a call from his mobile phone and gave instructions. Thereafter, Alagiyawanna telephoned NHDA Chairman Samaraweera to tell him that it was not necessary to inform Minister Weerawansa about the episode since the matter had been already sorted out. That did not stop NHDA Chairman from keeping his minister informed.
"I am not frightened to face an investigation. However, its timing is very intriguing. If there were any allegations or complaints against me or my ministry, they should have been probed then and there. Not when I and my party are expressing different views from that of those in the leadership," Minister Weerawansa told the Sunday Times. He said he had been telling senior UPFA leaders there was an "imperative need for us to discuss issues affecting the people. However, only the views of a few are being taken into consideration before decisions are made. The negative sides are not looked at," he lamented.
Weerawansa's NFF is the second partner in the UPFA Government to end up with strained relations vis-à-vis the UPFA leadership. The first to take up a public position was the Jathika Hela Urumaya (JHU). Its leader, Ven. Athureliya Rathana Thera avoided several telephone calls from President Rajapaksa and voted against Regulations passed in Parliament to grant "strategic enterprise" status to three multi-million dollar "integrated resort" projects. Such projects were showered with attractive tax and other benefits. After the Parliament vote, Ven. Rathana Thera also informally discussed the issue with a senior leader of the UNP recently. If one is to go by that dialogue, links between the UPFA and the JHU have snapped badly. Like Minister Weerawansa, the monk, Minister Champika Ranawaka and other JHU parliamentarians did not support the regulations. They said the ventures were meant to accommodate casinos. Though two previous Gazette notifications giving effect to a multitude of tax concessions had earlier made reference to "gaming", they had been deleted from all three (including a new project) Gazette notifications issued last month. However, those opposed to the move argued that inclusion of the term "…associated facilities…" was meant to include casinos. The Government turned down a UNP request to change the notifications to expressly debar casinos and this fuelled doubts on the Government's ultimate motives.
President Rajapaksa's main trouble-shooter on political issues, his brother, Economic Development Minister Basil Rajapaksa, took great pains to insist in Parliament during the debate that there would be no casinos in those "integrated projects." However, there was more embarrassment for the UPFA Government last Thursday. Official spokesperson and Media and Information Minister Keheliya Rambukwella, not only contradicted the Economic Development Minister but also made clear there was no bar to the opening of casinos. Here are excerpts from the Q & A of a media briefing after the weekly ministerial meeting.
"Q: Minister, does this mean that James Packer can also be a partner (in a casino)?
A: Anyone can be a partner. The wife of a licence holder can be. There is no obstruction for it by law.
Q: That means a casino can be there under James Packer?
A: Is James Packer the question? Let's say Smith. Smith is no problem. Anyone can bring in a partner to the (casino) business.
Q: The President said that there won't be casinos. What you say is they can have if they want.
A: I don't know that. What I'm saying is one can take a partner. The people who are protesting can protest.
Q: Basically the Government's stand is that these new projects can have casinos if they have licences?
A: I will make it very clear. Don't mix my words. There are five licences issued. These licence holders can have one casino per licence. So there will be five casinos. They exist now. There is no magic here.
Q: The President's remarks at the media breakfast (inaudible)…..
A: No new licences will be issued. I was there at the meeting. So you can't say he said "no" to casinos. I was present there.
Q: No…What was reported in the papers (inaudible)
A: What you have reported I don't know. I'm vouching for what I have said. I'm taking complete responsibility for this. What the President said was that there will be no new licences issued.
Q: He didn't say that casinos will not be permitted in those new projects?
A: No, he never said that. I was there personally. What he said was no new licences would be given.
Q: That means if they want they can take ……..
A: They can't take (licences). They can be partners. They can't sell. In a business, under the law and regulations of Sri Lanka, it is there. Is there any law which says that one cannot have a business partner? If Packer is the problem we'll say Charles, Peter or Smith."
"The Mahinda Chinthana (Thoughts of Mahinda) did not speak of opening casinos. When the existing casinos go into new places, they would enjoy a host of tax and other benefits," Minister Weerawansa told the Sunday Times.
He said he would "defend the Government to his utmost" on the common goals his party had agreed upon. However, he was worried that the Government was veering away from the people. "Next week, we will consult professional groups from different walks of life. Thereafter, we will meet the Venerable Mahanayakes and present our 12-point proposals for reforms. It is only thereafter, we will seek a meeting with President Rajapaksa to discuss issues arising from it," said Weerawansa. In fact, NFF parliamentarian Weerakumara Dissanayake, Deputy Minister of Traditional Industries and Small Enterprise Development, was asked by President Rajapaksa, during a visit to Anurdhapura on Thursday where Weerawansa was. He replied Minister Weerawansa would be meeting Rajapaksa soon with the 12-point reform proposals.
Wimal Weerawansa said his party was also having a dialogue with the JHU and the Mahajana Eksath Peramuna (MEP) of Minister Dinesh Gunawardena. This was to forge a common stance on some of the serious issues of concern. Of course some of them also had other reservations about the NFF. One of them cited an instance where the three parties met at the temple of Ven. Ella Gunawansa Thera (opposite BMICH) when there were moves to appoint a Parliamentary Select Committee (PSC) to address Tamil grievances. They had decided that if the Northern Provincial Council elections were held without amendments to the Constitution, they should pull out. The JHU had done so but the NFF and the MEP had remained.
"As a small political party which is growing, it was not our intention to force the 12-point reform proposals on the Government. What we want to do is to see how the Government will respond to them because it is headed in a different direction," he said. Weerawansa was strongly critical of a senior Government official who, he said, was misleading the UPFA leadership with "great economic success stories." According to him, Weerawansa said, the per capita income of Sri Lankans had shot up remarkably high due to economic prosperity but the other aspects to this also had to be studied. He said this was a case of misleading the leadership to believe there was tremendous economic success.
Disillusionment within the UPFA in the recent weeks has been at a higher level than ever before. Reports had reached President Rajapaksa that some ministers and even MPs were strongly critical of him. He had observed to some confidants that there were forums like the parliamentary group and the Cabinet to raise issues instead of making public utterances. It is in this backdrop that Minister Basil Rajapaksa had sought a meeting of the Executive Committee of the Sri Lanka Freedom Party (SLFP), the principal partner in the UPFA, on Friday night. However, the meeting had to be postponed because President Rajapaksa was in Anuradhapura and had to attend to extended engagements. No new date has been fixed. One of the reasons for the meeting was to ascertain views of the Executive Committee members on different issues and also to afford an opportunity for President Rajapaksa to respond to them. The vote at the debate on the regulations over the 'integrated projects' was also to be discussed.
A group of MPs who were not present were to cite the case of at least ten of their colleagues who had travelled abroad together to an Asian country for a sports event. They had argued that they too should be taken to task if they were to be punished. It turned out that there was no move for any form of disciplinary action but the reports about it had been circulated to caution the MPs. Immediately after the vote, President Rajapaksa met some members of his inner circle at 'Temple Trees'. Besides ministers, the group also included a senior police official. It was noted that the absence by some ministers and MPs during the vote on the Gazette regulations governing "integrated projects" was not a serious threat to the UPFA Government. It is only now they have learnt that their observations were wrong.
These developments came amidst widespread speculation at the highest levels of the UPFA Government about the conduct of possible elections next year.
If astrological and other factors were considered favourable to Mahinda Rajapaksa, there was some debate over which should come first — a presidential or a parliamentary poll. A formidable faction led by a powerful and influential minister very close to the President is said to favour a parliamentary election first but the move was dismissed as "pure psychological warfare to cause scare" by a cabinet colleague of his who spoke on grounds of anonymity. He said "the story is being floated purely to frighten MPs and Ministers. What happens if they go for parliamentary polls and win with a much lesser number than the present two thirds they enjoy? If they go to polls now, none of the MPs in the current Parliament will be entitled to a pension either. They will have to wait till April next year to complete five years. How would they like to work for a poll without any pension benefits for them?"
Besides those reasons, going against the argument for parliamentary polls first is another question — whether the MPs, once elected, would feel strongly committed to work at the presidential poll for their own candidate who is Rajapaksa. Hence, the minister said, a presidential poll would be "sure to come" but "we need to ensure we close ranks." Things are now at odds and ends; he said referring to mounting concerns among UPFA parliamentarians over issues they will have to answer to the electorate. The controversy over the casinos, despite protests from leading prelates of the Maha Sangha, is being described as foremost among them. This is whilst UPFA leaders were taking a closer look at what relief measures they could announce towards the year end to ensure consumer satisfaction ahead of the polls. One of the measures looked at is the withdrawal of the fuel adjustment surcharge imposed on electricity consumption. Though it was introduced for a limited period, the Ceylon Electricity Board (CEB) continues the levy on grounds that it had been forced to do so since more thermal power was being generated. Lowering duty on essential food items is also being looked at.
Mounting internecine issues for the UPFA Government comes at a time when it awaits the impending investigation into alleged war crimes by the Office of the UN High Commissioner for Human Rights (OHCHR). In Geneva, the move went a step further this week when Human Rights Commissioner Navi Pillay succeeded in obtaining all the funding commitments for the international investigation from Human Rights Council member countries that voted for the latest US resolution on Sri Lanka. As revealed in these columns earlier, a formal intimation to the Government is to be made at the end of this month through the Sri Lanka permanent mission in Geneva. Thereafter, the composition of the international inquiry mechanism and the terms of reference are to be made public.
Since the formation of the UPFA, this is the first time it has been riven with a serious crisis over a policy issue — the attractive tax and other concessions to casino operators. In doing so, it is now clear that the UPFA leadership had ignored the wishes of not only the Maha Sangha but its own partners too. It is no secret that the increasing public awareness of this issue, in the backdrop of unbridled corruption and abuse, is turning out to be an acute embarrassment. Yet, the UPFA can continue to take comfort that the main opposition United National Party (UNP), though more active in the recent weeks, has a long, long way to go to politically exploit these issues for its advantage. It is indeed an irony that the UPFA's own partners are doing it for the UNP. The question therefore is how much can the UNP change by January, next year, when presidential polls are likely to be called.