Lahiru does a Houdini act
35th Bata-the Sunday Times Most Popular Schoolboy Cricketer of the Year 2014
View(s):
It was like an airdrop. After lying dormant in third place last week Lahiru Wickramasinghe flew over two heads to topple Randev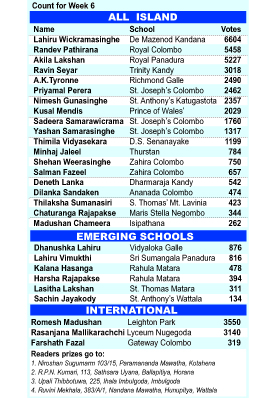 Pathirana at the top as the 35th Bata-the Sunday Times Most Popular Schoolboy Cricketer of the Year 2014 competition reached the sixth week.
Pathirana of Royal College Colombo, who led for the past two weeks, had to concede the lead of the All-Island contest after Wickramasinghe of De Mazenod College Kandana was able to add a staggering count of 2850 votes to his tally. Wickremasinghe's tally was ticked as 6604 as at this weekend while Pathirana, who had a count of 4213 managed to add 1245 votes during the concluded week.
Danushka Lahiru of Vidyaloka Vidyalaya Galle continues to hold on to the top position in the Emerging Schools segment for the sixth consecutive weekend. Lahiru may have a close challenge in weeks to come from his immediate rival Lahiru Vimukthi of Sri Sumangala College Panadura. The deficit between them is just 60 votes. The rest of the challengers, four of them, remain in their positions respectively as last week.
For the fifth time in a row the top position of the International Schools category changed. Rasanjana Mallikaarachchi of Lyceum International School Nugegoda, who was beaten by Romesh Madushan of Leighton Park International School, retained his place for the third time in six weeks. This category has been the most happening of all three and it continues to be a stiff contest between Mallikaarachchi and Madushan as weeks move on.
Coupons of the 35th Bata-the Sunday Times Most Popular Schoolboy Cricketer of the Year 2014 will appear on Wijeya Newspaper's dailies, the Daily Mirror and Lankadeepa and also its weekend English issue, the Sunday Times. Readers will be able to send in as much as coupons in favour of their favourite schoolboy cricketer until end of May.