UK's Music Off Canvas conducts workshops
View(s):

The pioneering UK-based arts group Music Off Canvas are now in Sri Lanka bringing their project 'Before Language' to groups and students around the country. Through exploring culturally specific sounds and movements from all over the globe and in finding common elements that connect them, 'Before Language' uses experiential ways of uniting people cross-culturally through workshops and performances which draw on the power of the arts.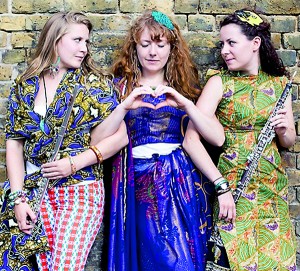 The trio has already held a workshop in Batticaloa and will be visiting Colombo, Galle, and Kurunegala to deliver workshops for the Ocean Stars Trust, The Serendipity Trust, The Music Project, MILK and the Elizabeth Moir School as well as sharing and developing methodologies with other peace-building organisations .
Inspired and affected by what they discovered during their visit, Music Off Canvas will be creating a new cross-arts performance piece to be premiered at the end of their visit.
See also www.musicoffcanvas.com
Catch them this coming week:
*Wednesday, November 6- Workshop for the Serendipity Trust at Kalahe Sri Sumnagala School–Looking at traditional arts from across the globe and exploring how to celebrate cultural diversity
*Thursday, November 7: Galle workshop for Serendipity Trust at Ankokkowala Sri Sumangala School–Looking at the deep truths of human movement and sound
*Friday, November 8: Colombo : Music off Canvas meeting other arts organisations
*Saturday, November 9: Colombo Workshop with the choir of the Elizabeth Moir School
*Workshop for MILK for children aged 10+- guiding participants in creating their own pieces
*Sunday, November 10: Kurunegala: Workshop for the Music Project
comments powered by

Disqus