Nature's changing moods in line drawings
View(s):

Wandering through dense forests, following butterflies along crystal lakes, Vajira Perera, Dulari De Fonseka and Ruvi Rodrigo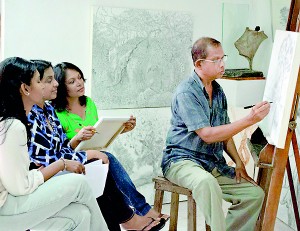 of the Vibhavi Academy of Fine Arts (VAFA), pursued their passion for studying the natural environment and translated it to canvas under the guidance of their teacher, artist Karunasiri Wijesinghe.
A professional artist in nature drawing, Mr. Wijesinghe is a lecturer at Vibhavi and a course director at Nature Studio on the subject of Nature Studies. He is also a visiting lecturer at the University of Visual and Performing Arts.
Their exhibition next week at the Lionel Wendt Gallery is titled "Trees with Three Lines" and depicts the wonders of nature through discoveries that were made on their jungle trips.
"Trees with Three Lines" will be open to the public on November 5 and 6 at the Lionel Wendt Art Gallery from 10 a.m. – 7 p.m.
comments powered by

Disqus