'There is Something I have to Tell You': A Gratiaen Prize reading
View(s):

Madhubhashini Disanayaka Ratnayake will be reading from her Gratiaen award winning novel 'There is Something I have to Tell You' on Saturday, August 3, from 6 p.m. to 7 p.m. at the Expographic Bookstore, 455, Pannipitiya Road, Pelawatta, Battaramulla. She will be accompanied on cello by Nuwan Vithanage, on guitar by Chinthaka Jayakody and by singer Chathurika Amarasinghe. The event is free and open to the public.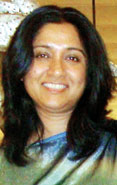 Described by Professor Neluka Silva at the launching of the book in March this year, as "a narrative that from the opening chapter to the end keeps you in suspense and intrigues you as you discover more and more secrets and hidden tales," this novel has sold over 500 copies in the first four months of publication.
The novel won the Gratiaen Prize in 2011, and the panel of judges, Gill Westaway, Harshana Rambukwella and Delon Weerasinghe described it as "A considered and critical chronicling of the complex socio-politics of contemporary Sri Lanka through the interconnected lives of youth from contrasting social and cultural backgrounds. Though divided by class, they are united in their idealism for reimagining the country.
The eventual failure of their politics becomes the focus of a critique of Sri Lankan society – especially of its politically ascendant Sinhala upper middle class and its turn to a puritanical Sinhala Buddhist nationalism and a leftist movement overwhelmed by violence and ethno-nationalism. A skilfully written novel which interweaves the personal with the political through a poignant, emotionally and morally compelling cast of characters placed in exigent circumstances."
Professor Neluka Silva said, "But if you think that the novel is a political treatise or a mere commentary of the events of the JVP era of 1989/1990, then you are mistaken. What Madhu powerfully portrays in her narrative is the human story, the "secrets" and unspoken thoughts which determine our lives and make us who we are. Often we store up these thoughts, these memories, for years, even a lifetime, and may never find the opportunity or the chance for them to be told."
The author describes the book as "essentially a love story" and as music plays a pivotal role in the book, the music performed on the day of the reading will be especially composed to the tale being told.
Follow @timesonlinelk
comments powered by

Disqus