Letters to the Editor
View(s):

Who benefits from privatisation?

In the Sunday Times of May 19, Charitha de Silva opines that privatising state-owned enterprises (SOEs) will cure the country's ills, particular those of the Ceylon Petroleum Corporation (CPC) and Ceylon Electricity Board (CEB). He also takes several bashes at Marxism and the Left (a debate on this will have to wait for another day).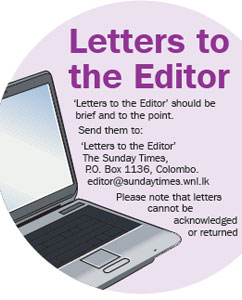 That privatising the CEB, the CPC or other SOEs will benefit the people is as much a pipe dream as the myth that we are the miracle of Asia. We privatised education, public transport and medical care and ran down the Cooperative Wholesale Establishment (CWE). Where are we now? We sold off Colombo Gas and what benefits did it bring to the people?
Coincidentally, R. Fernando writes in the Business Times (Page 4) of the same issue highlighting what the ethics of our business community are. He leaves out the legal profession where lawyers take to the Bench without a qualm.
Poetic justice it is indeed that the chairman of the company he once headed was involved in a serious scam ripping off the country's assets resulting in a Supreme Court decision and this same company is one of the companies selling electricity to the CEB. It is reported that some of these companies are making a killing.
I am sure he will without hesitation recommend his former company to bid in the privatisation process. I wonder if he sees the relevance to his ideas that of the companies that were acclaimed as the Top Twenty recently, not one contributes to the real development of indigenous skills here.
L.M. Marzook, Galle
Light from three stars brightened St. Anthony's
I thank Franklyn Amarasinghe for his glowing tributes to three legends: Robert Wright, George Macky and George Denlow who strode the entire land area of our college – St. Anthony's — like a "colossus'. I was one of those privileged to have come under their guidance and inspiration throughout my school career.
Mr. Denlow was my class teacher in the senior prep, teaching English and geography. He was also my geography teacher in the university entrance form. Mr. Macky was my class teacher in the senior and university entrance forms, teaching me English and Latin. These two lovers of sports nicknamed me "Dennis Compton' for being an ardent admirer and follower of that 'Golden Boy' — a double international in cricket and football playing alongside Sir Stanley Mathews for Arsenal in the English Premier League and for England.
These gentleman teachers contributed immensely to their alma mater and several generations of schoolchildren were gifted with their knowledge, dedication and commitment for selfless devotion to a worthy cause. They are gratefully remembered.
'Never in the history of our school, have so many owed so much to so few.'  Incidentally Franklyn's eldest brother Ranjith, a legal luminary, was my classmate while his second elder brother Nihal was a university staff mate at Peradeniya and cricket colleague in the University Staff Recreation Club team.
Stanley Tammita, Retired Senior Assistant Registrar of the University of Peradeniya, Kandy
Paradise lost at zoos
Beautiful birds and beasts born free to roam as they please are confined in small spaces for our pleasure in zoological gardens.
Man-made safari parks are less insensitive with respect to space. Here, we let them roam around in an artificial environment, a jungle created by us. Horrendous cruelty lies elsewhere.
Animal farms have to be set up to breed hundreds of animals, usually chickens (as being the most cost effective) to feed these free roaming safari park animals. How can beautiful Sri Lanka blessed with so many wild-life sanctuaries justify this?
We loudly claim to respect and listen to a Great Teacher who said that practising loving kindness to all living beings is a fundamental essential on the path to one's liberation: "Living beings – seen and unseen, beings with a hundred legs, beings with no legs, beings with four legs and beings with two legs".
The rest of us believe that man was made the custodian of all creation.Should we forget all this and together worship only the god of the 21st century – money?
Chandramani Thenuwara, Colombo 10
Ruvan's untold story
Last week's Sunday Times Plus article headlined "Once he fought for his countrymen, now he walks for them" has prompted me to write this.
Ruvan and I along with 18 others participated in a five-day "Business Edge Training of Trainers Workshop' conducted under the auspices of the International Finance Corporation, an arm of the World Bank in June 2011. We are also Old Royalists, although Ruvan was much junior to me in college.
What was not mentioned in all humility by Ruvan in the article is that during Operation Jayasikuru, in 1987 he was a victim of a mortar attack and suffered injuries to his right leg. He does not wear a prosthetic but he has shrapnel embedded within…he walks with a limp.
God bless him for his efforts, which will bear fruit……A right Royal effort!
Wasanthakumar A. Perera, Via email
Follow @timesonlinelk
comments powered by

Disqus