Appreciations
View(s):

She was always there for us, like a family member

Ruki Kodagoda

June 3 marks the third month since Ruki Kodagoda passed away. It still seems difficult to accept that someone as vital, as active and energetic as Ruki is no more but accept we must, and this is an attempt to capture the person that Ruki was to us.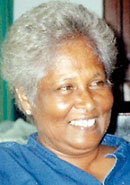 To most people, Ruki was synonymous with Perera and Sons (P&S) the well established bakery firm belonging to the family. Ruki joined P&S after graduation from the then University of Ceylon at Peradeniya. Being part of the family firm seemed to provide Ruki with a focus for her energies and she became known to many as the "Perera and Sons lady'! Her loyalty and commitment to the firm was absolute and to have been the Chairperson of the firm was a source of pride. Ruki was the firm's leading PR personality, exuberantly greeting customers as they came into the shop or personally delivering cakes on the relevant festival to well established clientele. A lasting memory is of the way she would uncomplainingly ferry female staff back to their homes through dark deserted streets at Christmas time, when the shop would be kept open till late at night.
While P&S was one focus, sports was another. Ruki started her sporting career as a tennis player, winning national titles and representing Sri Lanka at tennis internationally as well. In the late 1970s, when tennis was no longer a viable option, she turned to golf. And in this sphere too she became a dynamic figure, triumphing in 1979 as Sri Lanka's woman golf champion. Like her brother Sarath, Ruki was also passionately interested in cricket, and when women's cricket became a reality in this country, Ruki would lament that such opportunities had not been available to her in her heyday!
Ruki entered our lives as our eldest brother Jehan's university friend. She went on to become a friend to all of us- our parents, all our siblings and their families, our circle of friends. As a friend, Ruki shone brightly in the firmament-our joys were her happiness, our problems the burdens she shared. She was there in illness and death- Ruki accompanied us to doctors' appointments, offered us assistance by contacting her wide circle of doctor friends to check our ailments and when our father died suddenly, it was Ruki who brought us down to Colombo from Agrapatana where we had gone for a holiday. She was in our mother's words "the daughter not born to the family", the 'aunt' who befriended our nieces and nephews and made them fantastic birthday cakes.
When Ruki joined our family, she became a part of the family pastimes-travel, wildlife and bird watching. And being Ruki-she took to these pursuits most enthusiastically. Memorable was the day when we set out for Wilpattu in her little black Volkswagon and got stuck in the sands of a villu. Unforgettable are our elephant excursions-not only to Yala but also into the Mahaveli areas- Manampitiya, Tammankaduwa and Kandekaduwa. The magical experience at Lahugala when 160 elephants decided to share the wewa with us throughout a moonlit night was something we would wonder at over and over again. Her love of travel was underscored by her passion for driving- and she would take off to the far corners of this island as readily as she would dash across the city to run an errand for a friend.
Ruki was generous to a fault-generous with her money and with her time. She would not only gift generous donations of cash to her staff but would also provide them with financial assistance if they wished to take up a pursuit which would enhance their lives. Ruki seemed to have an immense capacity to chat, advise, console, admonish, encourage. This was put to great use when she joined Mithuruwela- the cancer support network. Every Tuesday, she would visit 'Shanthi Niwasa' the transit home in Maharagama which Mithuruwela used as a counselling centre and give of her time to patients and care-givers from all over the country. Ruki established instant and warm rapport, especially with the more mature cancer patients who sought her out eagerly for counselling and advice. And being Ruki, she would come to Maharagama armed with bags of food which was a welcome treat particularly to care-givers who came from impoverished backgrounds and could not afford the exorbitant prices in Colombo. Among the other organisations that Ruki helped was the Sri Lanka Girl Guides Association. As a member of the International Committee of this institution, Ruki single-handedly organised a fund- raising concert for it.
One abiding interest that Ruki always had was religious philosophy. Born as a Buddhist, she reached out to the other religions in this country, trying to understand what drove the different faiths that her friends belonged to. In later years, the practice of meditation fascinated her and she became a committed member of the Dhamma Kuta Trust based in Hindagala, Kandy. Many may not be aware that the beautifully landscaped garden at the Dhamma Kuta Vipassana Centre is very much Ruki's work; it is a testimony of her abiding love of plants and gardening. Over the months Ruki would drive up to Hindagala carrying heavy bags of soil and fertilizer in her own vehicle to help transform an abandoned tea estate into the green, serene landscape it is today.
Businesswoman, tennis champion, golf champion, wildlife and travel enthusiast, cancer counsellor, meditator- Ruki was an exceptional human being. We wish we could have spared her the trauma of her last years when her strength, her very personality was gradually diminished. It was almost unbearable to witness this fading away of a generous, large-hearted, vital and caring friend. We are now bereft of her friendship, her concern, her generosity but we are more than thankful that Ruki is now at peace. Ruki epitomised all that was good in the human spirit- "mindfulness, joy, giving, caring, appreciation for living in the moment… she will live on in all our hearts".
Yasmin and Ryhana Raheem
The innings my father played for Prince of Wales
J.B.C. Rodrigo
Born on June 6, 1899 my father was a hero to me. He was educated at Royal College and ended his academic career at Keble College, Oxford University, England where he obtained his degree as a barrister.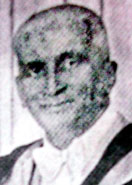 However he opted to become the principal of Prince of Wales' College, Moratuwa when that post was offered to him. He served the college for 26 years and in his 25th year, Sir Oliver Goonetilleke, the then Governor General of Ceylon, was invited to the college to join in the celebrations.
I have two sisters and two brothers and our life when our father was the principal was spent at the bungalow inside the college premises. As such, most of my time was spent on the playing fields. This enabled me to develop my cricketing skills and his encouragement helped me to reach the top by playing for Sri Lanka.
My father played for Keble College along with the Nawab of Pataudi (senior). He also served as cricket master and teacher at S. Thomas' College, Mount Lavinia for a short period before going to Keble College.
I remember when I scored a century against S. Thomas' College, in a match played at Mt. Lavinia, Warden de Saram who was watching the match with my father, requested my father to send me to S. Thomas' College, but my father preferred to keep me at Prince of Wales.
I am happy he did this for me as I was able to captain the Combined Colleges Cricket Team against the Gopalan Trophy Team from South India. Apart from me, the Combined Colleges Cricket Team included players from top schools in Colombo and Kandy.
My father was a member of the Singhalese Sports Club and known to F.C. de Saram who also played for the Oxford University and this helped me to join the SSC when F.C. de Saram was the skipper.
My father's desire to promote cricket at Prince of Wales helped the college to develop into a highly recognised school in cricket.
May my father be glorified and remembered for all what he did for Prince of Wales' College, Moratuwa.
Lasantha Rodrigo
A shepherd who worked for his flock
Theodore Hettiarachchi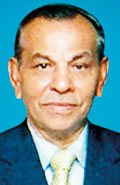 We mourn the death of our loving brother Theodore Hettiarachchi, popularly known as Tudor. Theodore who lived in Negombo won the love and affection of his neighbours, friends and relatives. He contributed much to St. Peter's Church, Negombo, serving as the sexton for over 25 years. As a counsellor in his parish church, he guided all those who came to him on the correct path.
Theodore was the first and only lay Eucharistic minister in the parish. In their funeral orations, the priests praised him immensely for his devoted and loyal service to the parish.  Theodore enjoyed doing missionary work and was a community leader (Sanga Thatha) for the Catholic Apostolate of Renewal (Kithu Dana Pubuduwa) at the Croos Convent, Negombo. He conducted prayer meetings and spread the Word of God.
An active member of the Mediation Board, Negombo, he was always ready to help those who needed his guidance and advice.
He served as the secretary of the All Ceylon Madel Owners' Association (Samastha Lanka Madel Himiyange Sangamaya) for several years with Rev. Fr. Sextus Kurukulasuriya serving as its president. He worked hard to bring Madel owners together and gain recognition for this association. The books and files he maintained show how methodical he was and how every document was neatly filed and handed over to his successor.
In God's sight, Theodore retired. He was a shepherd until God called him home. "A life spent in the service of God and communion with Him is the most comfortable and pleasant life that anyone can have in the this world" – Mathew Henry
His wife is a retired teacher while his son is a senior manager at the Commercial Bank and daughter, a doctor at the Medical Research Institute.
May he rest in peace!
Ernest Dharmasiri
Her faith in Buddhism helped her face the inevitable
Amala Wadugodapitiya Dissanayake
Amala's endearing voice, her golden brown hair, smiling bluish-grey eyes, the distinctive style of walk, almost dancing on her toes and looking ethereal—these are the memories we have of our dear friend.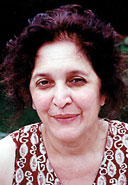 Our friendship, which began in l960 at the Peradeniya University, withstood barriers of time and distance and got stronger and more meaningful over the decades as we matured and shared our life experiences without reservations.
Amala was known for her honesty, frankness, unlimited generosity, extraordinary kindness of being sympathetic towards the weak and the vulnerable and intolerance of social injustices. She was an ultra-sensitive person who did not hide her emotions. But she was also outspoken. She was a good sport and joined in all our activities as a lively companion.
Amala's talents in drama and singing were exceptional. She was a voracious reader with a quick grasp and enjoyed relating interesting parts to us, often entertaining us with dramatic narrations. A "bubbly" personality, she was at the same time shy, unassuming and selfless.
Amala appreciated the achievements of others and tried to promote the progress of others instead of her own. If she had done so, she could have been a shining star in the varsity drama circle of the early sixties.
Her qualities were symbolic of a genuine human being. Amala's great love and attachment to her siblings and the support she got from them, particularly from her sisters, was amazing. Her deep concern for her three children and her unconditional love for them was one golden thread that remained constant despite the ups and downs she had in life.
Amala's interest in her religion was intellectual with a deep knowledge of karma, rebirth and other aspects of Buddhist philosophy. She was a great follower of Ven. Narada Thera. When she was snatched away from us so swiftly (on February 28 this year,) we, her closest friends for over half a century, found it difficult to come to terms with the fact that Amala was not at the end of the phone anymore!
When diagnosed with an incurable illness, Amala accepted it as part of karma, kept up her courage and continued communications with us from London even while she was hospitalised and on fulltime oxygen. This was an indication of her firm resolve to face the inevitable, true to Buddhist philosophy.
We salute her brave and unfailing spirit and faith in her religion. We are confident that she has earned much merit in this life to carry her safely and speedily through Samsara.
Dear Amala may you attain Nibbana.
Your closest friends from varsity days: Haneeya, Lalitha, Zarina, Subathara, Annathaie, Kanthi, Chitra, Visakha, Ratna, Ranji, Ruki, Neville, Balalle, Kokila, Sarath and Sydney
The verandah and empty chair will be part of the memories
Pauline Goonasekera
My dear mom Pauline passed away on April 30. Her death came as shock to all those who were near and dear to her. She was admitted to hospital on April 28 to undergo a hernia operation which was subsequently not done. But she passed away on April 30 of pneumonia, despite the multitude of prayers that were recited for her. This is proof that God has a plan for every one of us. Therefore when the call comes we have to go.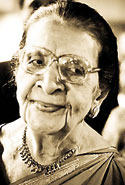 At home, the verandah was her favourite place. From the time she woke up she prayed there, read the newspapers, even had her tea or just sat hoping that a friend would drop in for a chat. Her special chair still remains with a touch of emptiness. Oh mom, you were so lucky to see your first born great grandson, Lucas. If you had lived a few months more you would have been able to see the second one as well.
Your death has created a big void in our lives, but we will cherish the beautiful memories you left behind. Mom, this was definitely God's plan to bring you and dad together again after six years of loneliness. So hold on to each other very tightly until we all join you in "paradise".
Shrima Soysa
Follow @timesonlinelk
comments powered by

Disqus