Sri Lankans' views mixed on issues relating to local and imported food
View(s):

Sri Lankans are mixed in their views on whether testing of local and imported food, as required by the country's authorities, is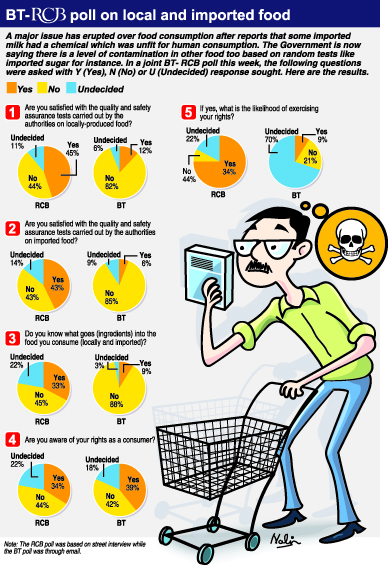 properly done, a joint poll by the Business Times (BT) and Colombo-based Research and Consultancy Bureau (RCB) revealed this week.
Following the controversy over imported milk food, the poll sought to find answers from the public on the level of testing of local and imported food, the ingredients in food and awareness about the rights of consumers.
Asked whether they are satisfied with the quality and safety assurance of tests carried out by the authorities on locally-produced food, 45 per cent of the respondents in the larger RCB survey said 'Yes' and 44 per cent said "No' while the BT survey showed a more negative sentiment: 81 per cent saying "No' and 12 per cent saying "Yes".
The RCB poll was conducted on a Colombo street while the BT poll was on email.
Comments from both street respondents and those on email were scathing in their attack on the quality of local food.
"Goods produced in this country lack cleanliness and many are outdated. In some kiosks the food is stale," said one street respondent. Another said imported food was of a high quality compared to local food adding, "Many (food producers) work with an eye on bribery and they hoodwink the high ups with bribes."
The pattern of responses from BT and RCB respondents was the same for the other questions too. Asked whether they are satisfied with the quality and safety assurance tests carried out by the authorities on imported food, an equal number (43 per cent) of the RCB survey respondents said "Yes" or "No" while 14 per cent were "Undecided". The BT survey on this question saw 87.8 per cent of the respondents saying they were not satisfied ('"No").
To the question on whether people are aware as to what goes into the food they consume, the majority of RCB respondents said "No" (45 per cent) while 33 per cent said "Yes". In the BT survey, 87.8 per cent said "No".
On being aware of their rights as consumers, 44 per cent of RCB respondents said "No" (they were unaware) while 34 per cent said "Yes". To this question, BT respondents also thought alike with 42 per cent saying "No" and 39 per cent saying "Yes"
On the final question of exercising their rights as consumers, nearly 70 per cent of BT respondents were "Undecided" while 75 per cent of RCB respondents said they would most likely exercise their rights.
No use in complaints as every sector is corrupt
Comments from the RCB street/mobile phone poll:
- People are sick today due to contaminated food.
- We are criticized when we talk of customer rights.
- Much of today's food is full of sugar and salt which are bad for those with pressure.
- One reason for cancer is bad food.
- All food produced here must go through rigorous tests and proper dates of manufacture and expiry should be given.
- Officials do not carry out proper checks on food products. Even if they do, they ignore any contaminated food issues as they are bribed.
- It is best if all food items are produced here rather than imported, for the economy's sake.
- Everything in this country is bought over by bribery and corruption. There is no point in complaining.
- No one is bothered about quality. On the other hand, if we do complain, we become unpopular.
- Some imported food also has issues, is of low quality and since what is written is in English, people may not understand its contents.
- We do not know how imported foods are made outside our county so it is best to rely on local foods.
- Checks on eating houses regarding quality are often not properly done. Customers are given food in cleanly, wrapped paper but what is inside is the issue.
-  Often the details of ingredients in a food product are in small letters and cannot be read. It should be in large print that consumers can read.
-  The ISO standard label is given after proper scrutiny so there is no fear about such items.
-  Officials today are bent on making a fast buck so they ignore standards. We have no confidence in what they pass as "safe products", so it is best not to use them for too long.
-  What is imported is of better quality than local ones and can be depended on.
- Recently there was a hue and a cry about an imported milk product and that it contains an unsafe substance. However sales continued in spite of these issues.Shouldn't the authorities have suspended sales of the product until it was cleared following tests?
n It is doubtful if the rights of consumers are respected and people do not know where to lodge such complaints. If you complain to the store owners they will scold or insult you or give another product.
n Ordinary people cannot go to courts on such matters regarding consumer rights. But if those responsible authorities take extra care over consumer rights then there is no need to make complaints.
Comment from BT's email poll:
On tests on local food:
- Before we call the international kettle black, we must make sure that our local pot is not blacker! Almost every day, the newspapers carry stories of hygiene standards not being maintained – about contaminated local foodstuffs. The problem is there is no consistent testing and enforcement of standards that we can see and trust. Look at the issue of artificially/chemically induced ripening of fruit in Sri Lanka. The authorities have admitted this and if so, the growers/producers should be named and shamed and court action instituted against them. I am only quoting this as an example. I feel there are many other examples, where we don't hear of the end results ie what's been done to safeguard me the consumer.
- We are being conned and poisoned
On tests on imported food:
- If the local scenario is anything to go by, I don't trust these tests either. New Zealand is one of the world's most respected dairy-related countries. Their wealth relies heavily on this sector. I doubt very much that they would resort to harmful practices…still anything is possible in this world of greed. When reports of this appeared in Sri Lanka unfortunately the first reaction it creates in the minds of the people is that "There must be a hidden agenda behind these accusations…someone is trying to scuttle foreign milk imports or gain an advantage over a particular brand". Unless and until we can learn to trust our public-serving authorities, AND THEY BEHAVE IN A MANNER THAT EARNS OUR TRUST, I am afraid there will be many who'll doubt the authorities all the time. This is not a politically biased comment…it is to do with trustworthiness and honesty of public officials.
On awareness about the ingredients in food:
- If I know and can be sure of the source of this information then testing would not be necessary. I am inclined to trust imports more than local items except products manufactured by locally reputed entities. The case in point I think is our biscuit industry which is world class…I would trust Maliban and Munchee but unless I knew something about lesser known manufacturers I wouldn't buy their products.
On consumer rights:
- As consumers we have no time to exercise our rights. It is the duty of the authority to ensure the safety of the food we consume
- Exercising our rights is like pouring water on a duck's back (meaning there is no impact).
- Ban products that are unfit for human consumption.
- Even if we knew our choices and rights of a consumer, the chances of exercising our rights are extremely slim.
- There are channels for me to take matters with authorities on this issue. However what I do not trust is whether something would be done about my concerns in a systematic way so that they don't arise again. The answer to this whole issue lies in trust. There is always a possibility (not likelihood) that even imported goods retailed by well-known brands we have come to trust could, implicitly, one day be found to transgress that trust.
- Consumer rights can only be exercised through the CAA or the PHI of a local body but the system is lethargic and often leads to threatening to expose the conveyor of this information in the media.
- The complaints mechanism is a tedious process at the CAA.
- Consumer activism is limited as consumer societies or action groups are non-existent. The CAA is an unhelpful political bureaucracy, public interest litigation is costly and there are no champions to lead consumer movements.
General comments:
- The global food chain poses risks few understand and want to be concerned with. From the recent 'horse meat' problem in the UK to baby milk contamination in China, the need for us to feed an increasingly demanding world is throwing the food supply chain into a shock. Very few individuals have a clue about where their meals originate. Global multi-national fast food chains are making matters worse. The response is simple if you have self-control and difficult if you don't. Michael Pollan, a columnist for the New York Times and best-selling author, has a simple way out. According to him, you should only be eating food which your great-great grandmother ate in her life time. If you take a minute to look at all the food you eat during a week through that lens, the average city dweller in the country consumes close to 80 per cent junk. My tip is to also eat as much locally sourced and produced food. Longer the supply chain, higher the chances for contamination, lower the nutrient content and higher the rate of non-communicable diseases.
Mobile phone tool for RCB poll
The RCB poll this week for the first time used a tool to obtain information through mobile phone devices. It helped to increase the sample size of the poll for which the usual 'street intercept interviews' were also held.
Follow @timesonlinelk
comments powered by

Disqus