Wholesome questions
By Kumudini Hettiarachchi, Shaveen Jeewandara and Shehani Alwis
View(s):
Lankan consumers ask how safe are imported milk products
Health Ministry's Food Advisory Committee lacking transparency
Many Sri Lankans are questioning the safety of imported milk products amidst concern over New Zealand milk, while a few were unaware about the issues partly due to lack of transparency by State agencies charged with ensuring food safety. While all reports and information collected by the Sunday Times indicate that there may not be any safety issues with regard to Dicyandiamide (DCD), questions are being raised about the role played by the Food Advisory Committee (FAC) of the Health Ministry mandated under the Food Act to ensure that all food is fit for human consumption.
The FAC did not inform the public even though the Sri Lankan Health Ministry had been categorically told by New Zealand's New Delhi High Commission about the DCD issue linked to its milk products "early this year," the Sunday Times understands.
While this high-level health body needs to come up with strong answers in what seems like a failure of duty, it also needs to justify how it did not know about this issue even earlier when across the world there was frenetic reporting over the contamination. An eye on the web last year would have alerted the FAC about the DCD issue.
The FAC is headed by the Health Services Director-General Dr. Palitha Mahipala, while its Secretary is Dr. Ananda Jayalal.
The Consumer Affairs Authority (CAA), meanwhile, sent the second stock of NZ milk-powder samples for testing for DCD to an overseas laboratory this week.
Both the CAA and the Atomic Energy Authority (AEA) were vocal in their assurances that tests were being carried out for DCD and radiation, respectively.
"We took samples from five brands of imported milk powder packets off market shelves, on the instructions of President Mahinda Rajapaksa and sent them to Singapore to be tested for DCD, as Sri Lanka did not have the capacity for this test," CAA Chairman Rumy Marzook told the Sunday Times, adding that the report from Singapore found that the samples had levels of DCD ranging from 0.36 to 15.17. It was then that the CAA wrote to the Health Ministry seeking clarification whether the intake of DCD causes harm to human health, if so what those harmful effects would be and whether there is an acceptable tolerance level. The Health Ministry, in turn, submitted these queries to the WHO.
Health Ministry Secretary Dr. Nihal Jayathilake, when contacted by the Sunday Times said he had requested information from the WHO as it had the technical know-how. The WHO response indicated that there was no problem for human health, said Dr. Jayathilake, adding that he had advised the FAC to follow-up the issue.
The report on the second stock of imported milk-powder samples sent for testing this week is expected in a fortnight, Mr. Marzook said. He declined to state the country to which they were sent except that it was "one of the best labs in the world".
The tests are being conducted only on imported milk powder and that too only for DCD, according to him.
"Our milk is safe," asserts Fonterra
Fonterra's Office in NZ detailed the steps it had taken since the DCD issue erupted in September 2012, asserting that hundreds of stringent tests thereafter proved that its milk products are safe. The company said it also supported a NZ Government decision to withdraw DCD products off the shelves in January which meant all milk produced after that is DCD-free.
Sri Lanka's CAA, meanwhile, said the samples of milk sent for testing to Singapore were from an old stock and that was why samples from the new stock, were sent this week to another lab. Fonterra has also clearly stated that it had a "…face-to-face" briefing with the Ministry of Health on February 19, 2013. "We have provided regular updates and information since this meeting."
Here are excerpts of responses from Fonterra to some of the questions e-mailed by the Sunday Times:
 How long has DCD been applied in the pastures of New Zealand?
DCD was used in New Zealand to increase grass growth and reduce nitrate leaching from the soil into rivers and streams. It has been used since 2004 by less than 5 per cent of New Zealand dairy farmers who apply it only twice a year. Any risks of DCD residues occurring are limited to six-eight weeks immediately after application. There has been no DCD used on New Zealand pasture since September 2012.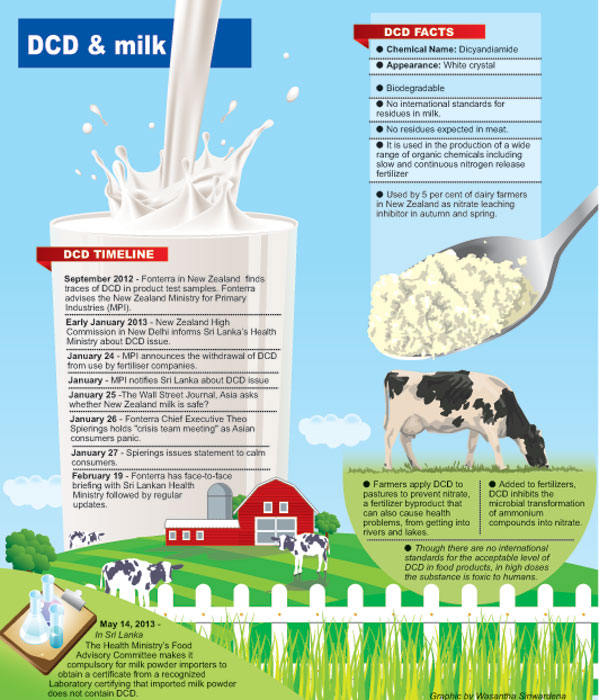 When was DCD first discovered in Fonterra dairy products? What were these dairy products? 
We found very low levels of residue in a small number of products made in September: whole milk powder, skim milk powder, and buttermilk powder. These were tested through AsureQuality in New Zealand. We informed the New Zealand Government and we have been part of a Government working group dealing with this since November.
When we were notified that CAA were testing our consumer products, we tested a wide range of our Anchor and Ratthi products in Sri Lanka, produced during September to November, as an added assurance and we have not found any detectable traces of DCD.
Are Fonterra dairy products being tested for any other toxic chemicals currently?
We test every batch (cipher/day's manufacture) of product for a range of microbiological, chemical and foreign matter contaminants every single day. Every one of Fonterra's products goes through around 300 tests before it reaches our consumers in Sri Lanka.
No harmful effects from DCD, says WHO
Based on two authoritative reviews of toxicology data, there have been no reports of harmful health effects to humans from the intake of DCD in milk, said the WHO Sri Lanka Office when contacted by the Sunday Times.
The reviews were a cooperative assessment by member countries of the Organization for Economic Cooperation and Development (2003) and MAK Commission of Germany (Commission for the Investigation of Health Hazards of Chemical Compounds in the Work Area) published in 2012.
"Based on the reported reviews, DCD is assessed as having a low toxicity. Dietary exposures in animal toxicity studies over longer time periods are also unremarkable with no observable adverse effect levels reported. Toxicity testing in relation to reproductive toxicity and carcinogenicity has been negative. Local effects of DCD dusts have been reported as slightly irritating to the skin and eyes although this type of exposure is not relevant for the present question," the WHO said.
With regard to a "tolerance level", the WHO states that no tolerance level or acceptable daily intake of DCD for humans has been set. These values are usually considered if there are food safety issues with the levels of certain chemicals in food. This is not the case with DCD.
Excerpts of the MPI response: 
When was DCD first discovered in New Zealand's dairy products? What were these dairy products?
- New Zealand's Ministry for Primary Industries (MPI) was first told about DCD in some New Zealand dairy products in late September 2012.
It has been discovered in dairy products including milk powder and butter.
More than 2,000 tests have been done on New Zealand milk since it was first discovered. Even the highest levels of DCD detected were many times below unsafe levels.
There has been no DCD detected in milk from New Zealand farms since mid-November 2012
We quickly established that there was no food safety risk.
We then worked with the New Zealand dairy and fertiliser industries to decide how to deal with any trade issues.
The result was that the companies which produced DCD fertiliser decided to voluntarily withdraw it from the market.
Because there is no internationally agreed minimum limit for DCD we advised our trading partners, including Sri Lanka
We provided our trading partners with scientific information and test results so that they could make their own decision about the safety of New Zealand dairy products.
The New Zealand High Commission in New Delhi wrote to the SL Ministry of Health about the issue early in 2013.
MPI has directly provided the Sri Lankan Ministry of Health and Sri Lankan Standards Institute with several updates since then.
New Zealand has been discussing the issue of radioactivity testing with Sri Lankan authorities for several years.
Sri Lanka's Atomic Energy Authority currently tests every consignment of imported dairy powder for radioactivity. This testing AEA's has never detected a radioactivity problem with New Zealand dairy products, despite testing all consignments for over a decade.
New Zealand also monitors radioactivity in its own dairy products and has provided Sri Lanka authorities with annual reports from this monitoring
- In light of the negligible radioactivity risk posed by New Zealand dairy products and the results of AEA's own testing, New Zealand has been seeking a reduction in the frequency of testing, or a removal of testing.
From port to consumer
From port to market shelf and then on to the consumer's plate or cup, here's the official chain down which a food item makes its way.
When the food item arrives at the port, it comes under the Customs.
The Imported Inspection Unit which comes under the Food Control Unit of the Health Ministry and seeks advice and guidance from the FAC, will check the documents that verify the country of origin which is from the Chamber of Commerce of that particular country.
Samples from the food item would then be taken for three types of checks — Microbiological tests which are undertaken by the Medical Research Institute; chemical checks by the Government Analyst's Department and checks by an approved analyst at the National Institute of Health Sciences.
Radiation checks would be carried out by the AEA.
The whole procedure of testing samples takes about two weeks.
NZ officials assure AEA no radiation in pastures
Two officials from the Ministry for Primary Industries (MPI) of New Zealand presented a letter to Sri Lanka's Atomic Energy Authority (AEA) on April 30, says Chairman Dr. Ranjith Wijayawardana, adding that they assured him that the pastures in New Zealand are free of any radiation. When they suggested that he discontinue the tests for radiation, he refused to do so.
However, MPI in answer to detailed questions e-mailed to it by the Sunday Times, said it has over the years asked the AEA for a reduction in the frequency of testing or to stop testing altogether because the "AEA has never detected a radioactivity problem with New Zealand dairy products, despite testing all consignments for over a decade".
Dr. Wijayawardana said that there is a scientific reason for such tests to be carried out since 1986, following nuclear weapons testing by some countries 20-30 years ago, during which a lot of radioactive elements were released into the atmosphere. Similar to dust particles, these huge amounts of radioactive elements settled all over the world. Most of them have died off except the Caesium (Cs) 137 isotope.
How people got their milk in the past
Those were the days, way back in the late '50s and '60s when the Colombo consumers would get their milk all the way from Welikanda off Polonnaruwa. Recalling the days of glory of the Milk Board, Engineer Chula Ratnatunga who joined it as Engineer and then rose to become Chief Engineer says his tour of duty lasted 10 years from 1958-1968.
The liquid milk would be collected from remote areas, the processing (heating) done at the plant at Welikanda and then brought by train to Colombo. By the time it did arrive in Colombo, much of it would be spoilt. However in 1962, came a change that would ensure non-spoilage of milk. Road tankers were introduced, says Mr. Ratnatunga, explaining that then only the chilling, not processing of milk had to be done at Welikanda. This led to a major success story.
When the milk had to be taken in cans earlier, the per litre quantity that would touch the surface of the cans was much more than it would be in a tanker. So the "bashing" the milk would get in a tanker was much less, resulting in less spoilage, he pointed out.
The tankers would bring the milk to the Narahenpita processing plant where it would be pasteurised and sold to the people through the familiar red-and-white striped milk booths or delivered to homes.
Sri Lankan Govt. was informed in Jan 2013 of DCD issue – NZ mnistry says
The NZ Government has since January 2013 kept health services with the Sri Lankan Health Ministry informed of all developments relating to the DCD issue, the NZ Ministry for Primary Industries said in a detailed response to questions e-mailed to it by the Sunday Times.
"They (Health Ministry authorities) are Sri Lanka's experts in food safety and the usual channel for these kinds of notifications," the NZ ministry said, adding that in early May 2013, two MPI officials visited Sri Lanka for discussions about a wide range of issues, including DCD and met with Sri Lankan officials from the Ministry of Health, the Sri Lankan Standards Institute, the Consumer Affairs Authority and the Atomic Energy Authority.
Reactions of people surveyed
Mixed were the reactions from a cross-section of people, the Sunday Times surveyed near the Colombo Town Hall on Thursday, about the milk powder issue. While some were not even aware of the crisis, others were of the view that they would not change the brand they were drinking at present and still others said they would switch brands if the contamination was proven.
Sunil Thalagala (52), Raheema (52), Lanthra (60), Susantha Malagammana (29), A.H.N. Ali (54), Sameera (40) and shop-owner Shiham were not aware that imported milk powder was in the eye of the storm while Ranjith Jayasekara (60), S. Thiyagarajah (42) who works in a shop, N. Abeysekara (35), a shop-owner, Wasantha (32), Chathura Madushanka (22) and Harindra Wimalasiri, a marketing manager were on top of the news.
Sunil said he uses milk powder in his tea and if the allegations are true he would switch to fresh milk, a view echoed by Ranjith, Harindra, Chathura, Susantha, Ali, Sameera, Wasantha, Shiham and Raheema who uses both milk powder and fresh milk. Lanthra was undecided on her course of action while Wasantha said if the chemical was toxic he would change brands but still use milk powder. Mrs. Abeysekara, Shiham and Thiyagarajah indicated that the issue has not affected tea sales.
Meanwhile, most hotels that the Sunday Times contacted said that they use liquid milk and as such the crisis with imported milk-powder has no bearing on them.
Follow @timesonlinelk
comments powered by

Disqus