Flood for thought and company as camps fill with displaced
By Mirudhula Thambiah
View(s):
Thundershowers, raging waters and landslides disrupt lives and livelihoods of thousands made homeless
Some 2,336 displaced people badly affected by the harsh weather patterns that prevailed early this week, still remain in 23 camps in the Nuwara Eliya District, but widespread damage has been caused in various other parts of the country with reports of seven deaths.
Disaster Management Centre spokesman Sarath Lal Kumara told the Sunday Times that some 750 families are sheltered in these camps, with relief operations carried out by the Nuwara Eliya District Secretariat.
These 23 camps are located at Ambagamuva, Kotmale and Nuwara Eliya where most of these people are estate workers, whose line-houses were damaged by the harsh weather.
"The Ministry of Disaster Management has allocated Rs100,000 per house for severely damaged houses and Rs 50,000 per house for partially damaged houses," Mr. Lal Kumara said. Some 149 houses are fully damaged and 1,875 houses are partially damaged.
Stormy weather conditions due to the low pressure cyclonic effect in the Bay of Bengal, affected more than 10,000 people on the western slopes of the central hills, mainly in the Nuwara Eliya, Kandy and Ratnapura districts. Among the worst affected districts were Ratnapura where 1,842 persons were affected and Nuwara Eliya where 7,981 persons were affected.
While other districts such as Matara, Polonnaruwa, Matale, Batticaloa, Ampara, Jaffna, Mannar, Wanni, Kurunegala and Colombo also experienced heavy rains, floods, gale winds and landslides.
Accordingly, stormy weather patterns with heavy rain, gale force winds and floods were experienced from Sunday (12) to Tuesday (14) in the southwestern, central and eastern parts of the country, due to low pressure developing 300 km east of Hambantota from Wednesday (8), and warnings issued on Sunday (12) morning against going out to sea off the southwestern and eastern coastal belts.
Overall, a total of 11,500 families were affected by the stormy weather conditions, with 14 persons injured and one missing.
The seven deaths reported were one each from Thihagoda in Matara, Nuwara Eliya, Pasbage Korale and Pujapitiya in Kandy, Point Pedro and two deaths from Ambegamuwa in the Nuwara Eliya district.
Jaffna's Additional District Secretary Rubini Varathalingam said that 247 persons were affected by heavy rain and high winds in the district and that Thellipalai was the worst affected area where four temporary huts of displaced people were fully damaged while one person died from lightning in Point Pedro.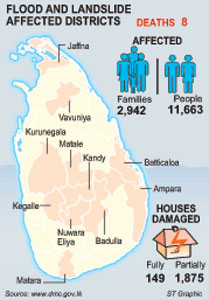 Meanwhile the Met. Dept reported that the highest rainfall was recorded in the hydropower catchment areas last Monday, with Canyon receiving 409 mm, Castlereagh 394 mm, Norton 373 mm, Mousakelle 354 mm, Laxapana 275 mm, Upper Kotmale 241 mm, Kotmale 191 mm, Maskeliya 162 mm and Kukule 118 mm.
The highest rainfall recorded in the Nuwara Eliya district was in Rosita, Kotagala-with 318 mm while the second highest recorded was at Wellawa, Kurunegala-with 177 mm.  According to the Irrigation Department, of the 71 major tanks, 14 were overflowing due to the continuous rainfall.
Irrigation and Water Management Director Janaki Meegastene said that the sluice gates of Lunugamvehera, Rawara and Veheragala reservoirs in the Hambantota district were opened, as they were at spill level.
"In the Polonnaruwa District, sluice gates of the Parakrama Samudra, along with Ambewela, Kanda Ela and Sorabora in Badulla, Bathalagoda tank, Kumbulwana and Maagalla in the Kurunegala District, Trincomalee-Mahadivul Ela and Vaan Ela, and Akathimurukku tank in the Mannar District were opened," she said.
Irrigation-Hydrology Director Prema Hettiarachchi said on Monday (13) that water level of the Kelani Ganga was above normal, while the Nilwala, Kalu and Gin Gangas were in spate due to the heavy rains. The National Building Research Organisation (NBRO) last Monday issued a warning against landslides, rock-falls and earthslips in the Kurunegala, Kegalle, Nuwara Eliya, Badulla, Matale, Ratnapura, Galle and Kalutara districts.
Meanwhile, Met Dept Director General S.H. Kariyawasam said that morning showers will be experienced during the next week, while the climate will be warm, as the seas around Sri Lanka is warm. However, this warm condition will not be as high as before. "We do not expect much rain in the coming weeks, but there will be rainfall in the southwestern parts. There will be early morning rain and evening thunder showers in the Western, Sabaragamuva, Central Provinces and Galle and Matara districts," he said.
The Ceylon Electricity Board (CEB) on Wednesday (15) said the tropical cyclone that brought in heavy rains has boosted water levels in hydropower catchment areas. The rainfall carried with it had improved the ever decreasing storage levels within just a day, to the level maintained 40 days ago.
In a statement on Monday (13), the CEB elaborated that hydro storages had gone up by a record 144 GWh (million units) within the last 24-hour period, from 661.5 GWh or 52.6% of it capacity to 794.4 GWh or 63.1% of its capacity. The inflows are expected to continue during the following days due to water retention in the catchment area.
Cyclone 'Mahasen' makes landfall  on another storm by name
Naming a tropical cyclone 'Mahasen' brought in another controversial storm last Monday (13), following allegations against the Met. Dept of insulting King Mahasen. Met. Dept Director General S.H. Kariyawasam told the Sunday Times, as people were not happy with the name 'Mahasen', the title was withdrawn from usage since Sunday (12) night.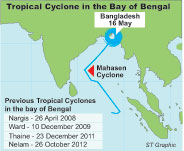 "We used 'tropical cyclone' in the Bay of Bengal, as was the practice prior to 2003-2004 for local media, and we informed the international media to refrain from using the name 'Mahasen'," he said..The World Meteorological Organization (WMO) provides information to all users worldwide. For international navigation purposes, it constantly updates all prevailing weather systems, and resort to naming each weather system for identification purposes, he explained.
"The WMO established panels for each ocean basin in countries worldwide. The panels for tropical cyclones in the Bay of Bengal and the Arabian Sea did not use specific names before 2004. However, since 2004, weather systems even in the Bay of Bengal and the Arabian Sea were named to facilitate easy exchange of data," he said.
He said the panel of tropical cyclones for the Bay of Bengal and the Arabian Sea called for names for cyclones, from the meteorological agencies of the eight member countries in the region, namely, Maldives, Bangladesh, Sri Lanka, Myanmar, India, Oman, Pakistan and Thailand.
The names so collected are listed in alphabetical order and tabled. "The cyclone before 'Mahasen' was called 'Neelam', as suggested by Pakistan, and according to alphabetical order, the next country was Sri Lanka, which submitted 'Mahasen'," he said.According to procedure, once a cyclone develops, a name is used according to the table for data purposes.
"Once the monsoon sets in by the end of this month, conditions will not be favourable for cyclonic effects. Until then, there is a slight possibility of another cyclone developing, but it's uncertain," he said. "Last year, we experienced a drought in June, July and August. That is because there were very few cyclones or associated systems developing in our region," he added.
Meanwhile, a complaint was filed at the Criminal Investigation Department against the Department of Meteorology, for naming the cyclone 'Mahasen'. The complaint was lodged by the National Council for the Protection of Historical Irrigation and Cultural Heritage.
Follow @timesonlinelk
comments powered by

Disqus