The wheels turn for Sri Lanka at CMAG: But there is a price to pay
View(s):
 A powerful Commonwealth member country works behind the scenes to defeat moves to shift CHOGM from Sri Lanka
Commonwealth SG confident can iron out issues with Colombo; Canadian Foreign Minister calls GoSL 'evil'
By Our Political Editor
The massive rise in electricity tariffs to at least partly avert the loss of billions of rupees by the Ceylon Electricity Board (CEB) has met with some protests by the opposition and trade unions.
Parliament sittings were interrupted this week by MPs holding lit candles inside the chamber as a show of disapproval. The tariffs did not come down, but the sale of candles in Colombo was brisk. A motley collection of trade unions, a few belonging to alliance partners of the UPFA Government, will stage protests beginning next week. A signature campaign outside the CEB headquarters was launched by the Janatha Vimukthi Peramuna (JVP). Only nights earlier, at a protest rally in Maharagama, its supporters held flaming torches, used widely in the days when electricity was scarce.
Yet there will be no immediate change in electricity rates. It was made clear on Monday by President Mahinda Rajapaksa. He told national newspaper editors and heads of electronic media if the electricity tariffs were not revised, it would have had an adverse impact on the country's economy. Economic Development Minister Basil Rajapaksa who elaborated did offer some insights.
The private power suppliers, he charged, were "mafia" selling electricity to CEB at "exorbitant rates". Those remarks made clear all was not well with the CEB. In fact, such an issue should have been factored in by them before seeking a price revision.
Be that as it may, this week, the Government's attention was more focused on London. There, the Commonwealth Ministerial Action Group (CMAG) was meeting ahead of the summit in Colombo in November this year. With barely an hour to go for the CMAG event, External Affairs Minister G.L. Peiris made a last minute call on Commonwealth Secretary General Kamalesh Sharma. He was to again canvass for Colombo to be the venue for the meeting of the Commonwealth Heads of Government in November. He told the SG that besides the summit, the Government was also ready for the three side events– the Business Forum in Colombo, the Youth events in Hambantota and the People's Forum in Dambulla.
Friday's CMAG meeting at 'Marlborough House' in London had only one item on the formal agenda, a discussion on Fiji, whose membership was suspended in 2009 following the military leaders' failure to hold elections and restore democracy after the 2006 military coup.
Participants re-iterated their "commitment to Fiji's reinstatement as a full member of the Commonwealth family, through the restoration of constitutional democracy, the rule of law and human rights, in accordance with the fundamental political values of the Commonwealth." Other than that, also listed was "Matters of interest to Ministers," under which Sri Lanka came up for discussion. Though fuller details of what transpired were not immediately available, one source said it was the majority view that the CMAG had no mandate to change the venue of CHOGM. It noted that it was the responsibility of the heads of Commonwealth. Hence, an official statement after the meeting and posted on the website of the Commonwealth Secretariat made reference only to the participants and the CMAG position in respect of Fiji.
The statement said:
"1. The Commonwealth Ministerial Action Group (CMAG) held its thirty-ninth meeting in London on 26 April 2013.
2. The meeting was chaired by Hon.Dr.DipuMoni, Minister of Foreign Affairs of Bangladesh. It was also attended by Senator the Hon. Bob Carr, Minister for Foreign Affairs of Australia; Hon. John Baird, Minister for Foreign Affairs of Canada; Hon. A.J. Nicholson, Minister of Foreign Affairs and Foreign Trade of Jamaica; Hon.Dr. Abdul Samad Abdullah, Minister of Foreign Affairs of Maldives; Hon.Dr.Samura Kamara, Minister of Foreign Affairs of Sierra Leone; Hon. Bernard K Membe, Minister for Foreign Affairs and International Cooperation of Tanzania; Hon. Winston Dookeran, Minister of Foreign Affairs of Trinidad and Tobago; and Hon.Nipake Edward Natapei, Deputy Prime Minister and Minister of Foreign Affairs and External Trade of Vanuatu.
3. CMAG welcomed the recent adoption by Heads of Government, and signature by The Queen, Head of the Commonwealth, of the Charter of the Commonwealth, encapsulating the core values and principles of the Commonwealth. It noted that the Charter reaffirmed the Commonwealth's commitment inter alia to democracy, human rights, and the rule of law, separation of powers, freedom of expression, good governance, tolerance, respect and understanding and the role of civil society. As the custodian of the Commonwealth's fundamental political values, the Group pledged to continue to promote these commonly agreed goals.
4. The Group reviewed developments in relation to the country currently on its formal agenda, Fiji…….."
Canada backed by Sierra Leone and Trinidad and Tobago spearheaded the protests over developments in Sri Lanka. Contrary to claims that Sri Lanka was not discussed, diplomatic sources in London said it did figure. It was later confirmed by DipuMoni, the Bangladesh Foreign Minister who was the chair when she spoke at a news conference. Outside the CMAG, their efforts were backed by countries including Britain which lobbied for weeks ahead of the CMAG event. Joining in the same efforts were the Human Rights Watch, Amnesty International and other organisations. Although Friday's CMAG event makes clear there is no impediment to the conduct of CHOGM in Sri Lanka, another meeting of the body is expected to take place in September. Some sections argue that paragraph three of the CMAG statement (see above) would thus be relevant then. After the CMAG meeting, Secretary General Kamalesh Sharma addressed a news conference. Excerpts from the official transcript give an idea of how the events played out.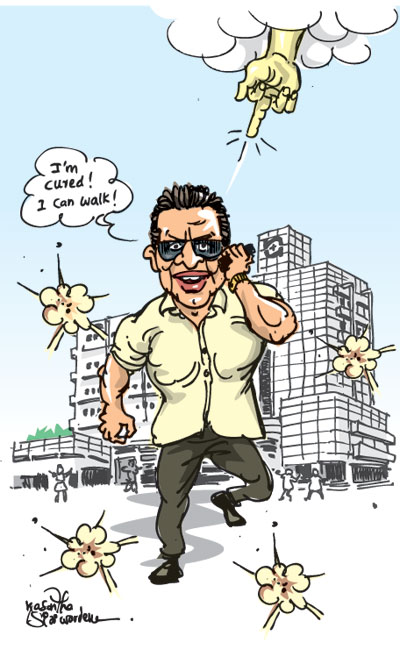 "Jonathan Miller (Channel 4 News): I would like to address, if I could, a question to the Secretary General, please. Secretary General, I understand that in the meeting that has just been concluded, it seemed like the question of Sri Lanka hosting this year's CHOGM was discussed. Could you tell me, sir, whether you think it is appropriate that Sri Lanka hosts this meeting given the fact that there have been serious questions raised about human rights issues, rule of law and good governance of the country?
Kamalesh Sharma: The CMAG has no role in the matter of a decision concerning CHOGM. The venue for CHOGM is decided by the leaders, and the leaders first discussed it in 2007, agreed it in 2009, and confirmed it in 2011 that it would be in Sri Lanka. Parliament leaders continue to take soundings with leaders, and have been doing so recently as well, and no member of government has indicated remotely that it wishes to change the venue. It clearly is a collective decision that it will take place in Colombo, and the date of it is in November.I must say that I am also engaged myself with Sri Lanka on many levels in order to pursue the Commonwealth values that are so dear to us. These values are not just the Commonwealth values; they are also their values, because they want to subscribe to them as a nation.
"In the spirit of a helping hand, which we give to all members, we have been engaging across a wide front in Sri Lanka with my good offices, and this will continue in the months to come. I am sure it will yield very good results in all the areas of human rights, of rule of law, of governance, institution building and strengthening.
Sam Jones (The Guardian): I hear what you are saying about the need to engage to promote the values which CMAG defends and seeks to uphold, but given the allegations of war crimes, of torture of people who return from this country, of the impeachment of the Chief Justice, of the failure to investigate the high-profile murder of a British national in Sri Lanka, do you not feel that, by not taking a stand, the Commonwealth is actually risking compromising its integrity and its credibility.
Kamalesh Sharma: The Commonwealth works on the priorities which have been given to the Commonwealth to act on the member states. This does not mean that we do not discuss many other issues with the member states. We sympathise with the fact that Sri Lanka has had a long period of agony from which it is emerging and it will take a while before a lot of the healing which we expect can take place. Next week we are going to have a workshop here on reconciliation. In that workshop their own historical experience of reconciliation and Sri Lanka will be present as well. Our expectation is that, moving forward, there will be impulses given by all that the Commonwealth will be able to do in partnership with Sri Lanka which will help them in all the other very deep, ingrained issues.
Question: Could I just follow up on that question from The Guardian? What was being addressed there was not so much what the Commonwealth's efforts are here to bring back workshops and for reconciliation, which I am sure we would all applaud, there are those who say, however, that given the past role of the Commonwealth, for example, with the Eminent Persons Group at the time of apartheid and that sort of thing, that the Commonwealth took a real forefront role in human rights-related issues. The question I would like to ask, again, is there not a danger that the integrity of the Commonwealth is at stake if these very issues are ignored in the case of Sri Lanka.
Kamalesh Sharma: I think that the credibility of the Commonwealth is increasing right now. As far as the judicial sector is concerned, we are the ones who are working with them on what can be a solution to the polarities and institutional confrontations that they have had in the past. We are the one organisation that is working with them on institution-building in the way that I have described. I do not see many other institutions doing such a comprehensive exercise with Sri Lanka. So I think the way in which we are acting and the way in which we are trying to make real progress on the ground, is actually a sign of this institution's relevance in the difficulties which are faced by the member state rather than the other way around.
Question: You speak of engagement with Sri Lanka, but do we really feel there is engagement around that. Sri Lanka rejected over 100 of the recommendations. Sri Lanka has been sending out propaganda packs to Commonwealth Nations that label accusations or allegations of human rights abuses as mischievous ways of defaming the country's name. So, can we really say that Sri Lanka is engaging, and at a level to engage with constructive work in the field of human rights and reconciliation, where they persistently deny abuses and recommendations given to them.
Kamalesh Sharma: When I spoke of engagement, I meant engagement with the Commonwealth. We have proven competitive strengths on which we work. We have engaged with Sri Lanka in my good offices in those areas. There are many of them. In all of these areas I have found they have engaged and are willing to take forward the template of increased performance in all of these areas, between social building or by any other means. That is what I meant by engagement.
Frances Harrison: I was confused by the progress that the Secretary General was talking about in the engagement with Sri Lanka in the judicial process, because we are seeing every Commonwealth lawyer or legal body talking about suspending Sri Lanka, talking about the problems of rule of law in Sri Lanka. We now have a country that is going to be head of the Commonwealth that has two chief justices and has violated Latimer House Principles. How can you actually say there is progress in judicial reform of any kind? How come you are the only body that seems to see this progress? We do not see this sort of statement coming from India, from the United States, from the UN Human Rights Council, or from many of the other key players involved?
Kamalesh Sharma: By progress, I mean the road map which we have developed for ourselves. I had a very long meeting with the Speaker when I was in Colombo and it was clear from the discussion that the appointment and dismissal practice of judges had to be corrected. So, I made an offer. We would be happy to make an illustration of what the practices are in the rest of the Commonwealth in respect of the appointment and dismissal of senior judges. This is what we are engaged in right now. Secondly, we said that once this exercise is done, we will be happy to make analysis as well as to what is closer to the Sri Lankan experience and institutional type than any others.
"From this exercise, we will be able to make recommendations as to what needs to be done moving forward in order to have those immediate measures, whether systemic or legislative, so that the kind of constitutional crisis which arose earlier and the polarity and the excuse for confrontation never arises again."
Contrary to claims that Sri Lanka was not discussed at CMAG, Bangladesh Foreign Minister and CMAG chairperson DipuMoni declared there indeed was a discussion. She told the news conference: "Sri Lanka is not on the agenda. However, as you are aware, the group also takes up for discussion other situations or issues and other matters of interest to ministers. This provides our ministers an opportunity for a free and frank exchange of views. These deliberations are in-house and not reflected in the concluding statement. At today's meeting, we did also discuss situations in various other countries, including Sri Lanka. These discussions, as per CMAG procedure, are confidential and not for public disclosure."
Canadian Foreign Minister John Baird who was at the CMAG meeting and present at the news conference asked:"So, the issue of the possible change of venue was not on for discussion today (Friday)?"
Bangladesh Foreign Minister Dipu Moni parried the question by saying: "As I told you before, the issue of CHOGM and its venue is not a matter of CMAG. It is a matter of the heads."
An angry Baird later told the Guardian newspaper:"We're appalled that Sri Lanka seems poised to host CHOGM and to be chair-in-residence of the Commonwealth for two years. Canada didn't get involved in the Commonwealth to accommodate evil; we came to combat it. We are deeply disappointed that Sri Lanka appears poised to take on this leadership role".
Far from seeing "meaningful progress" since the last CHOGM in Perth in 2011, said Baird, the Sri Lankan Government had only grown more authoritarian and less accountable and open to reconciliation."
Leaving 'Marlborough House' after the CMAG meeting and the news conference, Baird alighted from his car to join a group of protestors holding anti-Sri Lanka placards. He spoke with them before being driven off.
According to highly placed diplomatic sources in London, an influential member of the Commonwealth who is not a CMAG member staunchly lobbied for Sri Lanka ahead of Friday's event. These sources say this was a further indication that relations with this country, which was on its lowest ebb, has begun to improve as a result of a better dialogue now under way. Some of the joint projects with the country in question, which were in limbo, have been resurrected.
The same sources said that Commonwealth Secretary General Sharma, a former Indian diplomat (he was India's High Commissioner to London prior to taking over the Secretary General's post),and a very close friend of the Rajiv Gandhi family, has explained that he proposed a roundtable in London, most likely in June this year, where Sri Lanka's reconciliation process and related issues would be discussed. He has told Commonwealth members that he had obtained the consent of President Mahinda Rajapaksa for a Government representative to take part. This event, ahead of the CHOGM, would thus focus on some of the concerns expressed earlier by member countries of the Commonwealth. The exercise is aimed at "ironing out" some of the contentious issues before the summit so the major event would take place with little or no criticism on the Sri Lanka government.
Sharma even scheduled a voice cut with the BBC's Sinhala service Sandesaya on Friday to confirm that CHOGM would be held in Sri Lanka. With formal confirmation now on hand, what the Government would now have to look for is confirmation on how many top level delegations would attend. Here again, diplomatic sources in London say, the powerful member country of the Commonwealth was likely to bring its influence to bear on leading member countries to attend the event. In this regard, a Government source argued, that even Britain may take part at the highest levels in the light of Prime Minister, David Cameron's Government weighing in favour of trade as part of its foreign policy pursuits. However, this could not be independently verified.
Such a major trade deal was given the green light when the cabinet met for its weekly meeting on April 19. This was when it was decided to offer a multi-billion dollar deal to Air Bus Industrie with British-built Rolls Royce engines in a major re-fleeting for the national carrier, the fledgling SriLankan Airlines. According to the annual report of the Central Bank for 2012, released just last week, "The total revenue of SLA (SriLankan Airlines) increased by 36.1 per cent to Rs. 107.4 billion, while the operating expenditure increased by 30.6 per cent to Rs. 128 billion resulting in an operating loss of Rs. 20.5 billion. Emerging competition from other international airlines and the volatility of fuel prices has adversely affected the profitability of SLA. Mihin Lanka recorded an operating loss of Rs. 1 billion in 2012 compared to the operating loss of Rs. 455.3 million incurred in 2011."
Mounting SriLankan Airlines losses and a financial crisis prompting an electricity price hike notwithstanding, the Cabinet last Thursday approved a request by the Minister of Civil Aviation, for US$ 80 million (Rs 10.1 billion). It came on a recommendation made by Civil Aviation Minister Priyankara Jayaratne. The amount is just a part of the monies needed for SriLankan Airlines to purchase six Airbus A 330 aircraft powered by Rolls Royce Trent 700 engines. SriLankan Airlines will also buy four A350-900 aircraft powered by Rolls Royce Trent engines. In addition, three more A 350-900 will be obtained on lease by Sri Lankan Airlines. Minister Jayaratne has not told cabinet how the moneys required for the deal would be obtained nor explained how the US$80 million for which he obtained approval would be disbursed.
According to Jayaratne, the wide-body fleet of SriLankan Airlines which consist of 13 aircraft (six A-340s and seven A 330-200s) need to be replaced at the end of their respective lease terms which fall between 2014 and 2019. The age of the wide-body fleet, he has said, at present ranges from 13 to 18 years for the A-340s and from nine to 13 years for the A 330 aircraft. He has said that SriLankan Airlines requires new aircraft to replace the current wide-body fleet and this cannot be timed with the return of all existing wide-body aircraft to lessors upon expiry of lease terms.
The Board of Directors of Sri Lankan Airlines had appointed a team headed by its Chief Executive Officer Kapila Chandrasena to "provide expert advice" to the internal team in the selection process. Others included the Chief Operations Officer, Head of Finance and the Head of Engineering. A person described as an "External Consultant" had assisted the team. They reviewed offers from the US based company Boeing which offered its new generation 'Dreamliner' either with Rolls Royce or General Electric engines.
Now that the decks are cleared for the Commonwealth Heads of Government meeting in November, arrangements will no doubt be stepped up from this week. That is notwithstanding a situation where the Government is cash strapped and is forced to raise electricity rates. Now, billions will have to be found to procure new aircraft for Sri Lankan Airlines. The critical question is whether the taxpayer would have to pay more for different goods and services in the weeks and months to come.
Follow @timesonlinelk
comments powered by

Disqus