Appreciations
View(s):

Patriot and illustrious son of Lanka 

Lakshman Kadirgamar (7th death anniversary falls today)

You left our shores seven long years ago, when we needed your presence for a plethora of reasons. You would have been the happiest of "Statesmen of Sri Lanka" to see the scourge of terrorism defeated, a cause for which you sacrificed your life. At all world forums dignified by your presence, your clarion call was to assist Sri Lanka in defeating terrorism.
The Government, the Opposition and the People gave you a free hand to end terrorism.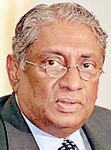 You told leaders in the region that Sri Lanka was for peaceful negotiations, but if those failed, our friendly neighbours should come to our aid.
Your approach was to unite all communities in Sri Lanka so there would be a common front against terrorism. You had the courage to declare, as a Sri Lankan and a Tamil, that the Sinhala people were not racist. This turned the tide to make the world body realise that Sri Lanka was fighting a "separatist terrorist war."
At the Royal Institute of International Affairs, on April 15, 1998, you said, "Sri Lanka has been a victim of terrorism for a long time," and that financing for the LTTE came from terror outfits abroad. Both the US and Britain, and the European Union later, proscribed the LTTE. British leaders asked Sri Lankan parties to unite in the fight against terrorism and build a bi-partisan approach to terrorism.
When he delivered his historic speech at the first Ministerial Meeting of the Community of Democracies, held in Warsaw, Poland, in June 2000, Lakshman Kadirgamar received a standing ovation. I congratulated him warmly. His response was, "Atu, I have walked a few more steps towards the LTTE bullet." Never in my wildest dreams did I imagine that it would be so.
From the day he was sworn in as the Foreign Minister, he had one mission – to bring Sri Lanka back to her former glorious tranquil state.Lakshman was born on April 12, 1932, when the Independence Movement was emerging. He was one of "the super first" children, excelling in whatever field he chose. He was an outstanding student at Trinity College, Kandy, best cricketer and rugby player, and best athlete, with several records to his credit.
He won the Andreas Nell Memorial Prize for history and the Napier Clavering Prize for English. He was a Senior Prefect and received the Ryde Gold Medal for best student. He graduated from the University of Ceylon with first-class honours in Law, topping the batch. He entered the legal profession as an advocate. He won a scholarship to Oxford University, where he excelled in both studies and extra-curricular activities. He held the All India University record in Ahamadabad, and Allahabad, in the hurdles.
Lakshman Kadirgamar did not enter politics for personal aggrandisement. He was invited to enter politics in the 1960s by political leaders in the North. He was secretary to the Chief Justice E. F. N. Gratiaen. He had highly placed relatives and friends in Jaffna, including religious dignitaries, who wanted him to lead the Jaffna populace politically. From the South, there were overtures from leading politicians and friends such as the late Lalith Athulathmudali.
In 1971, following the Southern insurrection, Lakshman Kadirgamar realised the peaceful politics he yearned for did not exist in his country.
From 1971 to 1974, he served in London in the human rights arena. He was the Amnesty International special representative to investigate the Buddhist-Catholic conflicts in Vietnam in 1974. Lakshman was becoming a globally sought after legal professional.
International organisations found him ideally qualified to take on certain posts. He was a Consultant to the International Labour Organisation in Geneva, and later he was invited to head the World Intellectual Property Organisation (1978) as its first Director, where he served till 1988, before returning to Sri Lanka to enter politics.
In the 1990s, President Chandrika Bandaranaike invited him to join the United People's Alliance Party and Government. He was ready for it, but because he lacked a popular support base, he was found a place in the National List. Terror was at its height in the North, and there was equal turmoil in the South. Also, there was a dearth of intelligentsia in the Government. The country needed solid support from all walks of life, and from persons of the calibre of Lakshman Kadirgamar. The President found in him a loyal confidante who gave sound advice. Finally, he was appointed as Foreign Minister of the new Government.
I was asked to organise an official visit where Lakshman Kadirgamar could meet the Prime Minister of India, the late Narasimha Rao, and other top officials. There was a high-level delegation, and they all were determined to make this a successful visit, which it turned out to be, by all accounts.
The new Minister called on Prime Minister Narasimha Rao, with me as Acting High Commissioner. Mr. Rao's line of conversation rested on an understanding that Indian support would be there to eliminate LTTE terrorism. Tracing the atrocities committed by the LTTE, including the assassinations of President Ranasinghe Premadasa and Indian Prime Minister Rajiv Gandhi, and other Sri Lankan Ministers, Mr. Kadirgamar brought the discussion to a close, with the "appeal-finale", saying "we have decided to talk to the LTTE once again, in spite, of all this, Prime Minister. We need your support and blessings."
Narasimha Rao thought for a while and said, "Go ahead, Foreign Minister, settle this problem and stop this menace. It will be one problem less for us." They had this tacit understanding, although our attempts at peace failed.
The rest is history. But Lakshman Kadirgamar's genuine efforts at non-violence stalled, and his strategies underwent radical modifications. Subsequently, he said he was not for negotiations but for the elimination of terror.
Lakshman Kadirgamar's foreign policy was now aimed at defeating terrorism, while making sure the country's development would continue. It was due to these efforts that Sri Lanka continued to have a relatively sound economy, which even fed the Northern terrorists. Even obtaining military hardware was possible because of the sympathy we had earned abroad.
Lakshman Kadirgamar was adored by my colleagues in the Foreign Office. Working with him was an educational experience. It was a pleasure to have an intellectual argument with him, with his great sense of humour. He was indeed a humane person, cultured and educated, someone who fitted the definition of a "global being."
In the early 1960s, Professor Duraiswamy, Professor of Philosophy at Madras University, gave us a lecture on education. The venue was the Peradeniya Arts Theatre. Quoting the Vedas, the professor said a cultured man served humanity through his education in four spheres: firstly, in the family circle; secondly, in the social milieu he belonged to; thirdly, in the land where he is born, and fourthly, on the international stage.
Sir, you rendered great service to us all.
Satharathilaka Banda Atugoda
Every Vesak and Poson her beautiful home was turned into a Budu Medura
MALINI RATNAIKE
It is with profound sadness that I pen these lines on the demise of Malini Ratnaike. Being out of the island, I could not attend the funeral. Malini was married to my cousin Nalin, who was involved with charity work and she followed in his footsteps.
She was the elder sister of the late Sanath Amaratunge and the late Chandrani Silva.
A product of Ladies' College and Visakha, she was a talented artist and a star pupil of the late Mudliyar Amarasekera. The walls of her neat house in Queen's Road were adorned with her beautiful paintings. Every Vesak and Poson, she converted the large hall in her home into a mini "Budu Medura." A large serene Buddha statue was placed on a pedestal and about 30 devotees observed "sil", and a "dhana" was provided. Erudite monks gave sermons and Dhamma talks. Discussions were led by lay speakers, including the late Mr. Alec Robertson, the evergreen Mr. Rajah Kuruppu and the young-and-upcoming Shane Blok, among others.
Malini continued this practice for 17 years. With advancing age, she had to move to a smaller place. She also arranged pilgrimages to religious places. The annual "dhana" for the Sri Dalada Maligawa is etched in my mind.
She was a positive, elegantly dressed person. I associated with her closely in charity work. She was like a sister to me. She leaves three sons and grandchildren who are abroad.
Ranjinie Chandraratne
A Justice Minister who embraced our diverse culture
E. P. Paul Perera
August 11 marked the fifth death anniversary of my grandfather, the late E. P. Paul Perera, President's Counsel.
Seeya had a colourful political career that stemmed from his passion for history, law and justice for the people of our country. Founded on a Bachelor of Arts with Honours in History from the University of Colombo, my grandfather's public service career began at the Department of National Archives, where he served as the Assistant Government Archivist before entering the Law College.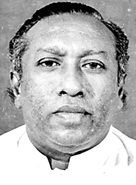 While enjoying an extensive private practice, Seeya became active in politics. He was instrumental in the United National Party's success in 1977 – something we all look back on and reminisce about. During the new UNP government's regime he served in a number of institutions, ranging from the Times of Ceylon to the Greater Colombo Economic Commission.
At the peak of his political career, Seeya entered Parliament in 1983, representing the Kaduwela Electorate. Subsequently, he had the honour of serving as the Minister of Justice in 1988.
Following a second term in Parliament, where he contested from the Attanagalla electorate, he was appointed Minister of Science and Technology, and later Minister of Lands.
Seeya encouraged us to achieve to our highest abilities. He was certainly a great role model and an inspiration to our family.
The year I was born, Seeya was appointed a President's Counsel – an achievement for "Attorneys-at-Law who have reached eminence in the profession and have maintained high standards of conduct and professional rectitude," as stated in Article 33 of our Constitution.
Seeya was also a great sportsman in his youth, having won many athletics championships at school. Seeya and I shared a common interest in cricket. He was my first cricket coach. We would play in his garden every Sunday. I clearly remember his unplayable under-arm "doosras" and his proud smile when I managed to get bat on ball.
I spent many hours after school (after finishing my homework, of course) sitting with Seeya at his residence in Ward Place, a house I have many memories of in my growing-up years. I recall guest appearances by the late J. R. Jayewardene, the late Gamini Dissanayake, and the present Opposition Leader, Mr. Ranil Wickremesinghe. This was the time Seeya would tell us stories of the history of Sri Lanka and the culture of our Sinhalese and Tamil people, while we enjoyed my grandmother's cooking.
Seeya loved his country. Although he was retired from active politics for much of my childhood, he made it a point to take us around our motherland. As a result, I got to see the beauty of Sri Lanka and learn about the history and folklore behind our stunning landmarks, from the conch shell used by King Dutugemunu to gather his soldiers at Sankapala to the folk tale behind the creation of Ravana's vettu when attempting to take Koneswaram to his dying mother.
I remember visiting the Madhu Church in the District of Mannar. Although this was during the ceasefire in 2005, the journey was sprayed with a heavy LTTE presence. It was quite an intimidating experience for someone not used to seeing young men and women wearing striped tiger-esque uniforms and carrying weapons.
Seeya had a great ability to speak the languages of the land, whether it was Sinhala, Tamil or English. This meant he could converse with anyone, from a coconut vendor in Jaffna to a mudalali in the Colombo market. His calm manner and strength of character in handling any situation was very comforting to everyone around him.
His colourful career as a lawyer and his achievements while serving the people of our country is a source of pride and inspiration.
Seeya lived his life according to the following sayings from Christian and Buddhist scripture. I feel these quotations reflect Seeya's legacy.
From the Bible, St. Mark's Gospel, 8:36: – "What does it profit a man if he gains the whole world and loses his own soul?"
From the Dhammapada Yamakavagga, Verse 16: – "Here he rejoices, hereafter he rejoices; one who performed meritorious deeds rejoices in both existences. He rejoices and greatly rejoices when he sees the purity of his own deeds."
Seeya, you are always in our thoughts.
May you Rest in Peace.
May you Attain Nibbana.
Your loving grandson, on behalf of your ever-loving family,
Mudara Perera
comments powered by

Disqus