Sybil Wettasinghe – the internationally recognised writer/ illustrator of children's books – spoke almost with disbelief of the grand reception she got in Tokyo recently where she received the prestigious Nikkei Asia Prize 2012 for Culture.
"To have been selected from so many countries in Asia was indeed a wonderful feeling. And the ceremony itself was so impressive – something I had not experienced before," she said.
Sybil has been the recipient of many an award but they were all in recognition of her artistic and literary talent. This was different. The scope was much wider and she was selected out of a number of nominees from several Asian countries. She was being awarded the prize in recognition of her "magnificent contribution to enrich people's lives in the region."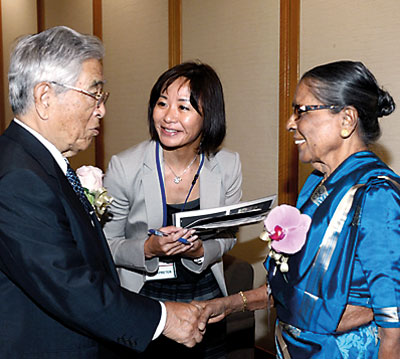 Sybil receiving her award
"Her works, which draw upon Sri Lanka's cultural diversity and natural beauty, have been translated into numerous languages and are loved by children around the world" was how she was introduced at the award presentation. She was identified as "a Sri Lankan writer and illustrator of children's books."
The Nikkei Asia Prize, awarded annually recognizes the achievements of individuals and organizations that have improved the lives of people in Asia. The Prize has been created and sponsored by Nikkei Inc., the publisher of Japan's leading newspaper in the field of business, economy and culture.
The Prizes are awarded in three categories – Regional growth, Science, Technology & Innovation, and Culture. The other winners this year were Chinese environmental activist Yang Yong and Taiwanese biochemist Chi-Huey Wong. This was the 17th year and the first time a Sri Lankan was honoured.
In her acceptance speech, Sybil said that she is an octogenarian who is a child at heart. "I have five grandchildren of my own. I consider all the world's children as my own. I love them all. Children are the spice of my life."
"This distinguished honour and prestige that I receive today should naturally go to my country and all the children out there who love me dearly through the picture books I have created for the last 56 years and still keep creating," she added.
Responding to Sybil's comment, Nikkei Inc. President & CEO Tsuneo Kita has written to her that while her presence "bestowed a magical atmosphere" at the event, they were deeply moved by her affection for children. "To us awarding the prize to a Sri Lankan for the first time was a historic moment and we sincerely wish that it will further enhance interest in your country's rich heritage and culture," he said.
Calling herself "a self-taught artist", Sybil recalled how she spent her childhood among the luscious green haven of trees and foliage mixing with the simple rural country folk. "The background to all my books is this magnificent old world setting. In that gloriously charming countryside my childhood was magnificently enchanting."
The winner of the Prize for Regional Growth, Yang Yong had studied ecosystems and water quality along China's Yangtse River for over 20 years working towards strengthening environmental conservation in the country. Among the previous winners of this prize were India's Dr Manmohan Singh (1997) and Bangladesh's Dr Muhammad Yunus, Managing Director of Grameen Bank (2004).