Here is a man with a strong sense of self-belief and his art exudes it. The images are so fluid that one can almost hear the bells tinkling and the drums beating as the ceremonial procession, complete with chariots and elephants, slowly inches forward. Asoka Sellakapu has high expectations of himself. "An artist must be capable of understanding behaviour, be knowledgeable about politics, culture, science and environmental issues. In short, he must be a complete person," he says.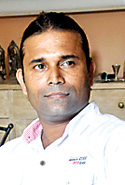 Asoka Sellakapu
Like many before him who were influenced by an artistic environment, Asoka is no exception. Helping his grandfather decorate pirith mandapas with floral designs as a young boy in his native Ambalangoda has left a lasting impression on his style. "I used to watch him cut out intricate paper shapes to stick on to the wooden mandapa frames. From my father, I learned the specialised art of calligraphy," recalls Asoka.
Inevitably, he gravitated towards the Sri Lankan Traditional Painting Association's course at the Colombo Museum. While the course covered various aspects from watercolours to sculpture to how to teach painting, it was during his four years here that Asoka realised where his true potential lay. Taking time out to scour the country's temples, Asoka familiarised himself with the detailed steps involved in temple painting, building up an extensive collection of books, and voraciously reading to further his knowledge.
Asoka's first real break as a designer came through a neighbour, businessman Padmasiri Malalagama who had been experimenting with traditional designs on antique wooden boxes. "Once the antique box was painted, it looked brand new, but by trial and error, Mr. Malalagama found a unique way to achieve the old look again." Word got around and orders from local antiques shops poured in. Extrapolating designs from books, his imagination and experience, Asoka began making boxes, furniture and panels, amassing a solid base from which to build his own business.
A chance to work in Qatar materialised, an artist friend helping Asoka to travel to the Middle Eastern kingdom in 1994. Working at the Al-Sulaiti Glass Company, he honed his skills in making stained glass, glass etching and sand blasting. Happily, he was able to coalesce some of his own designs in an Islamic art dominated world. "I remember creating an enormous floor to ceiling piece of a vine with leaves and flowers for a client; he was completely speechless!" says Asoka animatedly.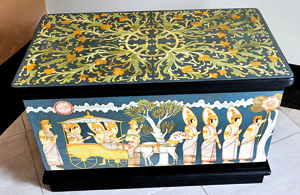 Pic by Susantha Liyanawatte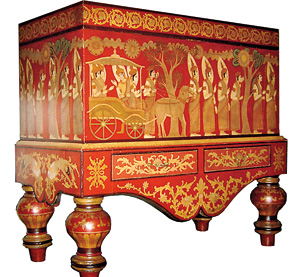 Hot on the heels of this success, Asoka was asked to make a portrait of the Qatari King. His first reaction was the self-effacing refusal to take on the commission, but his boss encouraged him, forging what would become a life-changing experience. "I worked from a photograph and decided that it should be done using glass etching, where a stencil is first placed on a mirror. Following immersion in glass etching solution, the stencil is removed and the glass washed. The portrait slowly appears on the mirror." Asoka finally realised that if he put his heart into a project, it would come to fruition, fuelling his confidence.
Back home in the mid 1990s, Asoka finally started his own business supplying items to galleries and shops, setting up Blend, the name reflecting the many types of art Asoka specialises in. "I started collecting antique pieces from all over the country, focussing my energies into creating new designs based on traditional painting, turning the piece of furniture into a true work of art," Asoka enthused.
Asoka's eyes twinkle into a smile as he reveals that his "old look technique" is a trade secret.
A labour-intensive process, the design is first drawn on paper and copied on to the intended piece using good old fashioned carbon paper. The initial colouring-in uses water-based paints, pale yellow for the figures, a darker shade for the ornaments. The trees come next and lastly the background. A final oil-based sealer coat is applied for overall protection.
Not one to shy away from trying something new, Asoka travelled to Dubai as part of a team constructing a water feature for a hotel and has also been the artistic director for a Sinhala song visual and tele-drama. "I realised that many external influences governed my growth and learning," he emphasised.
While his art may be considered conventional, Asoka's outlook is anything but. Deeply interested in Western culture, he would love to travel and pursue the study of art in Europe.
Asoka is still waiting in the wings "to do something for the planet, make a lasting impact. I try to have a positive outlook, but feel that there are many stumbling blocks to acknowledging the real value of traditional painting. There is plenty of scope for promoting traditional painting to a wider audience." In his spare time, Asoka plays the guitar in beach and classical bands, but his true talent stems from his passion for reviving the fine art of temple painting.
Asoka can be contacted at sellakapu@yahoo.com.au.