California Grill: I wrote the Galadari was 2012's rising star. Thus there I headed first for new ways of regarding age-old Lankan food. Except that fine dining California Grill doesn't offer it. But I'd heard Chef Anushaan had created a curry for the Avurudu. And I insisted on it. I insisted also on a plated Lankan meal.
Chef Anushaan delivers...
Mini pol rottis are accompanied by stunner lunu sambol. Follows salad of sun-dried indigenous fruit: pineapple, mango, papaya and date-stuffed veralu! Then comes Lankan soup of beautifully soft lentils offset by al dente veggies. But Chef Anushaan is known to make Colombo's best soups.
And then: ambarella sorbet. It's ineffably gorgeous. Let's just say Chef Anushan is the only Lankan chef to have mastered the art of making sorbet. The last time I had his sorbet (lime & chilli) on 24/12/09 I called it "world class." Chef A's sorbets certainly are more imaginative than their Michelin-starred counterparts. And better textured too. Exquisitely creamy, like an ice cream, and yet so light. No ice granules, no sugared insanity (as everywhere else in Sri Lanka). It's like pure fruit rolling on your palate. I shamelessly request seconds.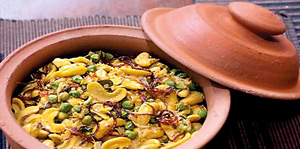 Mains. Chef had said it would be a purely traditional meal for the Avurudu. I anticipate trite kiribath. I get a cutely wrapped banana leaf unfolding splendid cashew, chilli and herb rice. I finish half the rice by itself before remarking the cashew curry (probably the best I've ever had), tempered baby jacket potatoes (I know from the texture as the knife descends into them that this is sheer excellence), brinjal mojo and the great surprise: chef's own invention, the soon-to-be-famous garlic curry (originally with fish). I am astounded. And I completely ignore Bollywood star Vivek Oberoi as he walks in.
Finally, bibikkan topped with impossibly delicious homemade coconut and jaggery ice cream and garnished with jalebi-like Sri Lankan valalu sweetmeats. And not too sweet. But Chef A says Lankans want less sweet now (Finally!!!)
When chef arrives I utter, "I didn't know you made such fantastic Sri Lankan cuisine!" He says, "I didn't know either..." How such superb textures? "We get some fussy customers." I learn that chef presented Lankan food in Switzerland. What love that chef keeps it 100% traditional. No newfangled nonsense. And that ultra-efficient young waiter Budhika is 100% trained at the Galadari. He didn't have to go to Dubai for training...
I am persuading chef to do a Lankan night and have a sorbet promo and open a gelataria...
Meanwhile, Chef Nimal has fab kalu dodal and emerald leaf-shaped Avurudu ribbon cake. And he also makes Colombo's finest, oh-so-tender truffles, hand-made, customised wonders infused with spices to commemorate the Lankan Cinnamon, cardamom and nutmeg. First time I've had spiced truffles. I hope to keep discovering Chef Nimal's nifty numbers in the new year.
Latitude: The Taj is synonymous with Indian cuisine. But this New Year we disclose an old truth- that the Taj Sri Lankan cuisine is equally good. Having investigated other alternatives, I feel Latitude's small but superb Sri Lankan counter shames Colombo's speciality restaurants. True, you haven't the exotic ambiance one expects nowadays with local cuisine. What you have is authentic Lankan cuisine, perhaps the last of it, when the culinary heritage has degenerated into yet another trinket for tourists. Latitude continues to offer indigenous salads like snake gourd, bitter gourd, coconut & pumpkin and curries (including exotica like mango curry, tempered yams) that are spiced as are the dozen accompaniments.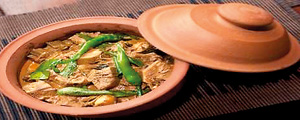 When other restaurants excuse diminished spice levels with, "Tourists complain," Latitude remains mercifully unapologetic about its quintessentially Lankan flavours. And we even spotted an English cricketer crunch a devilled dish. No, he didn't complain about irascible spices. Indeed, he seemed rather ecstatic. I was certainly ecstatic about Colombo's only mutti curd that isn't sour, and yes, dramatically reduced sugar levels across desserts, notably the Avurudu specialities. Get those pretty caskets of lovely moong kavum etc. Pity that Latitude's Lankan cuisine gets stifled amidst the plethoric international spread. It remains a mystery why they don't showcase their Lankan cuisine excellences with poolside promotions.
Buzz (Gateway Hotel): Terraces overlooking the poolside will enliven with live stations for hoppers, kottu, rotis etc etc in a celebration of the Sri Lankan between April 12-25 whilst an excursive twenty-five curries will entice. Anticipate village vegetables you mightn't have hitherto seen and a revival of obsolescent recipes. Worth a trip for the terrific traditional treat. If airport-bound this holiday season, do pause for a fleeting feast. But don't say we didn't warn you if you miss your flight- navigating so sumptuous a spread does take time, even for the most diligent glutton.
Sri Suryas: Why this relentless recommendation? Because I have tried and tasted other Tamil cuisine options around town and found them time wasted. As costs soar it's pointless suggesting sub-standard products for novelty's sake. Indeed, owner Mr. Ravishankar avows the trials of maintaining quality affordably against exponential inflation. Yet, he manages. Those softer-than-Egyptian cotton ulundu vadai remain amongst the best I've had; the masala vadais are fab too, although I wish they were served hot. The dosas, idlis and filter coffee are Colombo's only ones comparable to Tamil Nadu fare. But what you don't know is that Sri Suryas will unfurl a New Year buffet- they simply cannot cope with crowds that throng during the season.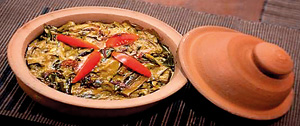 And yet, Mr Ravishankar rues that business has plunged due to escalating prices- just as crowds roar outside for tables… If you missed the grand New Year buffet then there is a grander one still on the restaurant's birthday: June 6. Mr Ravishankar hosts a gala at a nominal Rs.700 to thank all those regulars. He intimates it's a loss to him, but customers demand the annual tradition sustain at any cost!
In the meanwhile, if you are dispensing sweetmeats for the Tamil New Year, Suryas's are unmatched. Indeed, we have discovered that the Central Bank sends international visitors to Suryas and some Filipinos carted away trays of the delightful dry fruit delicacy teaming with almonds, cashews and plums. Try too the varietal cashew barfis, flaky sohan paapdis and milk marvels. Wait not until June 6!
Saraswati Lodge: Best Tamil-style string-hoppers, chutneys (including red lentil chutney), that distinctive Tamil hodi and curries as motley as the ethnic melange they lure. Behold all communities united in their dedication to demolishing string-hoppers. The only unsavoury characters are ministers who rock up with retinues- for a freebie…