With three million snapped up in its first four days on sale, the new iPad is the hottest gadget around.
For some customers, however, that's been a big problem. An influential U.S. consumer watchdog is investigating online reports that Apple's tablet computer generates too much heat.
One disgruntled customer said they were returning theirs after it reached temperatures of 47c (117f) following only ten minutes of use. Dutch technology website Tweakers said the new iPad, which went on sale last Friday, was 5c hotter than its predecessor when running.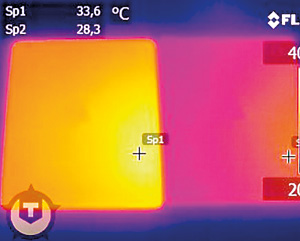 The thermal camera shows the new iPad is considerably warmer than iPad 2
Customers have complained that the gadget is 'too hot to hold', particularly when playing games, prompting a spokesman for the U.S. watchdog Consumer Reports to announce it was conducting its own 'scientific analysis with thermal imaging'. It found that the product became 'significantly hotter' after playing the popular game Infinity Blade II, with temperatures of 47c recorded on the device's front and back.
However, tester Donna Tapellini said the gadget was 'not especially uncomfortable if held for a brief period'. One user of Apple's official support website said: 'I think we all know what we have to do - which is to return the iPad.
'They simply did not do a good enough job with this iPad, maybe next year. They also have so much money now that they are giving it away to the stock holders. 'It was reported that Apple sold over 3 million iPads over the weekend. I hope they all return their iPad forcing Apple to revise and fix this iPad sooner rather than a year from now.'
A spokesman for Apple said the new iPad's performance was 'well within our thermal specifications', adding that concerned customers should contact the company. Tweakers said: 'On the left is the new iPad - with a temperature of 33.6c in the lower right hand corner.
'The iPad 2 scored in the same place a temperature of 28.3c, a difference of 5.3c.' On blogs, some iPad owners have even claimed that it goes into 'cool down mode' and freezes until it has reached a stable temperature.
User Faatty began the discussion by posting: 'It gets rather warm/hot after 30minutes of usage. It has never happened on my iPad 2. Do you think it's harmless or..?' Rawwave added that his got 'almost too warm to hold whilst malegno said: 'The heat on mine is concentrated on the bottom-left although the whole left side seems to be hotter than the right side.'
In a separate threat on the Apple website user znz212 wrote: 'It begins getting warm within about 10 minutes for me, and after about 25 it's quite hot to touch (not hot enough to burn or anything, but hotter than it feels like it should be).
'I can even feel the heat on the front - the top half of the screen is warmer than the bottom half.
'It cools down very fast (within 5 minutes) when locked or even on the home screen, so I'm not sure if the heat is normal with the new chip.'
Apple has not addressed the problem directly but customers who took their iPad to a store have written that it has been exchanged for a new one with no problems.
©Daily Mail, London