The image of university student Eve Carson, who was kidnapped and murdered in 2008, has appeared on huge billboard ads in southern India to advertise job placements in America, Canada and other western countries.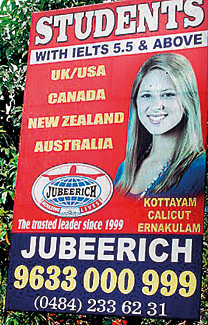 Shock: A billboard featuring the photo of murdered student Eve Carson seen on National Highway 49 west of Munnar in southern India
Eve, who was student body president of the University of North Carolina Chapel Hill, is being used to advertise a company called Jubeerich Consultancy, which offers study opportunities and job placements.
It's not clear how the company came across the photo of the Athens, Georgia, native, who was abducted, robbed and killed on March 5, 2008, by Laurence Lovette Jr and Demario Atwater - who are currently serving life sentences for Carson's death.
The company did not respond to emails seeking comment, and a woman who answered the phone declined to give her name but said she had not seen the billboards.
The 20-year-old was kidnapped as she left the university library and forced to take out money from an ATM before she was shot five times.
Chuck Lovelace, executive director of the Morehead-Cain Scholars Programme, told the Raleigh News Observer: 'I'm surprised and disappointed that somebody is using Eve's image in this way. It certainly does not honour Eve or her family, and they would not want it to be used in this way.'
Mr Lovelace said he has been working with the family to try and get the image taken down but cannot find someone at the company to help him. One woman he did speak to said she did not know the image he was referring to and would not leave her name.
'Just from the investigation I've done, it doesn't look like it's reputable, therefore it's probably going to be difficult to find them and do anything about it, particularly since it's in a foreign country, Mr Lovelace said.
© Daily Mail, London