Sri Lanka'a Central Engineering Consultancy Bureau (CECB), the country's foremost engineering consultancy body, is teaming up with leading construction companies in the island to undertake foreign construction contracts.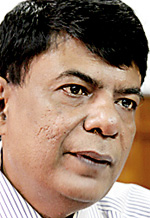 Nihal Rupasinghe
The aim is to provide an opportunity for local engineers as well as in-house human resource pool of well qualified, trained and experienced multidisciplinary engineering expertise of over 400 Engineers, 50 Architects and 600 Para- engineering staff to work in overseas and remit much needed foreign currency to Sri Lanka, said veteran engineer Nihal Rupasinghe, Chairman, CECB in an interview with the Business Times.
He revealed that the CECB has teamed up with Maga Engineering (Pvt) Ltd to carry out large scale infrastructure development projects in East Affrican countries. The CECB is also lobbying for a consultancy tender in Vietnam to build a Hydro power plant in that country using Sri Lankan expertise.
Mr. Rupasinghe said this is the only way to prevent Sri Lankan engineers from migrating to foreign countries. It has collaborations in eight countries such as the Maldives, India, UK, Kenya, Malawi and Uganda and has generated Rs 300 million from foreignprojects undertaken with plans to achieve Rs 1 billion target within the next few years.
The CECB acts as a one stop shop and it is capable of the delivery of fast track solutions. It undertakes various activities including construction, soil testing and maintenance. He said that it was a miracle that the CECB has been able to retain engineering professionals despite their eagerness to migrate to developed countries. He noted that this was because of the job satisfaction besides other motivating factors.
He said that he has witnessed the difficulties faced by the engineers and technical staff as well as the workers after the end of the Mahaweli construction boom and he has taken this initiative to venture overseas to prevent the recurrence of such a sitution after the current infrastructure construction boom taking place in the country following the end of the war.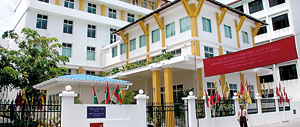 Central Library for Maldives College of Higher Education built by Sri Lanka's CECB engineers
Mr. Rupasinghe disclosed that an international division has been set up at the CECB to bid for foreign contracts and it has been quite successful in such endeavours. "Five international base offices spread in Asia, Africa and UK are now in operation. Several small-scale hydro power projects are being carried out by the CECB in East African countries such as Rwanda, Malawi, Tanzania and Uganda. Around 25 CECB employees are stationed in these countries," he said.
"As a policy, we recruit Sri Lankan labour over foreign labour for assignments abroad because they bring dollars to the country.'' he added." The construction work at the Sri Lankan High Commission in London was another landmark project undertaken by the CECB at Rs. 800 million," he said. Referring to local projects he said that 75 % of the construction work of buildings for Internally Displaced Persons (IDPs) at the Menik Farm was carried out by them, while 90 % of the hospitals and school buildings destroyed by the LTTE have now been reconstructed. The Army, Navy, Air Force and Police camps in the North are also being built by the CECB while the A32 road from Mannar to Jaffna and the A9 road from Kandy to Jaffna are being built with Chinese aid. Some 75 % of the BOI economic zones located in Mirigama, Wathupitiwela, Malwatte and Katunayake have also been constructed by them, he said.
Mr Rupasinge said that the Central Bank's new building in Fort, the post office complex at D.R. Wijewardene Mawatha, the Ranmihithenne cinema village at Hambantota and boutiques for street vendors at Bodhiraja Mawatha, Pettah were designed by CECB officials. The CECB has been awarded the tender for the Moragalla hydro power feasibility studies. "The CECB quoted the lowest bid to win the tender," he said.