UNITED NATIONS, Jan 24, 2012 (IPS) - As ousted political and military leaders in the Middle East continue to seek immunity from war crimes prosecutions, the United Nations and international human rights groups are taking an increasingly tough stance against such legislation in Yemen, Egypt, and possibly in a post-conflict Syria.
"I think it's extremely serious," Jose Luis Diaz, who heads the Amnesty International office at the United Nations, told IPS. He pointed out that measures providing immunity from prosecution for political or military leaders, who may be responsible for human rights violations, war crimes and/or crimes against humanity, are not only a slap in the face of the victims, but they also eat away at the still fragile gains made to consolidate international justice and fight impunity.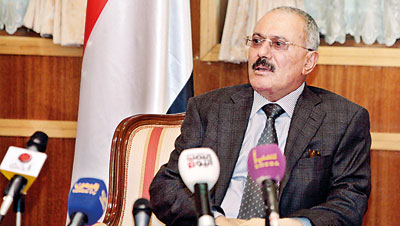 Yemen's outgoing President Ali Abdullah Saleh speaks to a selected group of state media reporters at the Presidential Palace in Sanaa last Sunday. Reuters
After 33 years of repressive rule, President Ali Abdullah Saleh of Yemen has agreed to step down from office - following nearly 12 months of street protests - in exchange for immunity from prosecution, under a law passed by parliament last week.
In Egypt, the interim ruling military council is negotiating with the incoming government, led by the Muslim Brotherhood, for immunity from prosecution for military leaders responsible for the killings of peaceful demonstrators last year.
And if beleaguered Syrian President Bashar al-Assad relents to international pressure and decides to step down, it is very likely he will seek immunity from prosecution as part of a negotiated deal.
"We came out strongly against the immunity law for Saleh before it was adopted, as we consider it to be in breach of Yemen's obligations under international law to investigate and prosecute human rights violations," Luis Diaz told IPS.
He said that Saleh and others may feel safe from prosecution in Yemen for now, but the immunity law would not necessarily protect them from the courts elsewhere for some of the crimes being alleged, including torture.
In a statement issued last week, U.N. High Commissioner for Human Rights Navi Pillay said, "I have been closely following the events in Yemen, particularly the very contentious debate about an amnesty law to be presented to Parliament shortly."
International law and the U.N. policy are clear on the matter, she said, pointing out that amnesties are not permissible if they prevent the prosecution of individuals who may be criminally responsible for international crimes including war crimes, crimes against humanity, genocide, and gross violations of human rights.
"Based on information we have gathered, there is reason to believe that some of these crimes were committed in Yemen during the period for which an amnesty is under consideration," Pillay said.
Such an amnesty, she said, would be in violation of Yemen's international human rights obligations.
Pillay stressed that a victim-centred approach to justice is essential to restore stability to a society emerging from a period of violent conflict.
Victims have the right to justice, to the truth, to remedy and reparation. These are rights that are well-established internationally, she said.
Any adopted legislation would also need to respect the principle of equality before the law, meaning there should be no discrimination between individuals who are pro-government or in opposition and no distinction based on family connections, Pillay noted.
"Every individual who commits a crime is accountable and should not be allowed to escape justice," she said. Asked about the status of similar immunity laws in Latin America of a bygone era, Richard Falk, professor emeritus of international law at Princeton University, told IPS, "I have not seen the texts of these (current) laws, but my impression is that the Latin American legislation was framed in relation to 'amnesty' rather than 'immunity,' although functionally it was intended to confer non- accountability for acts of state while in office."
He pointed out that the most famous legal assessment of this practice was in the British House of Lords opinion addressing the question of whether the UK should extradite former Chilean President Augusto Pinochet to Spain to face a range of criminal charges during his period as head of state in Chile.
"Those defending Pinochet argued that the Chilean amnesty law conferred immunity on Pinochet for such criminal acts, but the House of Lords majority decided that such a law was internationally irrelevant to his accountability under international criminal law," Falk said.
From the legal perspective, "which I think is the appropriate understanding of the relationship between domestic and international law, as well as being consistent with the global policy interest in implementing international criminal law, the International Criminal Court (ICC) should pursue those leaders in the Middle East and Africa for whom sufficient evidence exists of their responsibility for crimes against humanity and other international crimes," said Falk, who taught international law at Princeton University for nearly 40 years.
Finally, under some circumstances, he said, a domestic amnesty law may be justified to obtain "societal peace" in the aftermath of a peaceful transition from dictatorship, and to avoid the dangers of chaos and civil strife.
"But the argument is different on an international level where there is no convincing rationale for respecting efforts to opt out of accountability for international crimes," said Falk, a former U.N. special rapporteur on the situation of human rights in the Palestinian territories. Asked if the ICC could pursue cases in Yemen, Egypt and Syria, Luis Diaz said, "As for the ICC, we do believe it should take up cases like these."
But the court can only take up cases in countries that are parties to the Rome Statute which created the ICC and so accept the court's jurisdiction. Yemen, Egypt and Syria are not parties. However, the Security Council has the power to ask the court's prosecutor to take up situations in states that have not accepted the court's jurisdiction.
"That's what we're asking the Council to do in the case of Syria, where we believe crimes against humanity have, and continue to be, committed by state forces," Luis Diaz said.
As for the distinction between "amnesty" and "immunity", while they both protect from prosecution, the former is granted after the fact (after persons have been convicted, for example), while the latter is tied to a person's position, usually official, he said.