Scottish First Minister Alex Salmond has claimed he is a staunch Anglophile and that Scottish independence would leave England better off. Scotland's First Minister said the two countries would share a 'social union' after independence, in which ties of family, friendship and economic links would remain strong.
He used his speech - on the eve of his referendum campaign - to reach out to English voters. But the SNP leader also fired a warning shot at Westminster, telling MPs that the Scottish Parliament and executive would determine the terms of a breakaway referendum.
The speech came as a new Ipsos MORI poll for Reuters found that while 62 per cent of Britons think the UK will exist in its current form in five years, 49 per cent think it won't within the next 20 years. More than half of voters believe independence would have a negative impact on the Scottish economy but that it would not diminish Britain's standing in the world.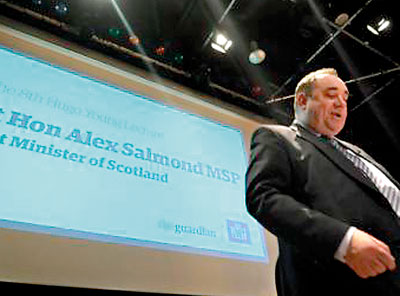 Scottish First Minister Salmond was speaking during the Hugo Young Lecture at King's Place, London
Mr. Salmond used the Hugo Young lecture on Tuesday in London to dismiss claims that he is a 'Balkan-style nationalist' who hates the English. But he insisted 'Scotland shared ties of family and friendship with our neighbours on these islands which never can be obsolete'.
He added: 'When you consider our shared economic interests, our cultural ties, our many friendships and family relationships, one thing becomes clear - after Scotland becomes independent, we will share more than a monarchy and a currency. We will share a social union. 'Our ties of family and friendship will continue and flourish between us after Scottish independence. Independence will be good for Scotland and good for England.'
Mr. Salmond will today announce details of a consultation on how an independence referendum would work. He wants the vote to be held in the autumn of 2014, the 700th anniversary of England's defeat at the Battle of Bannockburn. The consultation will lay open the possibility of a referendum in which voters would be offered extended devolution - Devo Max - as well as outright independence.
The Government in London says it will not countenance a two-question plebiscite. But Mr. Salmond said: 'The future of Scotland is for Scotland alone to determine. England does not have any veto in the debate on independence.'
He also pointed out that companies like Amazon, Michelin and Dell have invested in Scotland this year and claimed 'international inward investment is now more successful in Scotland than London'.
Scottish Secretary Michael Moore hit back, saying: 'Scotland is stronger within the UK and the UK is stronger for having Scotland within it.
'Particularly in times of strain, it's better for families to stick together rather than break apart.'
© Daily Mail, London