In Maradana, a neglected lot where a dilapidated building once stood, has been transformed. Now, it is the site for the airy new service centre of the Lanka Alzheimer's Foundation. Dr. Nori Graham, a former Chairperson of Alzheimer's Disease International and Alzheimer's Society, UK, now Honorary Vice-President of both organizations was last here in 2003, and is thrilled to see the progress made. She considers the establishment of such centres as key to the process of raising awareness about dementia.
The condition which affects an estimated 150,000 people in Sri Lanka is also woefully under-diagnosed. Only as few as 10% - about 15,000 – patients may have sought medical help, says the foundation's President, Tami Tamitegama.
The statistics are troubling, since every estimate indicates that in the coming years a rapidly aging population will contribute to a great swell in the numbers of those afflicted. Some estimates place it as high as a 115 million people worldwide by 2050, with as many as 500,000 in Sri Lanka alone. Dr. Graham's main concern is that more families and patients need to be brought into the fold.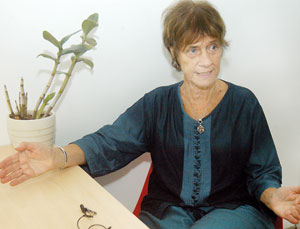 Dr. Nori Graham happy with the progress here. Pic by Nilan Maligaspe
Her particular concern is what she dubs the "treatment gap" – the delay between the onset of the disease and its diagnosis can be many years. All that time is valuable time wasted in which interventions could have slowed the progression of the disease and in which caregivers could have been trained to cope better. Some of the treatment gap can be attributed to the terrible stigma attached to the disease.
"People are reluctant to admit they have this problem in the family," says Dr. Graham, explaining that the illness is poorly understood. The big problem though is that it can take so long for anyone to realise there might be a problem. The patients themselves can remain unaware. More often than not, it is the families or those who know them well that become concerned.
Dr. Graham explains that dementia is characterised by a progressive decline in what she likes to call "the activities of daily living." In retrospect, families often say the noticed "odd things" about the patient – for example that they forgot the names of their grandchildren even though they knew them before or that they would repeat a question, seemingly unaware that they had already received the answer just moments ago. "People don't always register immediately that there is a problem," says Dr. Graham, explaining that once it becomes obvious, "in order for a person to be helped, it requires the family to go to a doctor with the person."
A vast majority of dementia cases are diagnosed as Alzheimer's Disease. The second most common form of dementia can be caused by a series of small strokes, hence the name vascular dementia. While a genetic component certainly exists, dementia is most common in people over the age of 65, with the risk increasing as the person gets older. Simple things like quitting smoking, eating a balanced, healthy diet and getting enough exercise can help reduce your risk of developing dementia. Particularly, in the case of vascular dementia, it's a matter of "what's good for the heart is good for the mind," says Dr. Graham.
Unfortunately, Alzheimer's disease has no known cure, though certain interventions are effective in the early stages of the disease and their efficacy is improved the earlier they are introduced.
Unfortunately, the appearance of the first symptoms are often mistaken for the normal deterioration of memory associated with old age. However, there's a difference between forgetting where you left your keys and not remembering you had lunch five minutes ago, says Dr. Graham, stressing that the quality of forgetfulness associated with dementia is quite distinct. "It is only by asking specific questions that families realise there's a problem."
The disease follows a heartbreaking pattern, as patients experience not only memory loss but a degeneration of communication skills, planning and personal organizational ability, social skills and the loss of what would be considered normal emotional reactions. At its most extreme, dementia can leave patients entirely dependent on someone else and keep them bedridden. Though someone with dementia might eventually not be able to do something as simple as bathe or feed themselves, Dr. Graham says it's possible for them to live dignified lives. What it requires is that the people around them recognize that it is the disease creating the problem.
The strain on the family and in particular the primary caregiver can be extremely taxing, says Dr. Graham who has interacted with many such families over the course of her long career. Specialising in the psychiatry of old age, Dr. Graham says that "half the work was diagnosing and treating people with dementia." Early on, she became involved in research that was focused on the problems that families had caring for patients with dementia.
"It immediately gave me so much more information than any textbook could," she says. It was the experience that gave her a real grounding, making her more aware of the context when she was asked, a few years later, to become Chairperson of the Alzheimer's Society in the UK. When she first took up the post, the organisation was still a small one but over the course of her seven years there, she and her team built it up into one of the leading charities in the UK.
She continues to believe ardently in the cause and emphasises that a national plan and government support is crucial. In the meantime, however, service centres like the one set up by the Lanka Alzheimer's Foundation must fill the gap. They don't provide residential care but this seems to be a good thing.
Despite the fact that it might be easier for families to check the patient into a nursing facility, patients are always best at home where they know their surroundings intimately. This is because they typically have trouble retaining new information and might find themselves entirely disoriented in a new place when surrounded by new people. It's a difficult decision either way, because this can quickly become a 24/7 job, one that can consume 15 – 20 years. Further complicating the issue is the fact that the children of patients with Alzheimer's may be over fifty themselves, and struggling with their own health issues. As nuclear families proliferate, the chances that there isn't an extended network of people to support the caregiver also increases.
The insomnia that many people with dementia experience and the severity of their mood swings and unexpected aggression can make the task all that much harder. Dr. Graham emphasises that there is a very real risk that caregivers can themselves become depressed and overwhelmed. It's essential therefore, she says that they are supported. Caregivers can be taught what to expect and given tips on how to cope – the sooner they understand the progression of the disease, the better equipped they can be.
It's so important for patients and families that the places associated with dementia are places that one can be proud to bring one's family to, Dr. Graham said pointing out how warm and welcoming the new facility is. She thinks the Foundation has accomplished a great deal.
They now have the facilities to step in and fill the gap, providing individual care givers with a place where their family member can be cared for by people who know what they're doing. Just having that support, and the few hours off, is going to make a world of difference to many struggling families. And in the end, the centre itself is a crucial step closer to the next big goal - a national centre for patients with dementia.