Straight from the small growers of the central highlands of the country, to a factory in Nuwara Eliya and then to those who love a steaming cuppa of Sri Lankan coffee, the secret "ingredient" of Hansa is quality at prices affordable to all and sundry.
Although it is no flashy Starbucks but a little "kopi kade", Hansa is slowly but surely luring the tea fanatics to pure Sri Lankan coffee. On busy Fife Road, the tiny and unpretentious Hansa Coffee Shop draws a clientele, varying from the affluent to the humble.
For those who trod this uncertain pathway a long time ago, the romance with coffee began in the mid-1990s. It was in the fall of 1996 that Harm van Oudenhoven from the Netherlands secured "seed money" to launch Hansa Coffee, with the help of Lawrence Goldberg from Seattle, the coffee capital of the USA and the home of Starbucks, the coffee chain giant.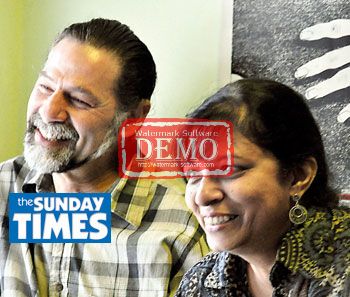 Lawrence and Shani. Pix by Susantha Liyanawatte
Hansa Coffee was formed due to a strong belief that Harm held that although the coffee blight during the time of the British had channelled Sri Lanka's energies towards tea, there must be "some good coffee" left behind. Harm was involved with the Integrated Rural Development Project (IRDP) in Nuwara Eliya sponsored by the Dutch government which was promoting sustainable agricultural practices including forest garden products while Lawrence was working for a local non-governmental organization.
With many urging them to "go ahead" and tread the elusive path to finding good Sri Lankan coffee and Harm uncovering a five-kilo coffee roaster in Pettah, Hansa's humble beginnings were in the garage of a cottage in Nuwara Eliya.
"I was initially interested in processing decaf tea and coffee was a bit of a gamble," concedes Lawrence, explaining that the doubts were due to the popularity of tea shadowing the success of coffee.
It was a 20-kg bag of dirty coffee beans that they started with, says Lawrence giving the Sunday Times a lesson in coffee. Coffee grows as a shrub and the taste of the coffee would differ not only depending on the country it is grown in but also the regions within a country. The two main varieties are Arabica (parchment) grown in the highlands and Robusta (bola) in the lowlands.
Soon after Hansa was launched, the coffee was sent to a well-known Indian taster who sent it through the rigorous "coffee cupping" ritual and gave high marks, says Lawrence. This was the boost they needed and encouraging IRDP farmers in Kotmale who had a few coffee shrubs in their home-gardens to provide the "raw material", Hansa began offering pure Sri Lankan coffee to a few hotels in Nuwara Eliya, in its early days.
"Customer acceptance was very good and it paved the way for Hansa Coffee to grow," stresses Lawrence, detailing why they chose this particular name. The swan or hansaya is a symbolic creature and that was the reason Harm picked this name, explains Lawrence, pointing out that it has universal appeal. One interpretation is that "the beautiful and slender swan depicts the flight of the spirit".
The promotion of Hansa Coffee was purely by word-of-mouth, no big advertisements for them. By this time Harm had gone back home to the Netherlands and Shani Hulugalle, a self-confessed "tea person" who had just returned from England and was dabbling in journalism turned her passion to coffee.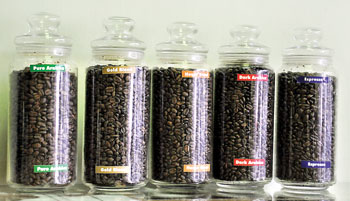 From Pure Arabia to dark Arabia: The wide range of Hansa coffee
Shani who joined Hansa Coffee in 2000 was set on widening the circle savouring the true Sri Lankan coffee aroma, instead of having that instant coffee people were drinking. When they embarked on their game-plan of promoting sales, many were the hoteliers who gave them funny looks, wondering how coffee from Sri Lanka could be so good.
Coincidentally, it had been one of Shani's ancestors, Jeronis de Soysa, who was an amateur ayurvedic physician who had treated a Sri Lankan official, who was persuaded by this official to buy the Old King's Coffee Garden in Hanguranketha during the land-buying coffee boom of the 1820s and try his hand at coffee planting. Jeronis's fortunes grew from coffee estates, making him one of Sri Lanka's largest landowners and philanthropists. Leaving the past behind, Lawrence relates how although the experimentation with coffee started in 1997 for him, the current company, Hansa Ceylon Coffee (Pvt) Ltd., was formed in 2004 with Lawrence, Shani and their new partner Errol Johnston, an Australian sugar expert and champion golfer living in Kandy.
Seven years later, Hansa Coffee has reached the stage where many hotels are clamouring for their product. "The customers themselves happen to be our sales force," smiles Shani, and as if to prove that point, in walk a few executive-types, leisurely ordering their coffees and taking time to savour the different aromas.
With most of the five-star hotels in Colombo and others such as 'Lighthouse', 'Tea Trails', and also 'Barefoot', buying their coffee, Hansa has got itself a niche market.
Lawrence recalls how a shop owner had written to an Italian giant in the coffee trade, asking them for coffee for their shop. The Italian company had written back suggesting, "Why don't you try Hansa Coffee, it's equally good?"
Referring to the nitty-gritty of producing coffee, Lawrence explains how the message about growing good coffee has been spread among the up-country farmers. "We spoke to them about poor cultivation systems and unhealthy practices such as drying the coffee beans on the road," he says, while Shani adds that Hansa Coffee thinks of the promotion of the cultivation of good shade-grown coffee as their corporate social responsibility.
Touching on the coffee blight of the 1800s -- which not only wiped out plantations in Sri Lanka but also resulted in many desperate planters shooting themselves -- Lawrence points out that the downfall was also due to poor cultivation practices.
"Monoculture," was one major flaw, he says, also turning his sights on current tea plantations which are very soil-erosive and contribute to the deterioration of the highlands. Coffee does not lead to erosion, since it's a shrub, like cocoa and black pepper, and is planted under trees.
Coffee beans don't ripen all at once, so the harvesting should be done two to three times a week, without stripping the branches of both the red and green pods, according to him. For, if the green pods are picked along with the red, the quality is compromised.
Getting back to their own Hansa Coffee, Lawrence says they buy the beans from the farmers and roast them at their factory at Nuwara Eliya. Thereafter, it is either sold as whole beans or powdered.
Insisting that being small-scale allows Hansa Coffee to maintain its quality, he says "quality over quantity" is their motto, for he himself is the 'Master Roaster' who personally supervises the process, spending a major part of his time up at Nuwara Eliya. Every bean of Hansa Coffee is hand-sorted and blended under Lawrence's watchful eye, as he oversees the entire manufacturing process, from raw bean to market-ready ground and whole bean roasted coffee.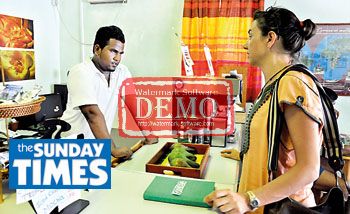 The unpretentious Hansa outlet on Fife Road, Colombo 5
A novice coffee drinker should taste three types of coffee in the medium range, which are 'Pure Arabica', 'Gold blend' and 'House blend' while the veterans could go for the darker range which includes 'Espresso' and 'Dark Arabica', the Sunday Times learns, with Lawrence explaining that in the darker range of coffee you can only taste the darkness or the roast, but not the individual identity of each country. Robusta, meanwhile, has more caffeine in it and gives a profound flavour and Espresso makes the ever-growing popular coffee drink 'cappuccino'.
Dispelling the common myth among Sri Lankans that coffee causes constipation, Lawrence points out that this is not due to the coffee but because local roasters do not take out the fungus-infected beans.
Conceding that coffee is still in its infancy in Sri Lanka and has a long way to go, Lawrence is not keen on exporting but keeping it affordable so that locals can enjoy a good cuppa.
Now that Hansa Coffee has found its niche, what's next? "We are planning to venture into certified organic coffee," he adds.