With the Budget 2012 being presented in Parliament tomorrow, various sectors from industries and professionals to entrepreneurs and housewives await it with baited breath. The Ceylon Chamber of Commerce has requested the Government to, at the least, maintain the current tax structure for three years and make improvements to the present structure, with a view to correcting any anomalies, making the tax system more effective.
The Chamber also has stressed the need for a better facilitative framework for investments and exports, and clear and consistent investor/exporter-friendly policies. "Small and medium scale exporters are finding it difficult to obtain loans from private sector banks. Therefore, Government should play the role of a facilitator and provide more access to loans," said Dr. Jagath Peiris, Senior Vice President, Exporters' Association of Sri Lanka.
| | | | | |
| --- | --- | --- | --- | --- |
| | | | | |
| Saman Rathnapriya | Anura Lokuhetti | K. Velayutham | Mallika Joseph | Joseph Stalin |
To earn at least US$ 15 billion of the export target of US$ 20 billion by 2020, the Government should find a solution to the shortage of skilled workers. "School leavers do not opt for small-scale industries and do not want to be entrepreneurs. Young apprentices should be paid an allowance and training provided, to prevent a severe shortage of skilled workers," he said.
Ceylon Motor Traders Association Chairman Thilak Gunasekera said ad-hoc taxation was an obstacle to long-term planning. Hence, consistency in the tax system should be introduced. He said it would be a great relief, if the 12.5% Value Added Tax (VAT) charged twice, once at the Customs and then at the point of sale, was charged only once.
"Vehicle import companies are now enjoying more sales, as the duty that was around 400-500% was reduced at a time when the automobile industry was dying. A Maruti, the fastest selling car which once cost about Rs. two million, can now be purchased for Rs. one million. About 1,200 Maruti cars are sold every month," he said.
Chamber of Construction & Industries Secretary General-cum-CEO Dhakshitha Thalgodapitiya said the construction industry being the driver of development, needs to be expanded. The construction industry is expecting a shortage of skilled craftsmen. From the job placement orders received by the Foreign Employment Bureau, the overseas demand for construction craftsmen is over 35,000 at present. The construction industry will need 75,000 persons to bridge the gap arising from the impending construction boom, and also the demand for domestic craftsmen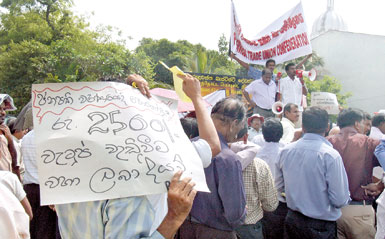 Last week trade union groups held a pre-budget protest at Lipton's Circus. Pix by Nilan Maligaspe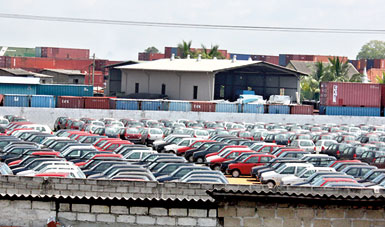 Vehicle import companies are now enjoying more sales
He said this Budget should address how construction industry capacity could be developed in the immediate and medium term. "Training of construction craftsmen should be viewed as a prioritised need, with sufficient incentives and financial assistance provided for construction craftsmen in the country. Government must look at the establishment of a plant, machinery and equipment leasing company to facilitate access to machine capacities by small-time contractors," he said.
He said that, despite the annual availability of cement, both manufactured and imported, is 3.7 million tonnes; the actual demand has increased to 4.4 million tonnes. "Domestic production is about 65% and is insufficient. As the domestic demand for construction material is high in South Asia, it is important to look into expanding domestic production capacity which will include rehabilitation of the cement factory at Kankesanturai (KKS)," he said.
The Private Bus Owners' Association has requested the Finance Ministry Secretary to financially assist owners to purchase high-tech luxury and double-decker buses, to facilitate loans to own 21-seater buses used for school service and night services, to introduce Near Field Communication Technology and bus travel card system, and to increase fines under the No. 12 of 2005 Fines (Amendment) Act for offenders.
Bakery owners too want Government to remove the National Building Tax (NBT) of 2% added into the price of bread, as well as reduce the VAT of 12.5% added to short-eats and cakes, to 6%. Renowned cooking expert and housewife, Mallika Joseph said housewives were facing difficulties due to the recent hike in the fuel price and the previous gas price increase, especially with the festive season round the corner.
"Once the fuel and gas prices are increased, it has an impact on the prices of consumer products. The Government should consider bringing down the prices of basic goods, to reduce the burden on the housewives, and then the money could be used for our children's studies," she said. Meanwhile commenting on tourism, President, Hotels Association of Sri Lanka and Chairman Asian Council on Tourism, Anura Lokuhetti said, "With Asian countries being most-favoured tourist destinations, Sri Lanka will have to consider more worldwide promotion of the country as a tourist destination.
"Malaysia recorded 24.5 million tourist arrivals in 2010, while Thailand reported 15 million, Singapore 12.5 million, Cambodia 2.5 million and Vietnam reported five million. Our target is 2.5 million tourists by 2016,"he said. He said that target would require an additional 25,000 rooms by 2016.
"For the first time, the country may reach 800,000 tourist arrivals. The per-guest per-room charge has increased from US$ 66 to US$ 98. This is a good improvement in the sector," he said. "Despite reports by UNICEF that 6% of the country's GDP should be allocated for Education, Sri Lanka allocates only 2%," said Ceylon Teachers Union President Joseph Stalin.
"In the last Budget, Rs. 229.9 billion was allocated for Defence, but only Rs. 33.6 billion was allocated for Education and Rs. 74 billion for Health. Government has also failed to increase the salaries of State-sector employees by Rs. 2,500," he said.
Mr. Stalin said that Government employees are given beneficial loans, but allocations for such loans have not been done methodically, as proposed in the Budget. "Plantation workers should be given the relief given to public sector employees," said Lanka Jathika Estate Workers' Union Secretary K. Velayutham.
"A request has been made to President Rajapaksa for relief for plantation workers, similar to that extended to public sector employees. According to the Plantation Ministry, Rs. 155 billion and Rs. 175 billion was earned from the Tea sector, in 2010 and 2011 respectively. The Rubber sector earned Rs. 83 billion and Rs. 150 billion in 2010 and 2011 respectively. Plantation workers are contributing to the economy in a significant way and their needs should be fulfilled as well," he said.
"Employees of all categories, including professionals, are facing salary anomalies and irregularities," said Government Medical Officers' Association (GMOA) Secretary Dr. Chandika Epitakaduwa. "India's salary ratio between the lowest and the highest salary of the public sector is 1:12. In Singapore it is 1:13, similarly in other countries the ratio is high. Unfortunately, in our country, the salary ratio is at 1:4. We do not expect the Government to increase the ratio to 1:12 overnight, but the Government can implement gradual methods to increase it, thereby keeping the professionals within the country and attracting professionals from abroad," he said.
Meanwhile, nurses too are requesting a 25% increase to their present salary. "Public sector employees were to be a given a Cost-of-Living allowance from 2006 but there is arrears of Rs. 3,860 yet to be paid. These issues should be considered in the Budget," said Public Services Trade Union Confederation General Secretary Saman Ratnapriya.