T. Thirusenduran of Royal College was awarded the First Dai. P. Black Belt by Grandmaster M. Hassen Khalid at the Fi Quando Grading Test held at the Multi Hall, Royal College Sports Complex.
Members from schools, international schools, institutions and clubs took part in the event where participants received colours and were duly graded. Among the participants were some Indian students as well.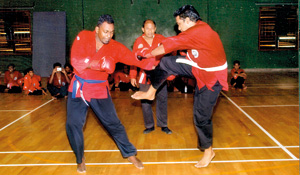 Rangatharan and Sajeeth Ahamed in a fierce fight at the Grading Ceremony
The grading was conducted by Fei Quando (Way of the Flying Fists) International headed by martial arts and physical fitness Grandmaster and founder of Fei Quando M. Hassen Khalid. He was supported by Deputy Chief Instructor M. Nuzky Khalid (Third Dai Black Belt) and S. Bavithran (Black Belt). The event was compeered by Mrs. Hizrina Nuzry Khalid of Gold FM Radio.
The guests of honour were Ruwan Waidyaratne (Hayleys Group of Companies) and Mrs. Devika Waidyaratne, Dr. Dayanath Ranatunga (United Nations Sri Lanka) and Mrs. Ranatunga, R. Suntheranathan (Douglas and Sons Pvt Ltd.), P. Sivarama Krishnan (Kellogs India Pvt. Ltd), Mrs. Sivarama Krishnan and M.H.M.Shaeedul (Akram Shooters Group of Companies).

The following were graded:
Black Belt: T. Thirusenduran (Royal-P. Black Belt Yi).
Brown Belts: T.Ranganthan, M.C. Ibrahim Afham, A. Sajeeth Ahamed, Kusal C. Kannangara, Nipun C. Kannangara, Ahmed Amjad Rizvi, Nirmalan Abishan.
Purple Belts: C.Ramon S. Grero, Chanaka J. Gamage, Mohd Jiyaadh Mohinudeen, P.R. De Chamith Navinda.
Grey Belts: A. Muusa Rusly Akram, M. Yakub Hafeel,J.Brannavan, M.N.Mohamed Akram.
Blue Belts: Damien De Zylva,Yadesh Waidyaratne, Nirmalan Arjun, M. Arslan Majeed, Muhammed Awoon, Sri Ragul, Faslee Farees, Praveen Kulaweera, Samraz Sheriffdeen.
Green Belts: Pramudith Ranatunga, Pabasith Ranatunga, M. Fahmi Rahim, M.F. M. Ilham, M.F. Thanish Ahamed, M. Mahdhi Rizvi, Shanaka Puvinayagam, Nadun Harindra, A. Sulaiman Hafeel, ZaharaanAmeer, Rangesh Fernando, M.Ahmed Amjad, Hamdaan Asnain, M. Fahad Naviz, Majindra Vedeha Aluvihare.
Orange Belts: DinoshanArulananthan,Gayandri Chamathka, William Lishaan Jeyachandran, F. Aaisha Amjad, Sree Lakshmi, Sree Jaya, Brendon Trevin, Zemaal Ameer, Bilal Muhthassim.