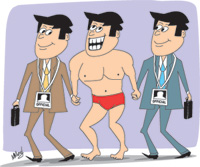 A solitary muscleman took part at a leading bodybuilding contest in a neighbouring country. This muscleman was accompanied by three officials. Two who accompanied the muscleman is supposed to be brothers. All are wondering why this man had to have two brothers as officials. What were they trying to protect?
Cat and mouse game
A leading schools sports body having come to know that the AGM of the parent body is due next month is going about assuring the contenders that the two votes allocated to their body will be theirs. Now, however, the cat is out of the bag because the contenders know that this body is playing a cat and mouse game and is wise to the situation. Bad luck chaps!
Too many trainers
The big AGM is on everybody's lips. Now there is a rumour that there are too many trainers in the body and there is a possibility that they may be trimmed down. The trainers are now running around the Big Boss with the hope that they maybe retained. There is very little that the Big Boss too can do as he is holding the reigns on a temporary basis until the real aspirants take over.
Over St. Kitts
Now over to St. Kitts in the West Indies where a big meeting took place early yesterday. A fair contingent of pressmen too accompanied the bidding team. However before the chosen pressmen took wing they were given strict orders. Report what took place at the meeting and nothing else. No unnecessary questions, no speculations. What some pressmen have to undergo to keep their status!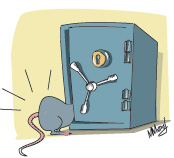 Not looking at the calendar
Over now to a massive stadium where tenders have been called to lay a track. However a close look at the letters sent to the bidders indicates that there are two dates given on the letter – one at the start of the letter and the other in the middle of it. It looks as if the letter writer has not been keeping his eyes on the calendar, or else how can the letter writer make such obvious mistakes?
The money that is dwindling
The AGM of an important body was held in September last year and there had been a balance of Rs. Three and a half Lakhs when the new body took over. Now the monies have been spent lavishly and only around Rs. 50,000 is left. What has happened to the money which was in the kitty? It looks as if officials have been busy holding seminars in the name of the game.