"This concert is all about my experiences and my unforgettable memories woven together," he says. Damayantha Kuruppu is the name that comes to mind when you recall concerts that featured the likes of Clarence Wijewardena, Milton Mallawarachchi, Dalreen and more recently Ronnie Leitch. He is also the person responsible for bringing down international stars such as Sir Cliff Richard and Lobo to our shores.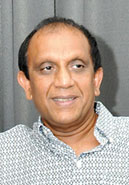 Damayantha in a relaxed mood and above, on stage performing a baila
Now Damayantha Kuruppu is set to embark on his latest venture: 'Damayantha and Friends in Concert – Celebrating my life in entertainment'.
"Celebrating my life in entertainment is the theme," says Damayantha. 'Damayantha and Friends', will be a musical timeline, taking audiences from the golden 70's to the present. It will feature well known names like Mignonne Fernando, Dalreen, Ronnie Leitch, Rukshan Perera, Ivor Dennis and the much loved entertainer Sunil Perera. Having only sung a song or two in the previous concerts that he presented, Damayantha is ecstatic about being able to sing for his loyal fans. "While presenting the shows, I used to sing a song or two which had a wonderful reception and this motivated me to present my very own show." The duets will be sung in collaboration with Paul Fernando, Chethana Ranasinghe, Samitha Mudunkotuwa and Dilup Gabadamudalige.
"It's like a dream come true," Damayantha says adding that he will not only be singing Clarence's hits, but also an assortment of the best of the 70's, retro music and songs from his upcoming album, "Heda Veda Geetha', a compilation of 18 original songs by Damayantha that will be launched at th show."The CD took almost a year to be compiled and I have had the pleasure of collaborating with great artists like Mignonne, Dalreen, Sunil Perera, Ivor Dennis and Rukshan Perera, to make it a success." "Heda Veda Geetha" consists of calypso music, oriental music, baila, vaada baila and even a Bollywood inspired song.
Damayantha Kuruppu has also launched a collection of audio CD's including "Clarence Sengawunu Gee" and "Suhadanane", being tributes to his greatest inspiration Clarence Wijewardena. "Back in 1968 when I was a youth, Clarence Wijewardena and the Moonstones used to practise at a studio across my house. This was a huge influence on the musical side of me," he says. "Then in 1971, we formed a group named the 'Minx', later changing the name to 'Lonesome Stone', and Dilup Gabadamudalige was also a part of it." His face lights up as he remember those years. "My first concert dates back to May 5, 1975. It was called the Super Milton Show, which was Milton Mallawarachchi's first solo concert." He speaks of the success of the concert, remembering that crowd control was the hardest part about it.
In 1975, Damayantha left for Britain for higher studies in the hotel industry and forming a band 'Electric Image', he pursued music along with his career as a hotelier. In 1982, Damayantha returned with a heap of LP records. "I ran a radio programme called 'The beat goes on', and it was a whirlwind success, with 100 episodes being aired."
In 2002, he set up DK Promotions to present several quality concerts to the Sri Lankan audience that was yearning for reconciliation through music. The crowning achievement of course was bringing down Lobo and Sir Cliff Richard.
Having produced all his concerts, very often single-handedly, he says that presenting a concert, or bringing down an international legend is no easy feat. "People tend to have the notion that a concert is a profitable enterprise, very rarely is that the case." More often than not an international venture leaves a deficit that can only be justified by the passion for quality music.
"It's a calculated risk," he says, talking of the international shows. An international artist, prior to his visit, sends a booklet of rules called the 'technical ride', much like a technical manual with codes of conduct and requirements to be met. "We have to ensure that all the requirements are met. Even if there is a simple flaw, the whole concert will be on the rocks."
"Another setback in Sri Lanka is the absence of a proper venue, with the only prospect being the upcoming National Performing Arts Theatre although even 1000 seats cannot meet the needs of a big time concert," Damayantha says looking to the future.
'Damayantha and Friends - Celebrating my life in entertainment' will be held at the Bishop's College Auditorium on Sunday, November 20, at 6.30 p.m. Tickets can be purchased at Torana Liberty Plaza , Dwellings and Video International Nawala. Call 0777 744950 for more details.