"It seems everyone is going crazy" Karen grins as we step through the elevator doors at the Academy of Design (AOD). People rush around laughing and talking, walking through the wrong doors, doubling back and displaying signs of hype infection in general. Everyone from the cleaning lady to herself, Principal Karen MacLeod is knee-deep in preparations for the third consecutive leg of the Sri Lanka Design Festival.
Small rectangular glasses with thick black rims accent Karen's face, framed with brown plaited hair held together by a funky bright-blue hair-tie. "I arrived here last September in the middle of design festival preparations and was a bit "wow!"" she laughs, "and I've found the only thing to do is just try and not go crazy!"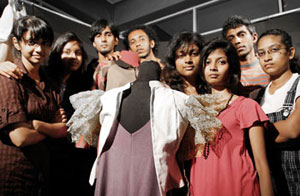 Our magazine cover this week and the pictures above were by Atheeq Ifthikar Mahuroof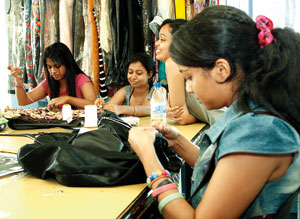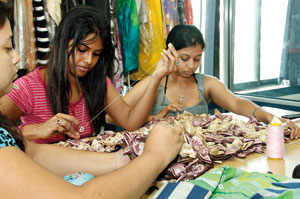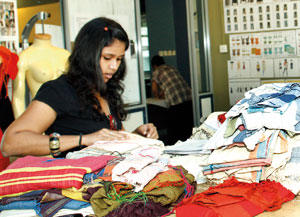 Up on the third floor, students in the fashion department are busy working on pieces they will submit for review and approval for the festival runway. The hangers along the walls of the workspace are neatly arranged with pieces already finished, but the tables are piled high with tonnes of colourful material of various textures and uses and students sit and stand around stitching, pinning, chatting laughing and some quite worried.
Anuradha and Lonali, are part of a team of five students who've volunteered to work with local artisans on handloom craft projects. They've been spending 14-hour work-days in Gampaha working with nearly 70 artisans, coordinating teams as they take fresh takes in terms of colour and quality on the familiar local art. Some of the exhibits this work will produce include household items made from recycled thread and even denim-inspired handloom sarees!
"Craft is no more about little old ladies sitting home and doing things because they have nothing better to do" Karen says, explaining how they're aiming to contemporize national arts to give it a foothold and future in bigger markets.
And it's not just handloom, they've got artisans from each and every province on the design festival agenda this year. They've also got elite international designers, advertising gurus, photographers and opinion leaders lined up to take part at the gala exhibitions and workshops that will take place at AOD and Mt. Lavinia Hotel. "We're bringing everyone together on this to envision what Sri Lankan design can and will be in the next few years," Karen enthuses. It's tonnes of work and everyone is so completely absorbed in it, gearing to give guests a blast of an experience, probably better than we've seen in the last two years.
"Who?" one girl questions when I ask her which floor the lobby is on – there is obviously only one thing on her mind. That same thing should most definitely be in your agenda for next week – especially since entrance is free!
At a glance
FUTURE OF VISUAL COMMUNICATION FORUM on November 19. One-on-one interactive discussions on industry topics with Barry Schwartz of ADDIKT Design Movement Amsterdam, Rajesh Dahiya of Co-Design India, Alain Parizeau – Graphic Design programme head of AOD and others.
SLDF's INTERIOR DESIGN CONFERENCE
American interior designer Donald Hill, whose clientele includes world-famous musicians David Bowie and Donald Fagen as well as Actor Steve Martin, will host Interactive talks and discussions on Professional practice on decorative art and interior design in the public sphere.
PHOTOGRAPHY FORUM AND WORKSHOP on November 20. Debate about the level of professionalism, the state of the commercial market, and the future of photography in Sri Lanka with some of country's leading photographers. Plus live, filmic photoshoot, with UK film and photography expert Chris Burgess with lessons on professional lighting and staging.
AOD will also host a series of workshops for students between the ages of 14 to 21. A rare opportunity to learn creative trends, tips and tricks from international designers and photographers.
For more information visit www.srilankadesignfestival.com