Controversial, proposed legislation to revive underperforming enterprises and underutilised assets through acquisition figured prominently during discussions visiting World Bank Vice President for South Asia Isabel Guerrero had with Sri Lanka's private sector with the latter raising concerns that this is an impediment to investment.
"When I asked the private sector whether it was playing its part (in development) they explained that the changing of the rules is what affected the confidence and they were referring to the expropriation bill," she told the Business Times in an exclusive interview on Friday at the end of a hectic 3-day visit in which she met government leaders, including President Mahinda Rajapaksa, private sector officials and young people.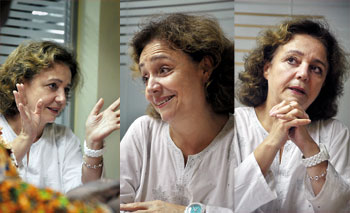 She said private investors cannot be forced to invest. " To mobilise large sums of money, they want to be certain that their money will be safe, that they will be making profits out of it and, that they can eventually sell. I think that's the issue with the expropriation bill that, if the rules of the game change especially for foreign direct investment, it does raise questions some people will pose."
In a 20-minute interview, Ms Guerrero, a Chilean national, spoke of her experiences in Latin American and how countries grew from conflict situations to strong, growth economies, seeing many similarities in the way Sri Lanka is growing.
"Sri Lanka has huge potential which investors can see. The question is what are the rules that they'll be playing with and are these rules going to change," she asked, adding that in many ways countries like Chile, Colombia and Peru (one of the highest growing economies in the world at 10 % growth) went through what Sri Lanka is going through – private sector concern over policy issues.
"I see a lot of these experiences that have a lot in common with Sri Lanka. I see how the government is consolidating power, wants to get things done for example in making the city of Colombo more attractive and re-building. I have seen this in Chile and Lima. This is one part of it. The other part is that to get this growth you need the private sector. I don't think that there is any experience in the world where high growth has been achieved without very strong private sector partication," she noted, stressing on the need for the government to reach out to the private sector.
She said in most cases, entrepreneurs (investors), if there is a doubt, will wait to see whether the rules change or not. " There's nothing lost for a private sector person to wait… that's what I think is happening right now… people are waiting and asking is this really a place for foreign investment," she said. She was impressed by the government's commitment to its vision of doubling GDP, becoming a middle income country and having 8% growth. "This is something quite exciting … this is what you don't find in many countries; a kind of vision, a kind of aspiration. It is important to underline that this is what distinguishes Sri Lanka from other countries (in a stage of transition)," she said.
She said the World Bank is doubling its lending to Sri Lanka from a current $200 million per year with non concessional credit. Consultations in connection with the country partnership strategy for 2012-2016 has begin and would end in January, and thereafter go to the Bank board in April/May for sanction.
On how the other countries (in transition) tackled policy issues that were negative to the private sector, she said: "The experience in other countries is that little by little the government realised that they needed private sector investment and they started to consult on what the private sector needed. Little by little the policy was shaped to suit their needs, particularly on the uncertainty side. You have one rule and you don't change it. You (got to) be consistent."