For Tina Senanayke inspiration comes when she first holds a precious stone in her hand. She likes to buy them cut and polished, finding this precious stone in India or those beads in Denmark. She's been enamoured with jewellery ever since she was a teenager, and has long been a collector. Now this mother of two is finding that jewellery design might actually be her calling. With the launch of Tina Senanayake Jewels, Tina is now designing and selling one of a kind pieces. They're beautiful and versatile, elegant and playful by turns.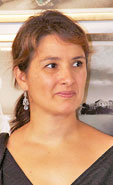 When I meet her she's wearing earrings, a pendant and a ring of her own design. Plated in gold, they are inspired by the lush roundness of fruit and blooming flowers. Tina tells me nature is her most reliable inspiration. She collects precious stones obsessively, buying them wherever she finds herself in the world. The design that follows is built to showcase the stone's innate beauty, its glittering perfection. For her metals, Tina has opted to work predominantly with sterling silver, though she will occasionally have it plated in gold. She's a great believer in unconventional pairings as well – today her little weighty pendant is strung simply from a silk chord. Working in close partnership with professional jewellery makers, Tina says she works hard to ensure each piece is perfectly finished.
That this is something Tina has been officially pursuing only in the last year, might come as something of a surprise to those who know her career path. Before she chose to become a stay at home mom, Tina worked with UNAID and the Centre for Policy Alternatives in Colombo. It was a natural progression after pursuing a Bachelor's in Developmental Studies. Interestingly, Tina combined the subject with Indian Philology, studying Hindi and Sanskrit for her degree. She would go on to do a Master's in the latter. (Her studies have left her with an enduring love for India – she has some particularly wonderful memories of exploring Jaipur, Jaisalmer and Udaipur in the north of the country.) She has since taken a course on gemstone identification. The qualification comes in handy when she's scouting for new stones. Right now she's going through a bit of a "green phase." Little cases of emeralds, jade and green tourmaline are inspiring new designs.
In years past, most of these completed pieces would have found their way into her own jewellery case. However, Tina has increasingly discovered that friends and family are unabashedly enthusiastic about her jewellery. It gives her the courage to take her designs to a larger audience. She began dreaming up her first collection about a year and a half ago. "I slowly got it together," she explains, adding that she waited until she had approximately 30 pieces before announcing it. It began as such a personal endeavour that Tina didn't show her work to anyone until it was completed – "I wanted it to be all mine," she confesses, ruefully. When she was ready to put it on display, the owners of Cantaloupe on Galle Face Terrace were among the first to show interest in showcasing her work. She has since expanded to offer some pieces at Barefoot and Milk on Barnes Place. "It's the realisation of a dream," she tells me. Of course, it's very much in its early phase. If Tina were to really confess her ambitions it would be that her pieces would eventually be sold out of her own flagship store.
Tina is looking forward to a career in jewellery design, she says it's something she can imagine doing for the rest of her life. She is already planning future lines and imagines a range of designs inspired by South Asian religions and philosophies. With both Danish and Sri Lankan blood running through her veins, Tina says her design reflects her mixed heritage, balancing functionality with a flamboyant tropical aesthetic. "I like to keep it simple but with a twist," she says, eyes twinkling. On a personal note, though she hopes to one day to garner an international clientele for her business, for now the island remains the place she would like her small family to call home. "I've travelled all over," she says, "but I just keep gravitating back to Sri Lanka." You can find Tina on Facebook by searching for Tina Senanyake Jewels.