Three Sri Lankan table tennis players, Nimal Lucas, Mohamed Lafir and Ira Ruwanpathirana won a tally of 11 medals at the 13th Australian Masters Games which was held in Adelaide, Australia last weekend.
They took part in the singles, doubles, mixed doubles and team events to the delight of many who witnessed the event. Lucas won a gold medal in the Over-70 men's singles event while winning silver medals in the team event and in the Over-60 men's doubles partnering with Lafir. In addition Lafir won a silver medal in the Over-60 men's singles and another silver in the team event.
He also won bronze Over-60 mixed doubles playing along with Dawn Darwent. Ruwanpathirana won gold in Over-50 mixed doubles partnering with Scott Howarth in addition to two silvers and a bronze. She won silvers in 35-50 women's doubles with Long Thanh Phan and in the team event in addition to a bronze in Over-50 woman's singles.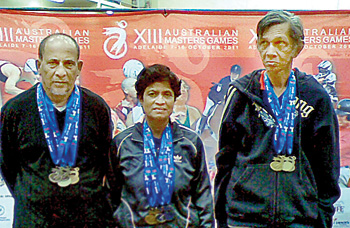 From left:Mohamed Lafir, Ira Ruwanpathirana and Nimal Lucas