ICBT Campus Sri Lanka's leading private sector Higher Education Service provider on its expansions of program delivery in the Middle East recently launched BSc in Quantity Surveying and construction program in Dubai, Qatar and Oman respectively.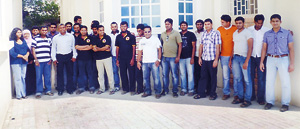 Over 150 mainly Sri Lankan students who are employed in these countries made available of this opportunity to advance their current qualifications in the Construction industry to a Bachelors Degree. By becoming graduates in Quantity surveying these students can be a part of and reap the full benefits of this very rewarding industry.
ICBT Campus pioneered program delivery in Quantity Surveying and construction related programs since 2007 and now becoming prominent program delivery body in the Middle East of these specialized qualifications in association with leading British awarding bodies and Universities.
In Oman ICBT is associated with Milcris Pvt. Ltd. in bringing forth these programs to the Sri Lankan QS students in Oman. Milcris is a well established ISO 9001:2008 certified Chartered Quantity Surveying Consultancy engaged in the provision of Cost Consultancy and Project Management Services.
ICBT campus is in partnership Al Amer Group of Companies, a Qatar based company formed under the Local Government Law and regulations having JV activities with other foreign companies in Qatar. Education and Training will be the newest addition to the Al Amer Group.
Under this agreement ICBT Campus will set up a campus in Qatar and will qualifications ranging from Diploma to masters level in areas such as Business Management, Information Technology, Quantity Surveying, Project & Construction Management.
BSc in QS program is to be followed up with Higher National Diploma (HND) and a MSc with full RICS accreditation in the coming months.More information can be obtained by contacting +94 77 3403170 (Sri Lanka) by visiting www.icbt.lk