Shaw Wallace Ceylon Ltd is transforming its sales distribution process to a fully automated and integrated distribution system to further enhance its sales efficiency and cater to the growing demands of the industry.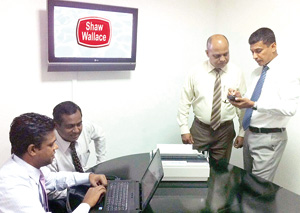 Picture shows (Standing) – Sriyantha Vaas - Axienta Ltd COO demonstrating the palm top features to Sarath Lokugamage - Shaw Wallace Ceylon Ltd Business Development Manager. Seated - Dhanushka Sugathadasa Head of QA (Axienta Ltd) and Asitha Peiris- Head of IT( Renuka Holdings PLC)
A subsidiary of Renuka Holding PLC, the company is at the forefront of the distribution business in Sri Lanka for over a century and today is a leader in the Automotive, FMCG and Food service sectors. The Shaw Wallace Group consists of McShaw Automotive Ltd- distributing automotive products, Shaw Wallace Food Services Ltd- catering to the foodservice industry, while Shaw Wallace Ceylon Ltd is involved in distribution of FMCG- food and beverage, personal care and household products. The company delivers through its nominated and direct dealer network to 65,000 outlets and indirectly to over 100,000 outlets across Sri Lanka assisted and is monitored by over 100 salesmen.
According to Shamindra Rajiyah Executive Director of Shaw Wallace "Shaw Wallace under Renuka Holdings is being transformed into a cutting edge company powered by innovation and technology. Our company and brands have built a lifetime of trust among our consumers and stakeholders and we believe we are now well positioned to seize opportunities and take the company to another level. The sales force automation is one such step forward in our journey to be one of the country's top FMCG houses."
Axienta Ltd, who are a specialized organization in Sales Force Automation systems and mobility solutions are joining hands with Shaw Wallace Ceylon Ltd to carry out the implementation process, the company said in a press release. Initial stage of the Sales Force Automation will focus on the FMCG sector and strategies are already defined to implement the same to other segments as well. With the automation of the sales Force, all the field level staff will be equipped with hand held devices to carry out the invoice process which will be connected to main Server in Colombo where all the secondary sales will be updated automatically.
"The sales force automation project at Shaw Wallace Ceylon Ltd is the result of a carefully planned endeavour to identify the right solution to deliver real business value" said Axienta Group CEO Manju Fernando. The project is planned to commence in early October and continue till April 2012.