Basil Rajapaksa, Minister of Economic Development recently handed over 109 houses to beneficiaries at a ceremony held in Menik Farm village in Vavuniya district last week, in a programme funded by the European Union (EU) amounting to Rs 1.86 billion.
It was implemented by Arbeiter-Samariter-Bund Deutschland (ASB). A EU press release said that under this project more than 2500 houses will be constructed for families affected by the conflict in the Vavuniya district.
The ceremony was attended by Minister Rishad Badhiudeen, Minister of Industries and Commerce, Major General G A Chandrasiri, Northern Province Governor, Ambassador Bernard Savage, Delegation of the European Union to Sri Lanka and the Maldives and Ms. P. S. M. Charles, Government Agent- Vavuniya and other dignitaries and members of the community.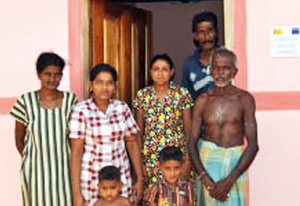 Picture shows one of the recipient families in their new home.