Jogging tracks are to be introduced by the Economic Affairs Ministry, as part of their development plans.The first is to come up in the Gampaha district, with one of them extending to five kilometres. The others are to come up in the Mahara, Kelaniya and Minuwangoda electorates.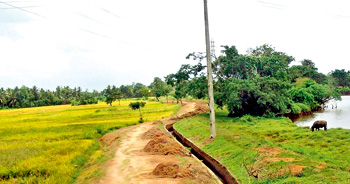 The jogging track coming up in Gampaha adjoining the river and Botanical Gardens
Economic Affairs Minister Basil Rajapaksa told the Sunday Times that the main objective was to provide an opportunity for persons to engage in regular exercises, as the present environment does not provide such a facility.
"This will be an important step in creating a healthy nation," he said. He said that though similar facilities exist in Colombo, the outstations do not have such facilities, and therefore, he had decided to first establish such tracks in Gampaha and surrounding areas.
He said the next plan was set up such tracks in the Negombo area, followed by other towns. "One of the special features is that, these tracks will be set up in an environmentally friendly manner. Even the track will be lit up with solar power," he said.
Project Chief Engineer H.D. Jayantha told the Sunday Times that one of the tracks is close to the botanical gardens at Asgiriya, Gampaha, which will link up to the Gampaha – Ja-Ela road. He said that the necessary car parks, toilet facilities and snack bars will be set up, while security will be ensured.
He said that the tracks could be also used for roller skating as well.