Signs that the world is moving towards an Economic Crisis is visible. However, countries also need to look at strengthening their social and environmental capital, said internationally acclaimed Prof. Mohan Munasinghe last week, while also making references to the recent London riots. He made these comments at a forum, 'Greening the Economy', organised by the Central Environmental Authority (CEA) to mark its 30th Anniversary.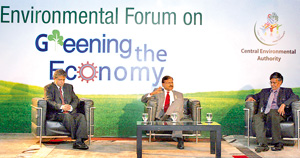 Speakers at the forum organised by the CEA
Prof. Mohan Munasinghe was the Vice Chairman of Intergovernmental Panel on Climate Change (IPCC) co-laureate of 2007 Nobel Peace Prize. Addressing the gathering, Prof. Munasinghe said the world is in need of adopting Millennium Consumption Goals (MCG) by the rich, similar to the Millennium Development Goals (MGD) designed to alleviate power reduction. It is projected that the world is facing a catastrophic future due to climate change, and the rich countries are to blame for emitting greenhouse gases such as CO2, as a result of their consumption patterns. The MCG proposes a new way of life for the rich, promoting sustainability.
MCG is a concept of Sri Lankan scholar Prof. Munasinghe himself. He said the concept has been discussed for many years, and will continue to lobby this novel idea at future international meetings on sustainable development. MCGs will also be presented to the preparatory meeting for the forthcoming UN Conference on Sustainable Development summit known as Rio+20 to be held in Brazil next year.
However, Prof. Munasinghe said that the lack of political will in implementing proposed emission cuts will be a problem in the future. As per the IPCC's 4th Assessment Report, 2 degrees Celsius increase in global temperature is expected by 2100.
Even though world leaders agreed on emission cuts, the talks held in Copenhagen and Cancun in the last two years failed to meet them. The next round of talks will be held this December in Durban, South Africa, but Prof. Munasinghe said there are no big hopes for a binding agreement. The Professor complained that the world is going backwards, which could result in rise in global temperature by more than 2 degrees Celsius, triggering catastrophic events such as rise in sea levels and extreme weather patterns.
The 'Greening the Economy' forum was also addressed by CEO- Dialog, Dr. Hans Wijesuriya, which included a discussion forum managed by Director- Postgraduate Institute of Management, Prof. Uditha Liyanage.
Meanwhile, Chairman-CEA, Charitha Herath said there are a series of events lined up to mark the 30th Anniversary of CEA. The CEA also organizes National Green Awards to be held next week. These National Green Awards will be the country's main environmental award from this year, which will recognize industries and personnel who strive for a balance by adopting eco-friendly practices. "An attempt to move toward green economic policies in line with their development goals is made by many countries, and in Sri Lanka too, the CEA will take the lead in promoting environment-friendly practices in doing business," the chairman explained as their objectives of the Green Awards.
As the main regulatory body in evaluating Environmental Impact Assessments (EIA), the CEA also has an important strategic role to play in greening the development practices as a whole. But around the country, much environment destruction is taking place with development, and the CEA sometimes is blamed for not evaluating their EIA's properly.
Explaining this situation, Chairman Herath said that his institute always evaluates the EIAs thoroughly. Even government projects are covered by EIAs and the CEA has a mandate to stop implementing any project that violates the Assessment Report. He further said that the CEA welcomes and entertains public complaints pertaining to environment destruction or violation of EIAs.
Environment professionals should not bend to outside pressure
Environment professionals should never compromise their principles or yield to forces that do not have the environment's best interests at heart. Former Sri Lanka Tourism Board chairman Renton de Alwis made this comment at this week's annual general meeting of the Institute of Environmental Professionals.
Mr. de Alwis stressed the importance of the Environmental Impact Assessment (EIA), a key tool to help policy-makers evaluate a project's impact on the environment. The reports are intended to influence environment-related decision-making, he said, and should be compiled only by qualified environment professionals.Mr. de Alwis also felt the public could show a greater interest in environment matters.
He said he would like to see more people visiting the office of the Central Environment Authority (CEA) and reading up on conservation topics. The Internet, and social media such as Facebook and blog sites, could be used for "virtual public hearings" to discuss issues raised by the Central Environmental Authority.
Mr. de Alwis said it was heartening to see today's youth using the new media to lobby for environment protection. He commended the work of young environmentalists, such as Jagath Gunawardane, who have raised environment issues on Facebook.
The Institute of Environmental Professionals (IEPSL) welcomes new members. For information about membership, write to the IEPSL secretary at senaka@cea.lk.