Italian classical music makes a perfect fit for The Chamber Music Society of Colombo, says the orchestra's founder and artistic director, Lakshman Joseph de Saram."This music is right up our street," he said, relaxing with a café latte at Barista's, after an intense three-hour rehearsal on Thursday night for the orchestra's concert on Sunday.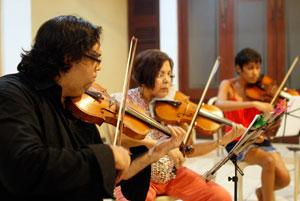 Lakshman Joseph de Saram and other members of the group at rehearsals.
"We have the right temperament, and the right configuration - not a player too many, not a player less. The spirit is there, as always, and we hope to share some of it with our audience this Sunday."
The concert is commissioned by the Italian Embassy in Sri Lanka to mark the 150th anniversary of the unification of Italy. ("Il Risorgimento" was the social and political process, between 1815 and 1871, that brought together the disparate states of the Italian peninsula under the banner of a single nation.)
"The Chamber Music Society of Colombo has an excellent cultural relationship with the international community here. This is our second artistic collaboration with the Embassy of Italy," said Joseph de Saram.
Putting together the concert programme, which includes works by such favourites as Vivaldi and Monteverdi, was an exhilarating artistic adventure, the artistic director said. "Creating a multiple-composer, all-Italian Baroque concert programme is a dizzying experience," Joseph de Saram said. "There is too much of excellence out there - weeks' worth of music to choose from. And finding the right balance and flow for a one-and-a-half hour concert, between heavyweights like Vivaldi, Corelli, Monteverdi, Gabrielli and others, was a challenge, but a nice one."
The orchestra comprises stringed and brass instruments, and the programme ranges from the 16th to the 20th centuries, from Monteverdi (1567-1643) to Respighi (1879-1936).
With a mischievous smile, Joseph de Saram promised that the sounds of Baroque brass - "so rare in Colombo" - would "shake the rafters of the Lionel Wendt," adding that the evening offered "a musical feast worthy of the Medici family of Florence, for centuries Italy's greatest patrons of the arts."
Tonight's concert at the Lionel Wendt starts at 7pm. Complimentary tickets can be obtained by calling the Lionel Wendt on (011) 2695794.