A pilgrimage to Buddhist places of worship in India turned into a bitter experience for a group of Sri Lankans last week when they were confronted by a group who threatened and attacked them in the Southern Indian city of Chennai.
Eighty four Sri Lankan pilgrims, mostly elderly females and males came under attack by a group identifying themselves as members of 'Nan Thamilan'(I am Tamil) and burnt the T-shirts with Sinhala words imprinted 'Indunil Dambadiva Vandana' worn by the pilgrims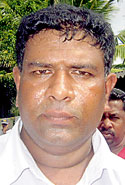 Sarath Jayewardene
The pilgrims had left for India on July 17 and after a brief stopover in Chennai had travelled to northern India by train. The group spent 15 days visiting Buddha Gaya and other places of worship. On August 2, they returned to Chennai with the hope of spending a day shopping before leaving for Sri Lanka the following day.
Sunil G. Kukulegama, one of the Lankan pilgrims said that on August 3 at 1.30 pm, attackers wearing clothes with the imprint of the tiger emblem of the LTTE, stormed their hotel and attacked some of the fellow pilgrims.
"Around afternoon the attackers came to the hotel in motorcycles and three wheelers that carried the tiger flag on them. They also showed us a picture of former LTTE leader Prabhakaran," he said.
The gang had also threatened the hotel owner saying if the pilgrims were not sent back the next day, the hotel would be set alight.
Deshabandu Sarath Jayewardene who was badly assaulted by the Tamil Nadu mob the organizer of the pilgrimage said the Sri Lanka Deputy High Commissioner's office in Chennai was notified about the attack and they had lodged a complaint with the Chennai police.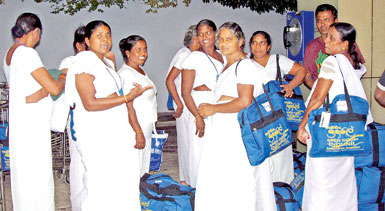 Some of the returning pilgrims at the BIA on Friday morning. Pic by N.T.S.P. Kumarasinghe
"The police arrived and provided security and the pilgrims were moved to the Maha Bodhi Society pilgrims' rest. Most of the old female pilgrims were in shock because they had come on a peaceful pilgrimage with no hate and anger in their minds. We were in Delhi and Buddha Gaya wearing these T-shirts and did not come across such harassment," he said.
Mr. Jayawardena said he would avoid taking his clients to Chennai hereafter. Ven. Dr. Goluwamulle Wimalasena Thera who was one of the pilgrims said around 500 Sri Lankan pilgrims had sought refuge at the Maha Bodhi Society pilgrims' rest and he thanked Deputy High Commission officials and the Mahabodhi Viharadhipathi Ven. Kalawane Mahanama Thera for their intervention in the matter.
V. Krishnamoorthy, Deputy High Commissioner for Sri Lanka said that the Police had already sent out instructions to all their divisions to provide adequate security to Sri Lankans in the state.