It is not difficult to believe that Olga Sosnovskaya is a famed soprano in her home, Russia. The few lines she hums from Greig and Gershwin display the fluidity of her voice and the ease with which she touches the high registers. But what strikes one more than the voice is the way her blue eyes glitter and her face lights with a smile as her whole body sings. It is impossible not to be captivated.
"It is impossible for me to imagine life without singing," she says simply. "There is that magical moment of creation during a performance when you feel you have made something special." She says she feels like a vampire in those moments, drawing energy from the audience, to return it to them in a cycle of artistic passion. Television and radio can hardly convey that electricity between the performer and the audience, she believes, and that is why she is here.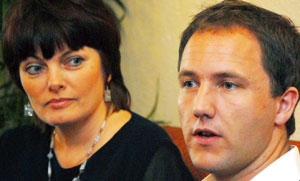 Olga and Torgeir: Heading down south to enjoy the beaches before performance in Colombo. Pic by Sanka Vidanagama
Having toured Europe for over 20 years as well as the African continent in 2005, Olga Sosnovskaya, thanks to the efforts of the Russian Centre in Colombo and the Taj Samudra, will perform at the Lower Crystal Room on July 29, giving Sri Lankan audiences a rare treat indeed.
But before that evening which promises to be spectacular, Olga wants to look around Sri Lanka. "My zodiac is the Archer (Saggitarius) so I love to travel," she shares, adding that she loves our climate and that she has had a wonderful first impression of the island. She plans to spend some time on the beaches down south with her accompanist Torgeir Solsvik before heading back to Colombo.
Torgeir sometimes plays with a chamber group in his homeland Norway, and met Olga for the first time when they performed at the same festival in Russia. Upon his invitation Olga visited Norway and since then the two have continued to perform together. "We have a similar kind of passion" for music, Torgeir explains, sharing that they "clicked" from the beginning. Olga laughs good-heartedly that he is very responsible and that his approach to any performance makes things so much easier for her.
Having performed together for over four years, Torgeir finds that Olga has influenced his music greatly and she says the same of him. "I've been introduced to a lot of new music I was not familiar with" he enthuses, stressing on Rachmaninov (a name that drops from Olga's lips at least once in three to four minutes!) and Russian composers. Rachmaninov especially, she says as Torgeir nods his assent, allows both musicians to truly work together, without superimposing the voice on the piano. "There's something that strikes you when the voice and piano join" Olga muses, "something special that you can't touch or place", something beyond the notes on the page.
Olga will pick from the pages of famous and favourite composers such as Rachmaninov, Verdi, Mascagni, Greig, Puccini, Rimsky-Korsakov, Tchaikovsky, Gershwin and Kalman to bring to you a special selection of well-known favourites from the operas as well as vocal collections. She has worked with world renowned musicians such as Velery Gergiev and Anatoly Solovyanenko, a strong hint that Friday night's performance is one not to be missed.
The concert will be held at the Crystal Lower Floor, Taj Samudra on July 29 from 7.30 p.m. onwards. Tickets priced at Rs. 2500 and Rs. 2000 are available at the Taj Samudra (Tel. 2446622) & the Russian Centre in Colombo (Tel 2685429). The Sunday Times and Daily Mirror are the print media sponsors for the concert.