Her toned arms have made her the envy of women around the world. And on Thursday Michelle Obama appeared to reveal the secret behind her sculpted biceps, but perhaps surprisingly to Archbishop Desmond Tutu.
On the final day of her visit to South Africa, the First Lady met with the Nobel Peace Prize laureate at Cape Town Stadium where they took part in an event to encourage exercise and raise awareness of HIV prevention.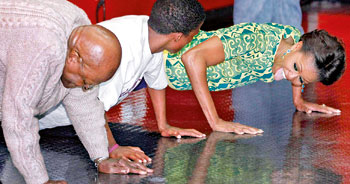 Work out: Michelle Obama does push ups with Archbishop Desmond Tutu as they participated in youth activities raising awareness for HIV prevention at Cape Town Stadium. AFP
Inside the stadium, built for last year's World Cup, the First Lady got down on the floor and showed off her workout moves to the retired 79-year-old who seemed keen to join in. After their workout, Mrs Obama and Archbishiop Tutu congratulated each other with a fist-bump.
The pair then took to the pitch where they dribbled balls with local youth groups. The First Lady is on the last leg of a South African tour that has honoured the icons of the country's struggle against apartheid before she moves on to neighbouring Botswana.
Mr Tutu, the former Anglican archbishop of Cape Town, won the Nobel Prize in 1984 for his non-violent struggle against the racist government. He has been called the conscience of the nation. Earlier the super-fit First Lady had been asked, 'How do you get Barack to believe he's in charge?' by a mischievous reporter.
Michelle Obama immediately burst into laughter and said: 'A good man is happy with a strong woman.
She added: 'That's why I fell in love with Barack. I met him way before he was President and he was just so comfortable with himself and he accepted me with all my... stuff.'
Michelle Obama put on a brave face earlier after she was forced to cancel a visit to Robben Island prison because of high winds. The U.S. First Lady was due to travel to the island -- where Nelson Mandela was imprisoned for 18 years -- by ferry, but the bad weather made the seas off Cape Town too treacherous to cross.
But her disappointment soon vanished as she heard stories from Ahmed Kathrada, a former political prisoner and apartheid icon who was jailed on Robben Island with Mr. Mandela. She met him at a museum that commemorates a sector of Cape Town that was established in 1867 as a racially mixed area, but was forcibly segregated in 1965.
Aides said Mrs. Obama had been especially looking forward to visiting Robben Island and the closet-sized cell that housed Mr. Mandela for nearly two decades. The First Family spent an hour at the District Six Museum where they were led on a tour by the director and a former resident of the area.
Mr. Kathrada was among seven sentenced on June 12, 1964, with Mr. Mandela to life in prison for sabotage and plotting to overthrow the white government. Non-whites were removed from the District Six area to barren outlying areas of Cape Town and their former homes were destroyed.
Mrs Obama also met with former Anglican Archbishop Desmond Tutu, a leader in the fight for racial equality in the country. After the museum tour, she took her family to lunch at a restaurant that serves sandwiches and salads made with local ingredients.
From there, she went to the University of Cape Town for a session with 50 high school students. They are from disadvantaged backgrounds but have shown academic potential. Mrs. Obama arranged for them to spend the day at the university so they could envision themselves attending classes there one day. She said they shouldn't look at the university as a foreign place.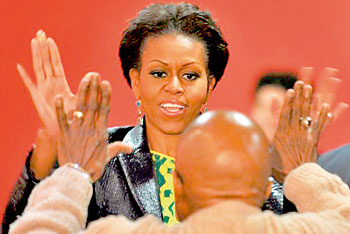 Greeting: Michelle gives a high-five to Archbishop Tutu
'Getting into a school like this isn't some kind of magical process,' the first lady said. 'There is no magic dust that helps students succeed. Nowadays, it is really about how hard you are willing to work.'
Mrs. Obama, her daughters Sasha and Malia and her mother Marian Robinson -- along with a niece and nephew -- have been travelling through South Africa.
They arrived in the country on Monday and visited several community projects around Johannesburg before travelling to Cape Town.
On Friday, they are due to fly to Botswana before the entire entourage goes on a safari. The visits are Mrs. Obama's first to either country.
(c) Daily Mail, London