ISLAMABAD, June 25 (Reuters) - Pakistan and India have agreed to try to ease fears about their nuclear arsenals, in unexpectedly positive talks between the two countries' top diplomats. Indian Foreign Secretary Nirupama Rao and her Pakistani counterpart Salman Bashir agreed to expand confidence-building measures in both their nuclear and conventional weapons.
A meeting of experts would be asked to "consider additional measures ... to build trust and confidence and promote peace and security," they said in a joint statement after a two-day meeting in Islamabad on Friday.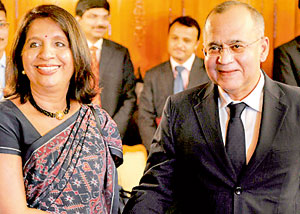 Pakistani Foreign Secretary Salman Bashir (R) shakes hands with his Indian counterpart Nirupama Rao before a meeting at the Pakistan Foreign Ministry in Islamabad on Friday, Reuters
The outcome of the talks was better than expected, with both foreign secretaries holding an unscheduled joint news conference, and also agreeing to try to improve trade and travel across the ceasefire line dividing disputed Kashmir.
"The ideology of military conflict should have no place in the 21st century," Rao told the news conference.
India and Pakistan in February resumed a formal peace process broken off after the November 2008 attack on Mumbai by Pakistan-based militants which killed 166 people.
But as in previous peace efforts, progress has been slow, and vulnerable to any attempts by Islamist militants to try to trigger a war between Pakistan and India by launching another Mumbai-style attack.
Both countries, which announced they had tested nuclear weapons in 1998, have fought three full-scale wars since winning independence in 1947, two of them over Kashmir.
The foreign secretaries gave few details of how they expected to build confidence in their nuclear capabilities. India and Pakistan already exchange information about missile tests and have an agreement not to attack each others' nuclear facilities.
But with India building its conventional capabilities and Pakistan reported to be developing battlefield nuclear weapons, security analysts say the risk of a conflict escalating into nuclear war is always present.